Hey! Who's in the mood for more vintage Walt Disney World ephemera?! Ken Martinez has you covered!
Walt Disney World - Resort Guide 1977 (Part 2)
Continuing with the "Walt Disney World - Resort Guide" booklet, featured in today's post are the two original hotels of Walt Disney World.
The Contemporary Resort Hotel is probably the most iconic of all the hotels on the WDW Resort property. While the hotel is highly visible from Seven Seas Lagoon it primarily resides on the shores of Bay Lake. The hotel also serves as a backdrop for the Magic Kingdom's Tomorrowland. Check out the names of some of the establishments like "The Outer Rim" and the "Top of the World".
Here we have a map showing the layout of the hotel as it was in the 1970's featuring the Contemporary Tower and the North and South Garden Wings. The North Garden Wing was eventually replaced by Bay Lake Tower. The hotel was originally going to be called "Tempo Bay" but reverted back to its placeholder name "Contemporary Resort" when the hotel opened.
The Polynesian Village Hotel was the other original hotel. Designed to look and feel like a South Seas getaway, you could dine at restaurants like "The Papeete Bay Verandah" and "The Coral Isle Café" or attend one of the nightly Luaus on the beach. Like the Hoop-Dee-Do Musical Revue at Fort Wilderness Campground, the Polynesian Luau was an extremely popular show which I believe is still entertaining guests today but in a different location.
Here we have a map showing the layout of the hotel as it was in the 1970's. The map shows the arrangement of the original longhouses with their original names and the Great Ceremonial House. The Polynesian has expanded several times since then. Like the Contemporary, the Polynesian was connected to the Monorail System. The only other hotel that would connect to the Monorail System is the Grand Floridian Resort Hotel which was yet to be built at the time this booklet was published.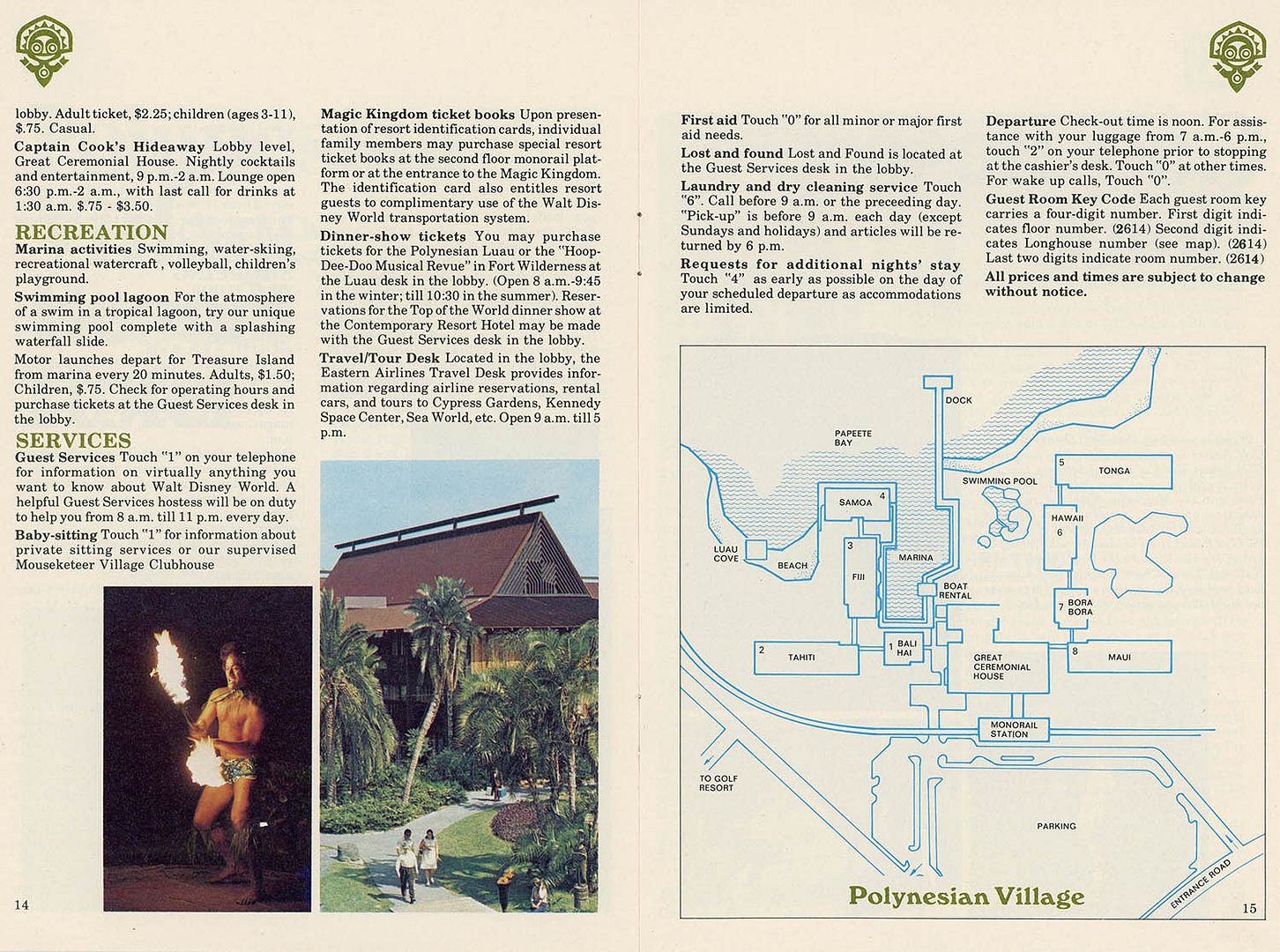 Coming up next: The Golf Resort Hotel and Fort Wilderness Campground.
Many thanks again to Ken Martinez!