While it's always fun to look at extremely rare Disneyland ephemera, I have a fondness for artifacts that are perhaps a little more common (or recent). Here are a few examples.
Here's a nice lady and her three kids (including
evil twin girls
!) posing in front of the Official Mouseclubouse Treasury. I assume that this was one of the "Fun Photo" scenes available over in Tomorrowland?
"Come and play with us, Danny!".
This little lucite souvenir is as cute as a bug's ear. It's around 2 inches high, and features a vehicle that you would be more likely to see on Main Street than in Frontierland, but who's complaining? I've only seen one other example, from Tomorrowland (with a little Moonliner) - I wish I had that one too!
If you're like me, you love cigar smoke. The more the better! Which is why a giant novelty cigar is the perfect gift. I've never actually seen one of the cigars, but I do have this rather large label, nearly six inches long and 2.5" wide. Much too big to use as a makeshift wedding band.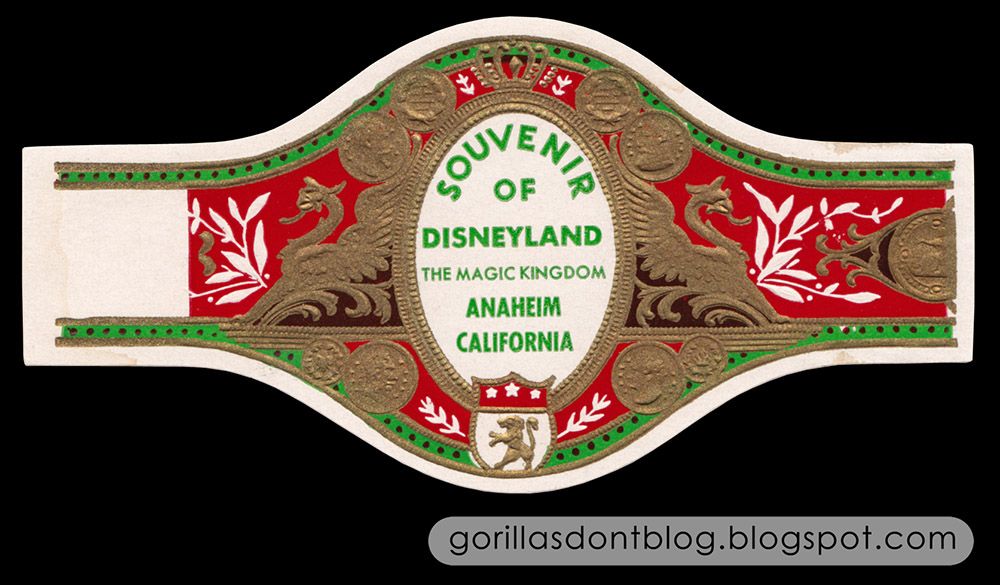 And finally, how about a tag from a guided tour, circa 1958? These came in a variety of colors, and for about six seconds I thought I would try to acquire as many hues as possible. Then the oxygen returned to my brain and now I'm good with just this one (though I do have an orange one somewhere). These make swell name tags for those awkward parties where you don't know anyone!
I hope you have enjoyed today's Random Disneyland Ephemera!