I have a group of about 20 night shots from the fabulous 1964 New York World's Fair - some of them are really neat! And.... some of them leave something to be desired. Like sharp focus, for instance. 8 of the photos were shot from the New York Pavilion's observation tower, and because of their flaws, I decided to just corral them into one post.
We'll start with this fairly decent look at the wonderful Unisphere surrounded by fountains; a bit to the left and up is the USA pavilion (looks like a striped wall), and the brightest lights are from Shea Stadium - probably a Mets game.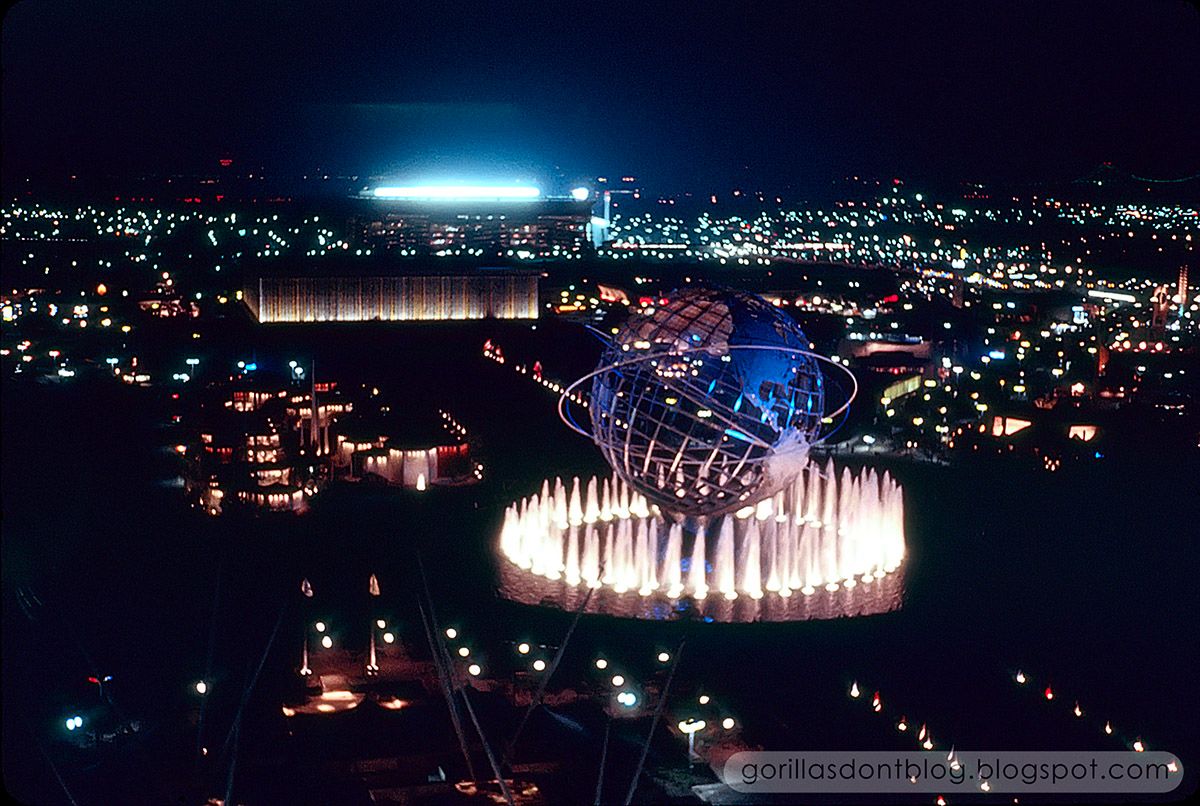 For some reason this next image has an overall warm, golden tone. I scanned it exactly the same way as the first one, so it's all a mystery to me. But it's pretty!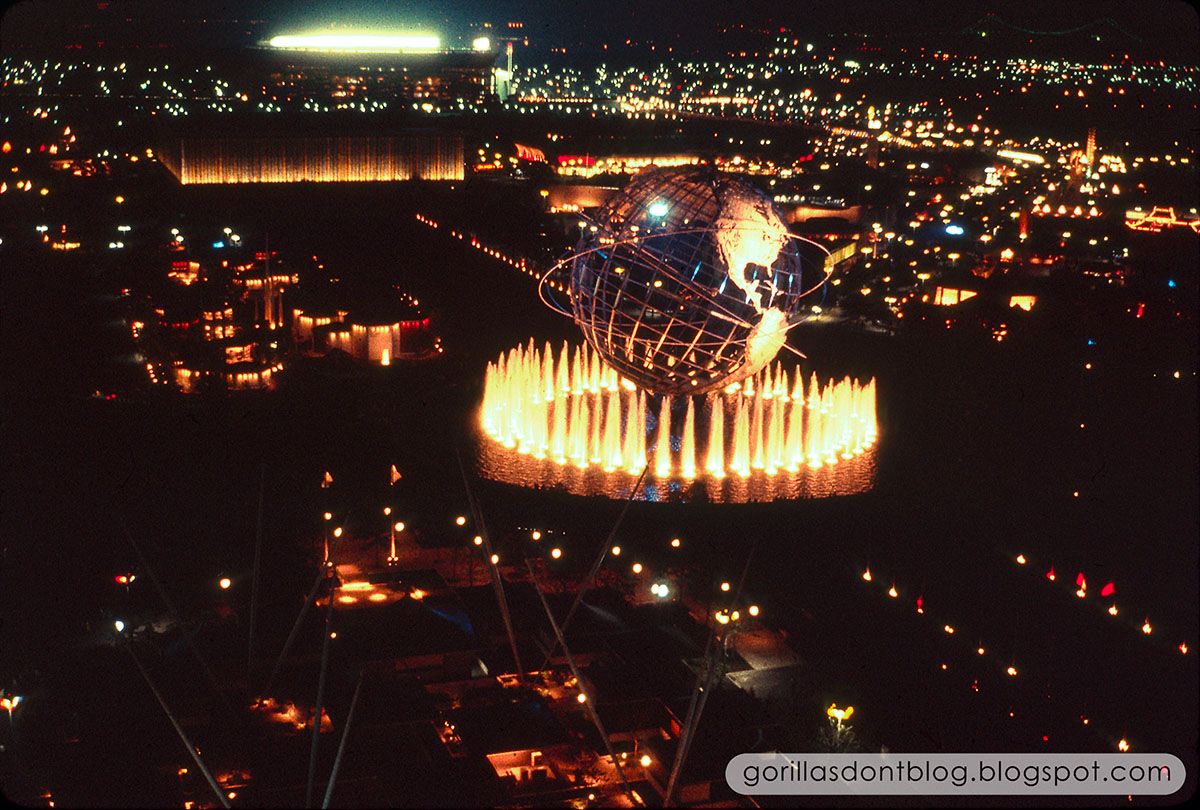 Looking across the Grand Central Parkway we can see the building that housed General Motors' "Futurama", as well as the "Helldrivers" stunt show arena.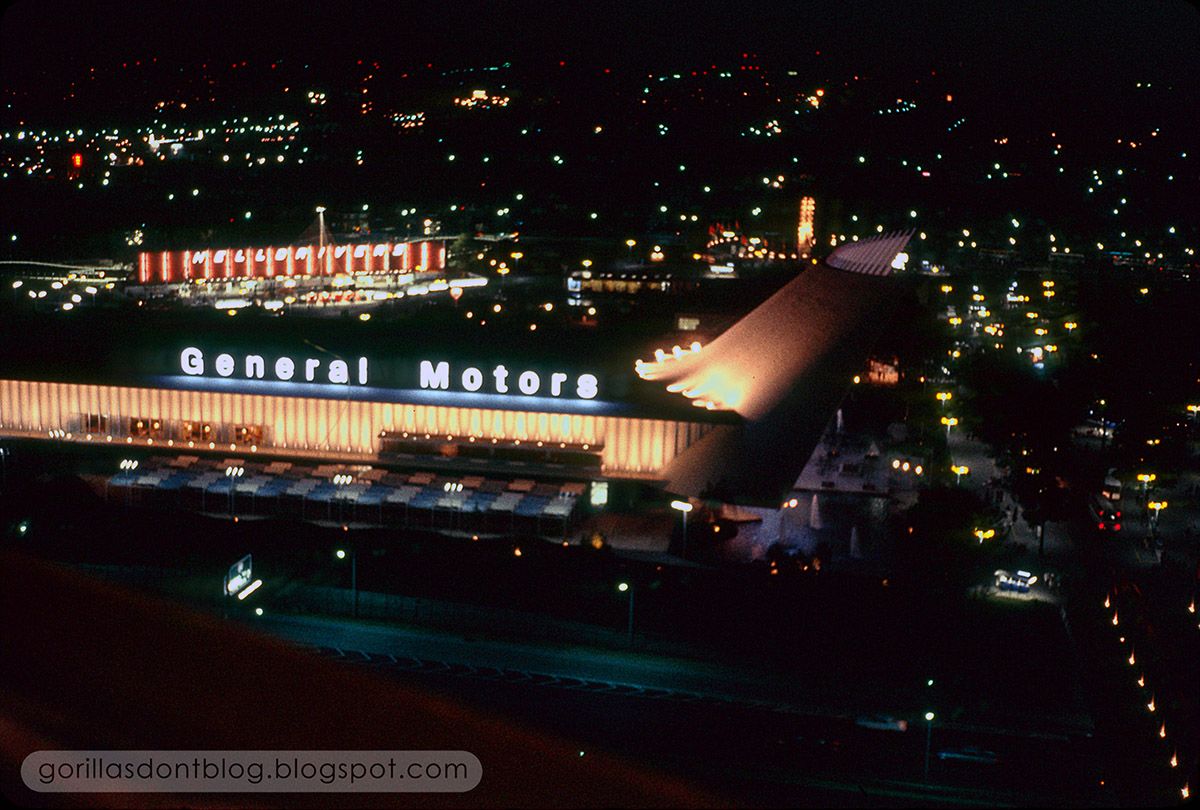 There's the cratered moon dome, part of the Transportation and Travel pavilion, with the Chrysler pavilion and the U.S. Rubber Ferris Wheel (in the shape of a giant tire). Behind the moon dome is the Port Authority building with a rooftop heliport.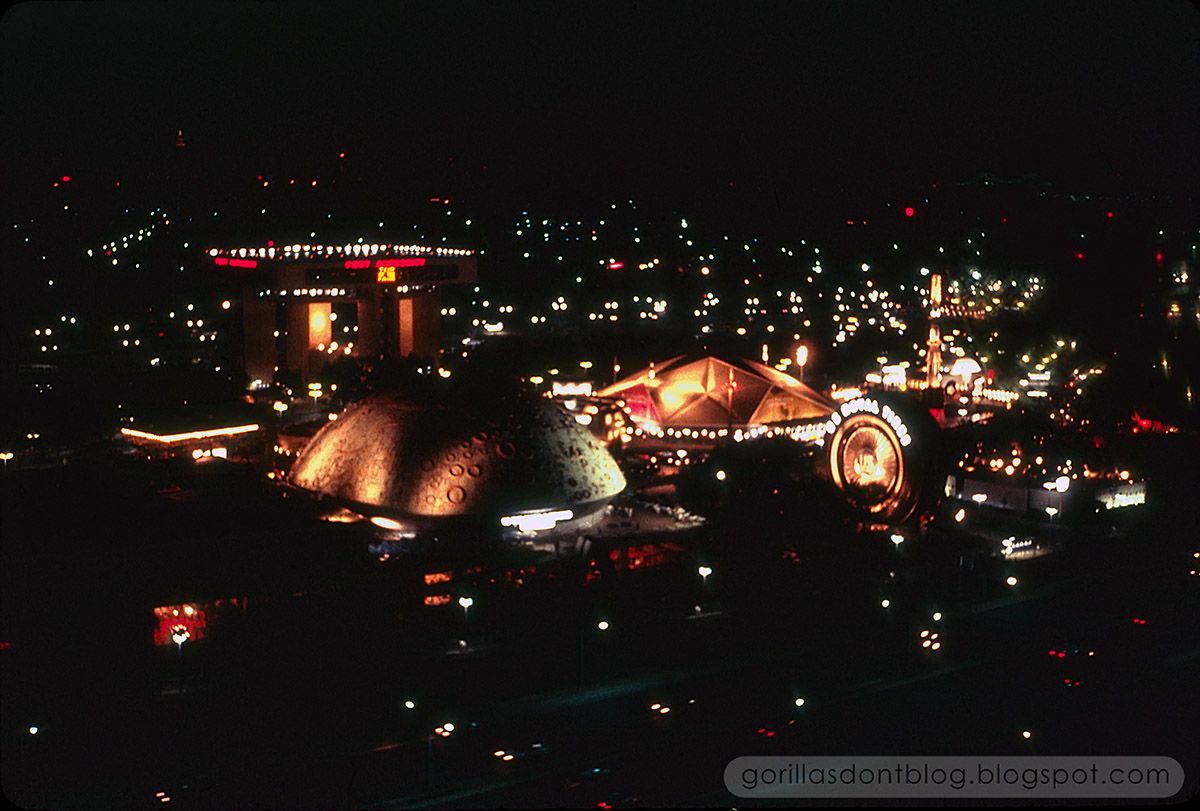 I wish that this one was clearer, but I still love it because I did not know that those inflatable "moon berries" lit up at night! Each one marked the location of a "Brass Rail" eatery. In the middle of the photo you can see the dome of General Electric's "Progressland", with its show of swirling lights. Just to its left is the purple and blue Tower of Light building, and above that is the Bell System pavilion. The red "umbrella" dome of the Traveller's Insurance pavilion can be seen as well.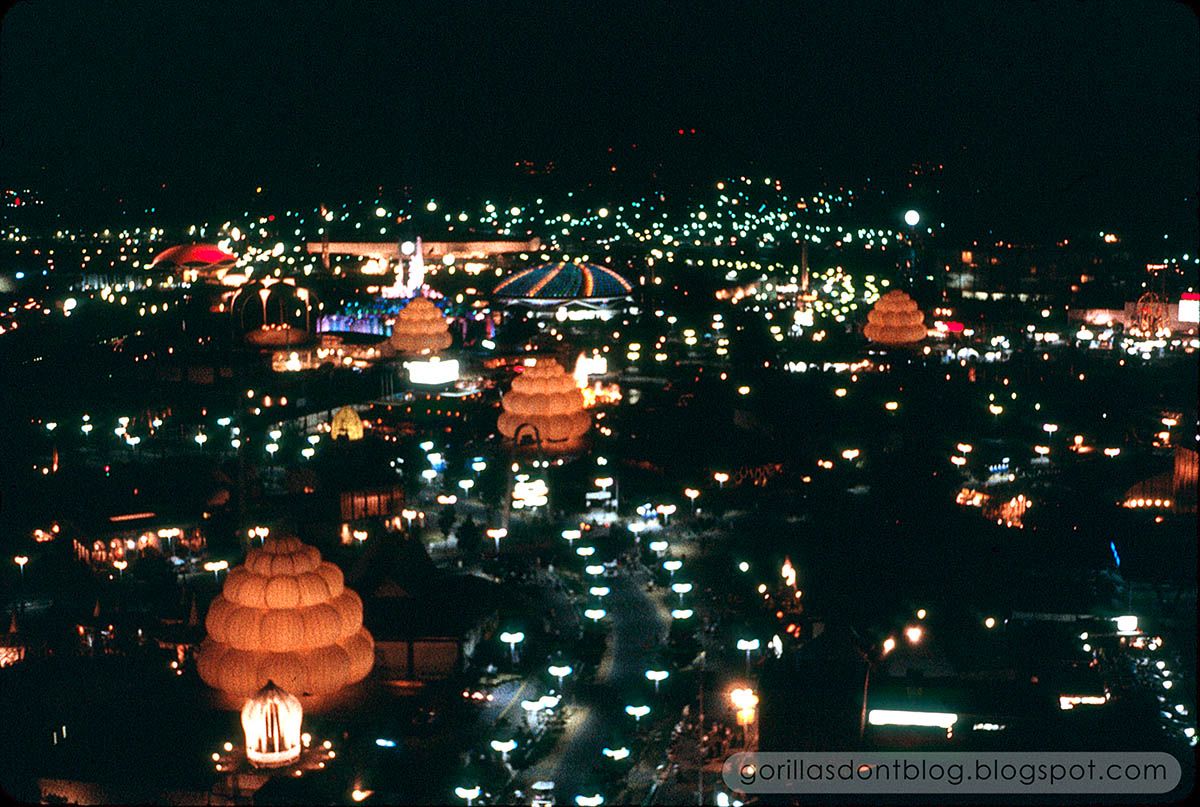 Here's a second shot in a vertical format. It's a little clearer, and again, weirdly warm in tone. Now you can just make out the spidery form of the Johnson's Wax pavilion, just to the left of the Tower of Light.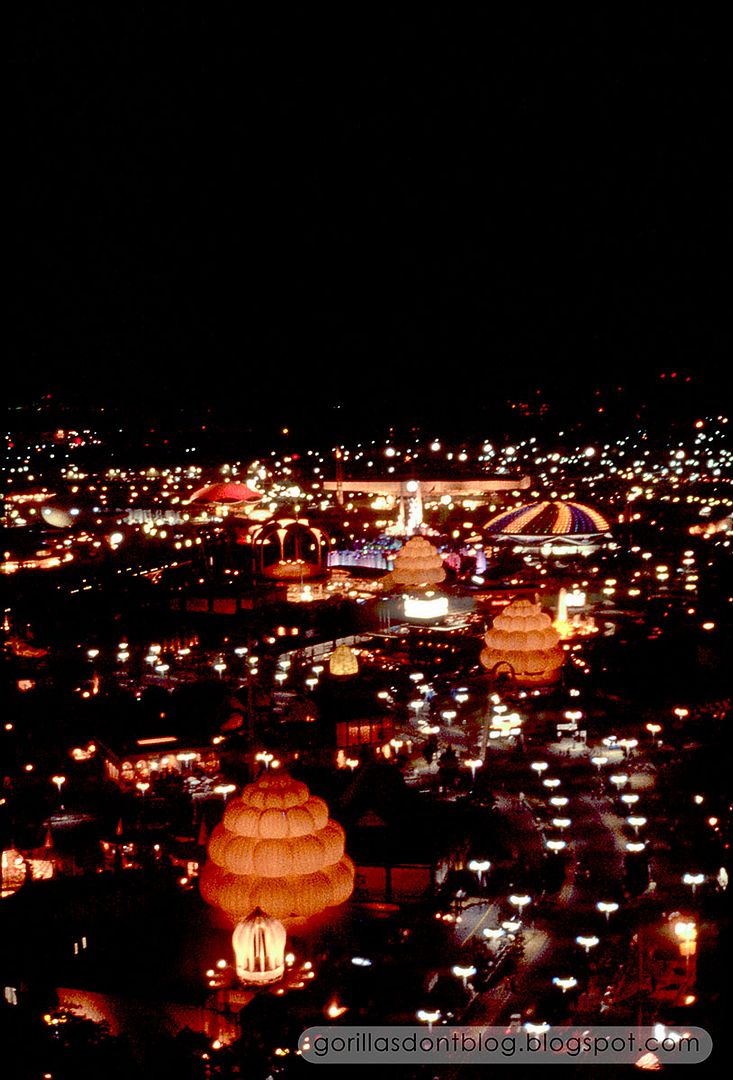 The brightest lights in this image are from the Eastman Kodak pavilion with its giant, brilliantly-lit photo prints (30 feet high), while just to its left (hard to discern) is the Pepsi-Cola pavilion with the Tower of the Four Winds.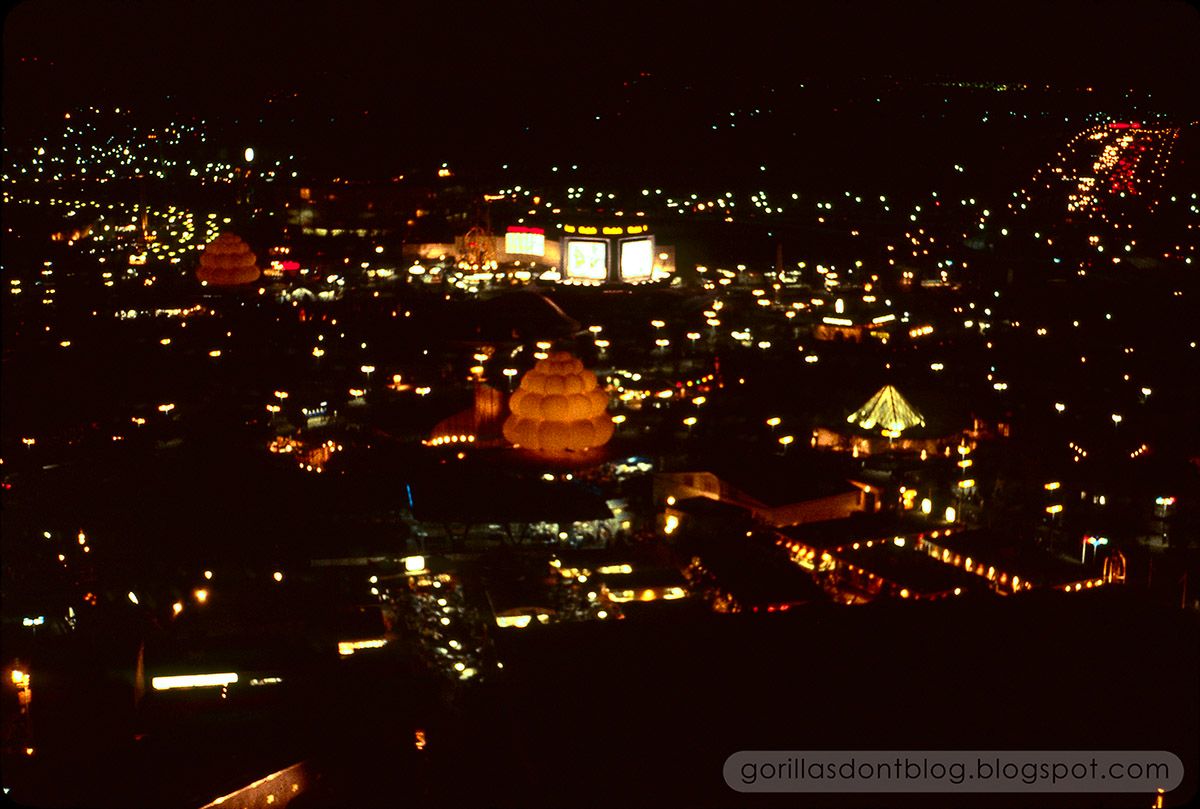 Looking down from the New York Pavilion's observation deck, we see the hundreds of lights that capped the multicolored translucent panels of the "Tent of Tomorrow". Groovy!
In case you'd forgotten, here's what those panels looked like during the day. With all of those lightbulbs, it must have been pretty stunning from the ground level after the sun went down.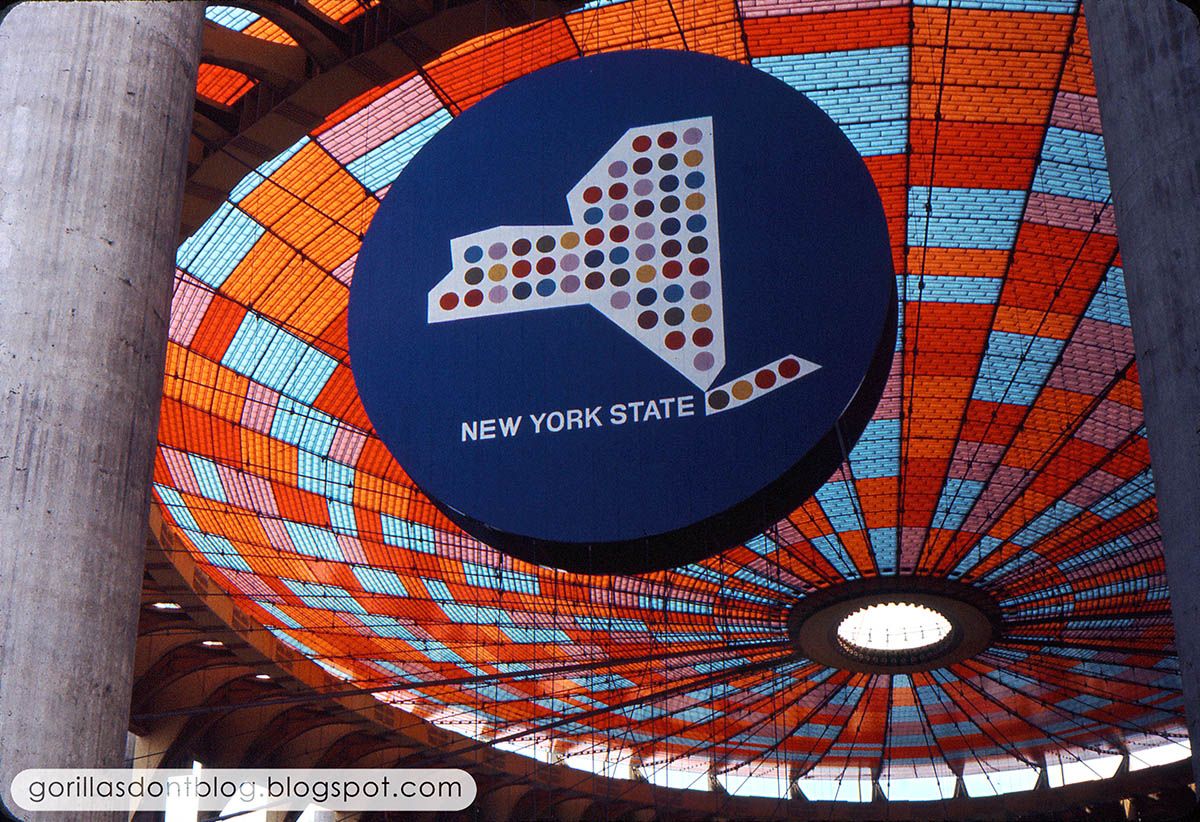 I hope you have enjoyed this World's Fair extravaganza!