It's time for the final installment of vintage photos of some EPCOT models, courtesy of Mike Devlin!
We'll start with a look at the model for the France Pavilion. Oo-la-la! (Sorry, I couldn't resist). Mike has explained why these models were painted in shades of gray (to emphasize the forms and layout without being dazzled by distracting color), but it feels like Paris has been dusted with a fine layer of volcanic ash.
Mike said, "The designers used forced perspective to create additional depth for the main avenue (rue?), both in the model and the finished product. My one significant design contribution was relocating the Eiffel Tower from atop the front building where the architects had it, to atop the rearmost building, aiding in the success of the forced perspective". Way to go, Mike!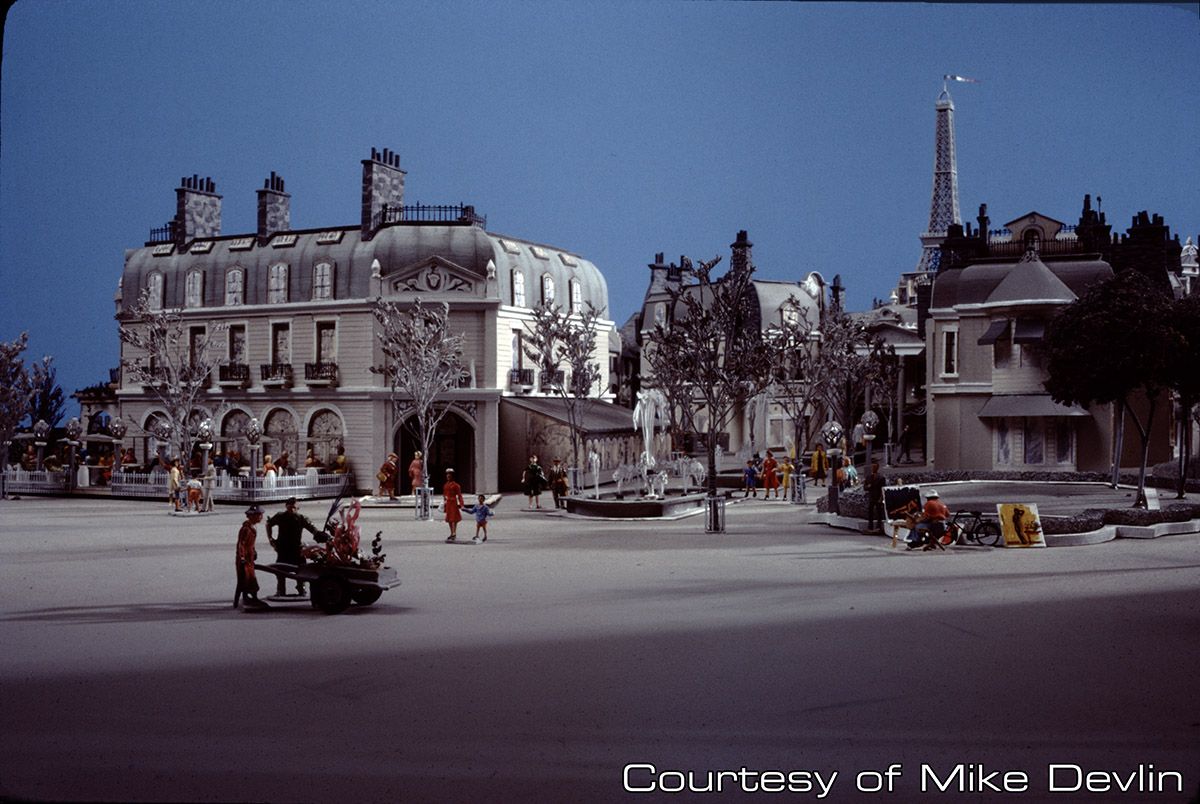 It's funny, the little plastic people add a surprising feeling of activity, with a painter (France is lousy with them), what might be a flower seller pushing a cart, and various people out for a promenade. Notice the kiosk covered in handbills and posters, as well as the fountains in the distance.
Next we'll look at the Germany Pavilion. The emphasis was on medieval architecture - a castle, half-timbered structures, Northern Renaissance shops, etc.
I looked at Google Earth, and it appears as if the final pavilion followed this model, at least in the larger details. All of my friends who have visited EPCOT say that the Germany pavilion has some of the best food!
Mike said, "I think we might have had the most fun with this one. The designers asked for an interior model of the biergarten, and we made sure that every man, woman, and child in the building had at least one, and often two huge mugs of beer in hand, complete with sizable heads". Everyone knows how much German kids love beer!
So, that's the end of those cool photos of the amazing models - I wonder if any of the models have survived? Of course they were huge, and storing them would be expensive, so my guess is that many were destroyed. Why not put them on display in their respective pavilions?!
Many thanks to Mike Devlin for sharing these photos with us! We're almost done with the images donated by the Devlin family, but there are still a few left.