Today I am sharing an unusual (and possibly rare?) Disneyland toy that I was very happy to acquire several years ago. How many of you remember "Rub-Ons"? The Hasbro toy company produced Rub-Ons from the early 1960's up into at least the 1970's. I had a "Zorro" set when I was a kid, my grandparents gave it to me when I was sick, and I loved it.
The "magic" was in the full-color picture elements that were printed on translucent pieces of paper. Kids could transfer this artwork onto pre-printed backgrounds by rubbing it with a high-tech wooden tongue depressor, and voila! Instant customized happiness.
Little did I know that there was a Disneyland version of Rub-Ons -
awesome
! The box is undated, but we can place it somewhere between 1962 (because the Swiss Family Treehouse is represented) and 1966 (when the Flying Saucers went bye-bye). Here is the box... a bit warped, but not too bad....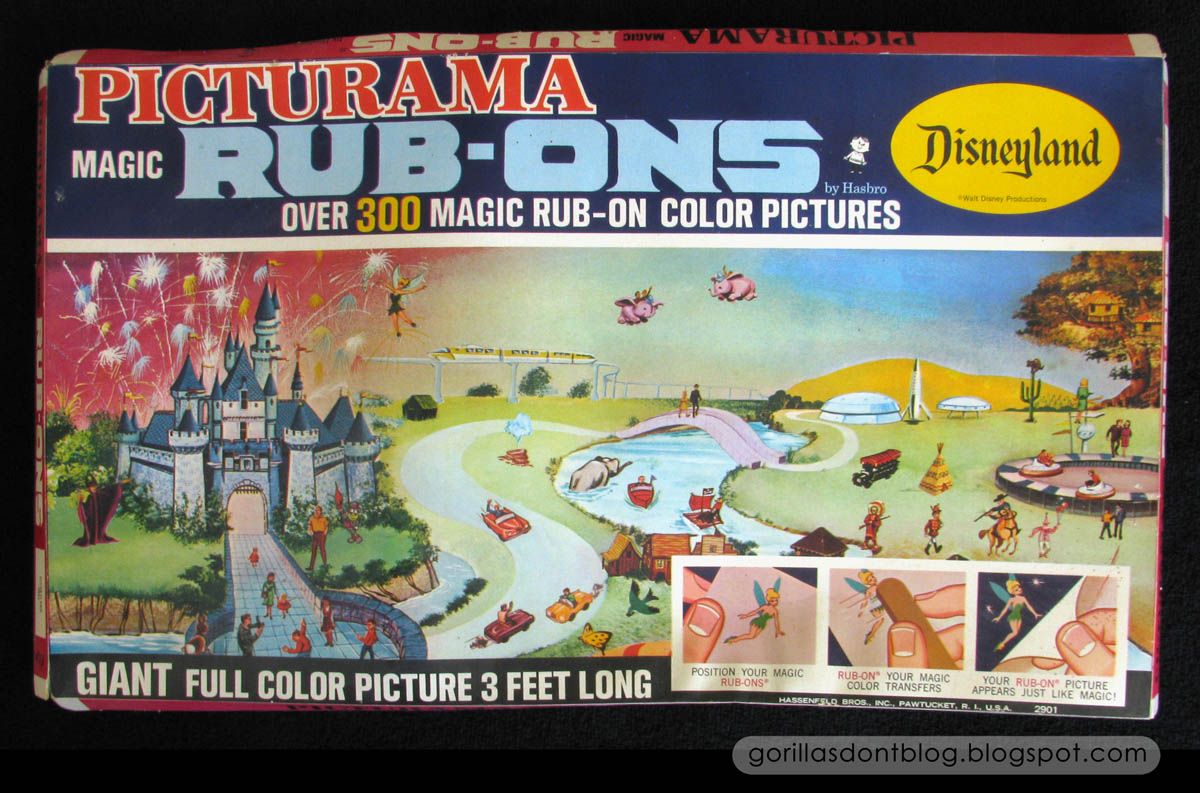 I am a sucker for Disneyland maps, and even though this barely qualifies as a map, I still think it's neat. Look at all of that empty space, just begging to be filled with itty-bitty people, ride vehicles, and characters! As the box says, this piece unfolds to an impressive 36 inches long - ordinarily Rub-Ons were much smaller, which might explain the use of the word "PICTURAMA" for this set. I had to knit several scans together to get this composite.

This toy was complete with all five unused sheets of Rub-Ons. The paper is a sort of parchment, leaving the artwork looking kind of foggy or waxy until it is transferred... then it turns bright and beautiful! I adjusted the photos to try to enhance the way they look.
The first sheet on the left is devoted solely to moms, dads, boys and girls (of the "Leave it to Beaver variety) - with a few tour guides and so on. The sheet on the right has various characters from Disney animated classics - Sleeping Beauty, Dumbo, Alice in Wonderland, etc. And there are natives, hula dancers, jungle critters, a skyway bucket, and more.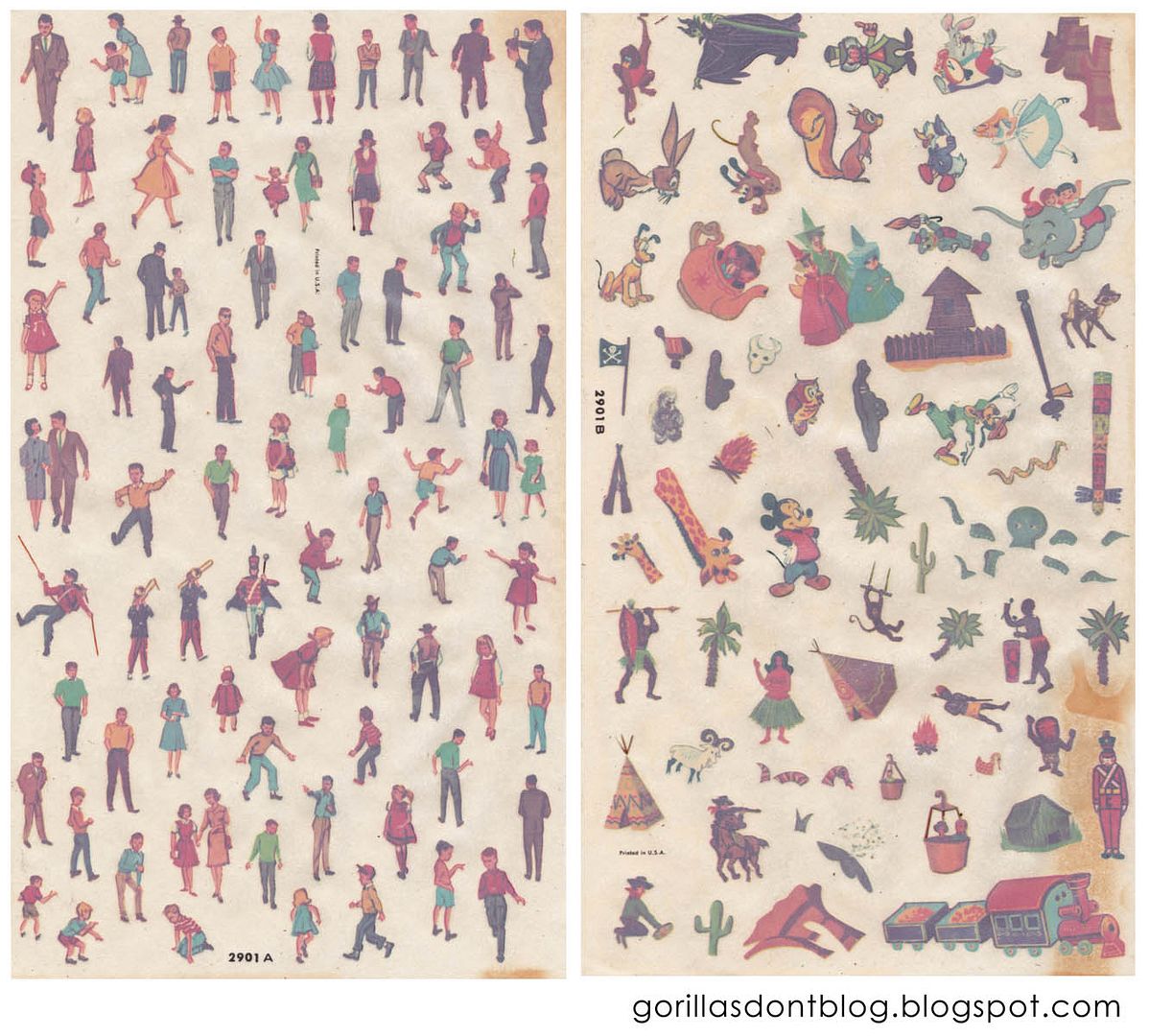 On the left, more classic characters. You know them well! To the right, more jungle pals, denizens of Nature's Wonderland, motor boats, Autopia cars, Tinker Bell... even a swan.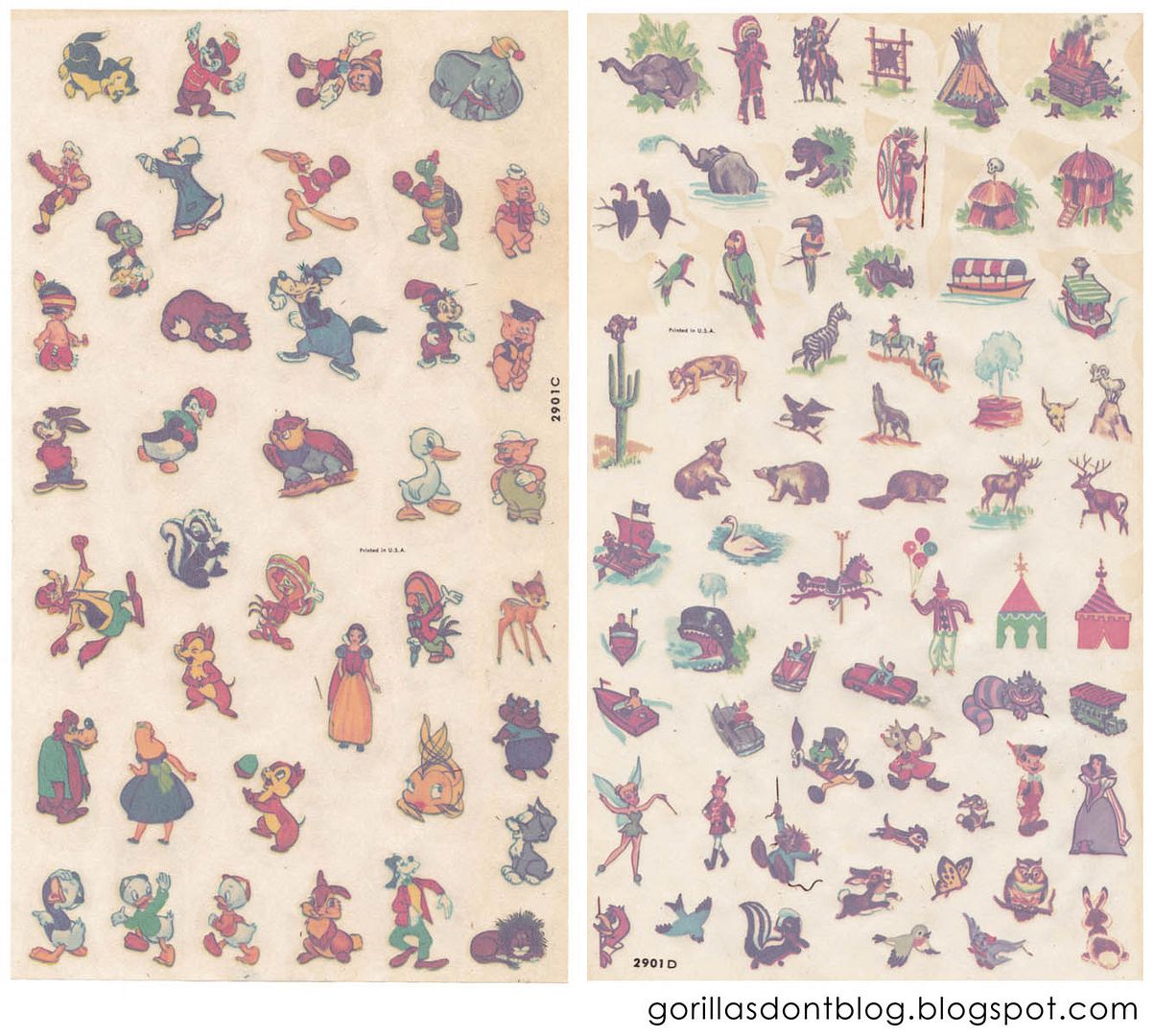 The last sheet incudes the helicopter to the Disneyland Hotel, two Astro Jets, the Town Square cannon, a few Flying Saucers, some teacups, and hey, I just noticed the newer rectangular Skyway bucket in the lower right corner. That would help to date this to 1965, I believe.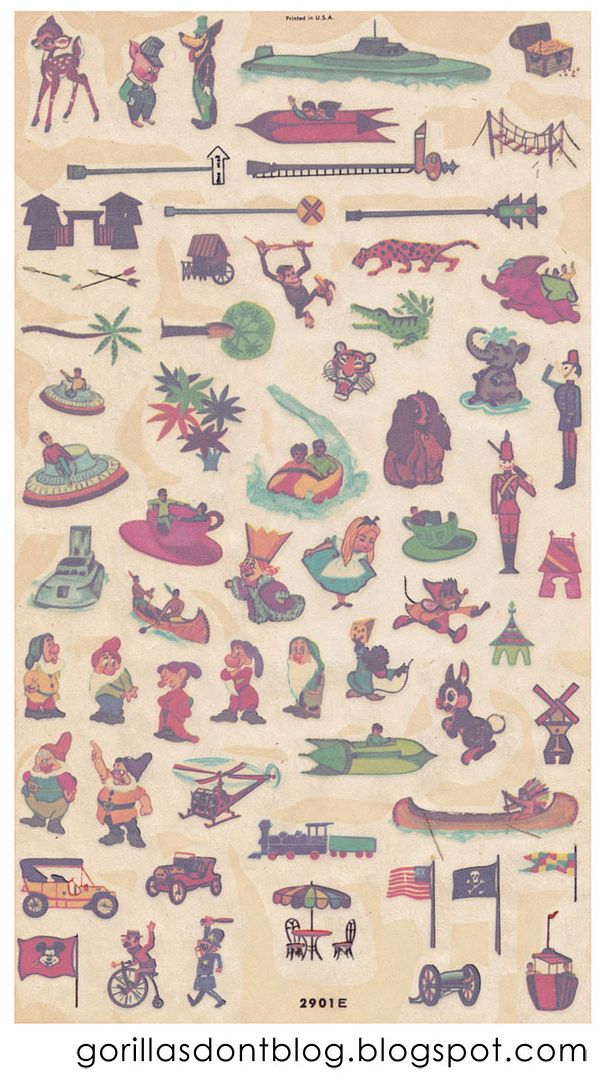 I hope you have enjoyed these Disneyland Rub-Ons!