One of Los Angeles' most beloved landmarks is the Farmer's Market on the corner of 3rd Street and Fairfax Avenue. It opened in 1934, which makes it ancient by L.A. standards. The humble and lovable clock tower (seen in all three of today's photos) is a magnificent two stories high! Man, I've seen it all, now.
This first photo is from 1961. I remember going to the Market with my grandparents when I was a kid. The things that made the biggest impression on me were the toy stores (there were at least two) - we always got some little treat there. And then there was the place that made peanut butter from fresh roasted peanuts. It smelled so good, and you got to watch the peanut butter emerge from the machine - it was better than most TV shows. Of course there are shops that sell fresh produce, seafood, meat, and all manner of products. I like the store that sells a jillion kinds of hot sauce!
To the left, in the distance, you can just see part of CBS' "Television City", where programs such as "The Carol Burnett Show", "All in the Family", "Welcome Back Kotter", and "Three's Company" (to name but a few) were filmed. Before a live studio audience, and with an overworked laugh track machine.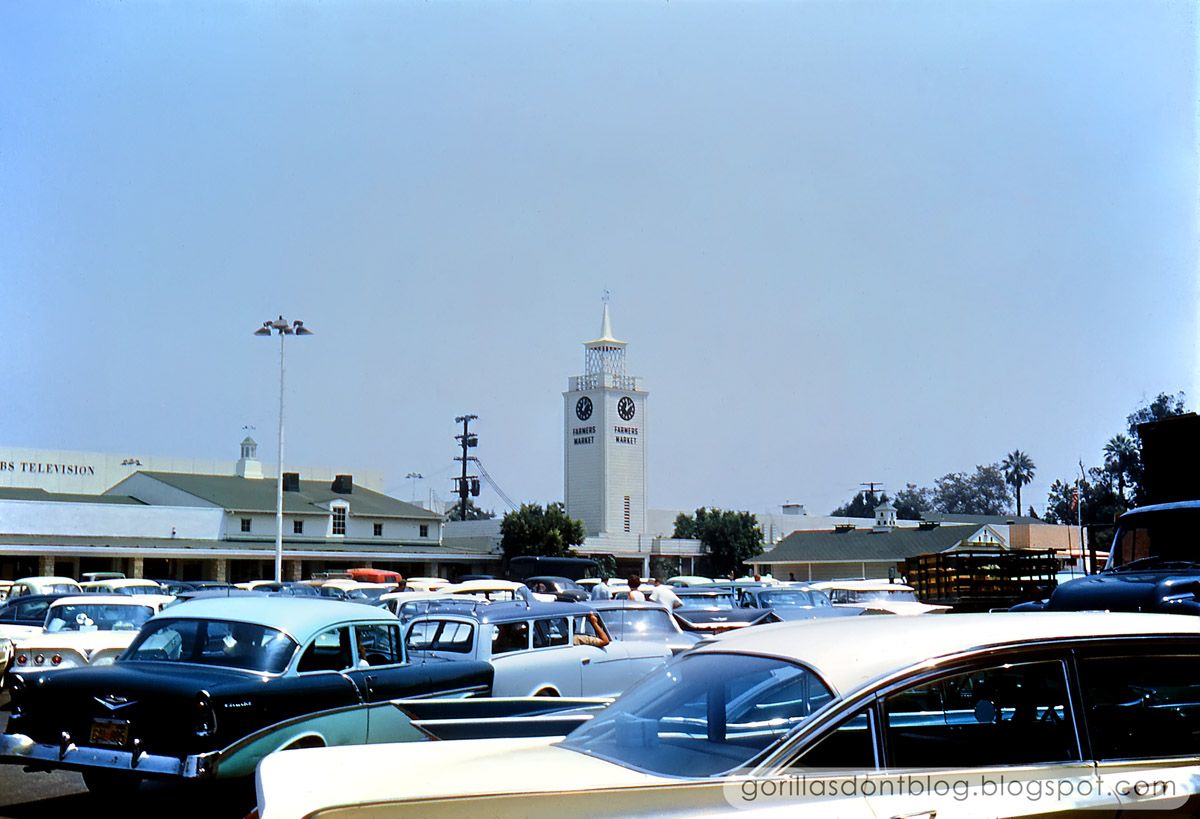 One year later! Yes, 1962. Me good at math. After many years of neglecting the Farmer's Market, I drove over there, probably around 1990, and found that it felt much the same as I remembered it. The peanut butter was still there, as were toy stores (different ones, I think). I still have the vintage Mickey Mouse toy that I purchased that day.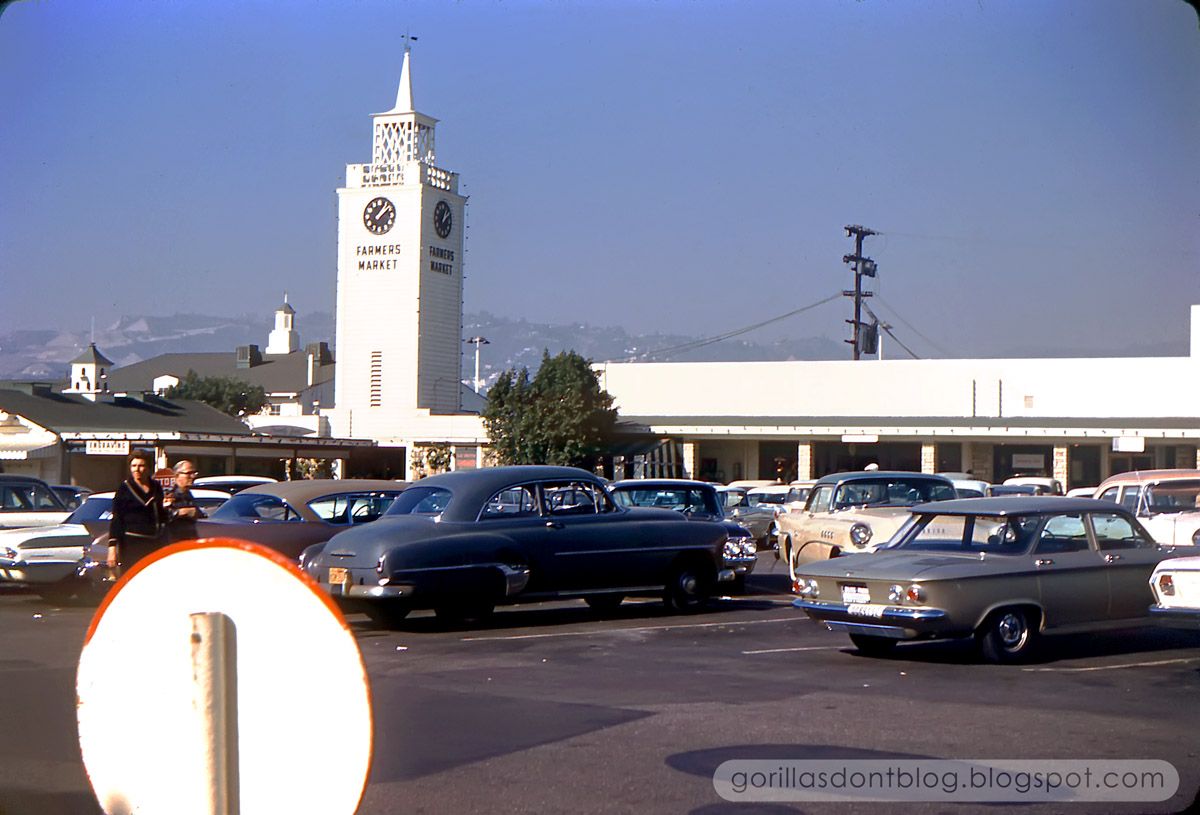 In 2002, a huge upscale outdoor marketplace known as "The Grove" opened next door to the Farmer's Market. Happily, the Market itself still thrives, and even though it is dwarfed by its ginormous neighbor, once you are among the restaurants and shops, it feels very much like it did in the old days. I was there early on a Sunday morning just a few months ago and enjoyed a pleasant breakfast in an atmosphere that is unlike anyplace else in Los Angeles.
This photo is from 1963!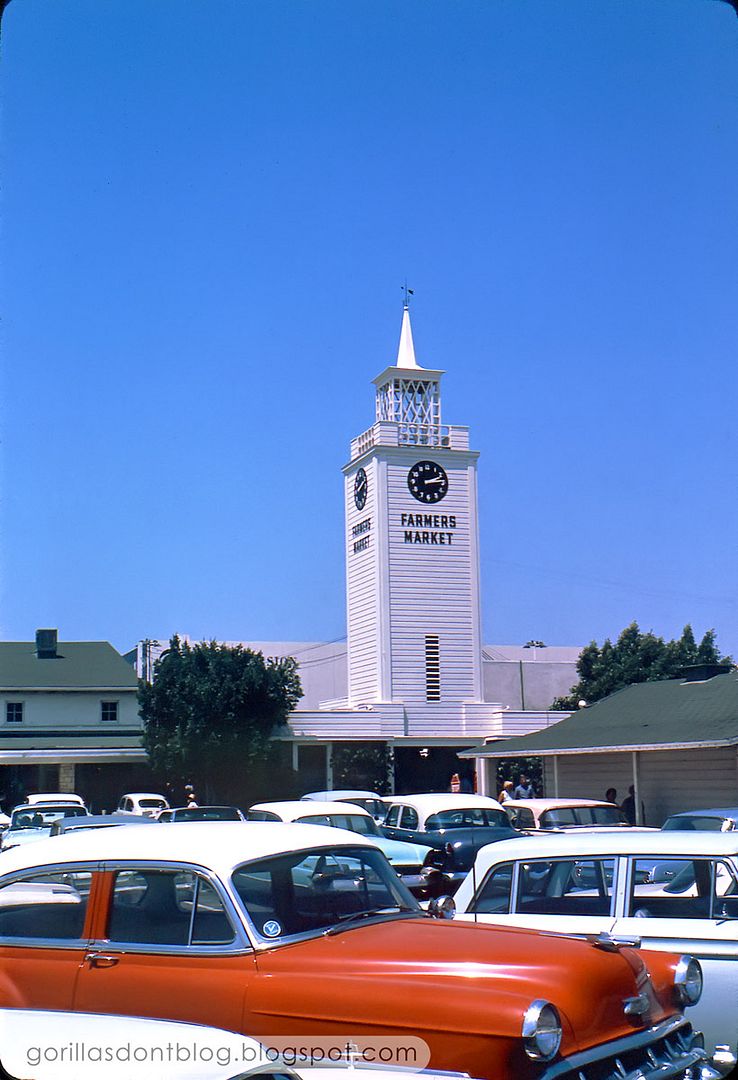 I hope you have enjoyed your visit to The Farmer's Market!