One of my favorite sights at the 1964 New York World's Fair is this green cheese moon dome that covered part of the Travel and Transportation pavilion. I'm sure it looked great at night, presumably lit up by strategically placed spotlights. I'll go see the "Sea Hunt" show, and you can check out "To The Moon and Beyond" - in CINERAMA! (I sure would love to see a DVD collection of all of the films that were shown at various pavilions around the Fair).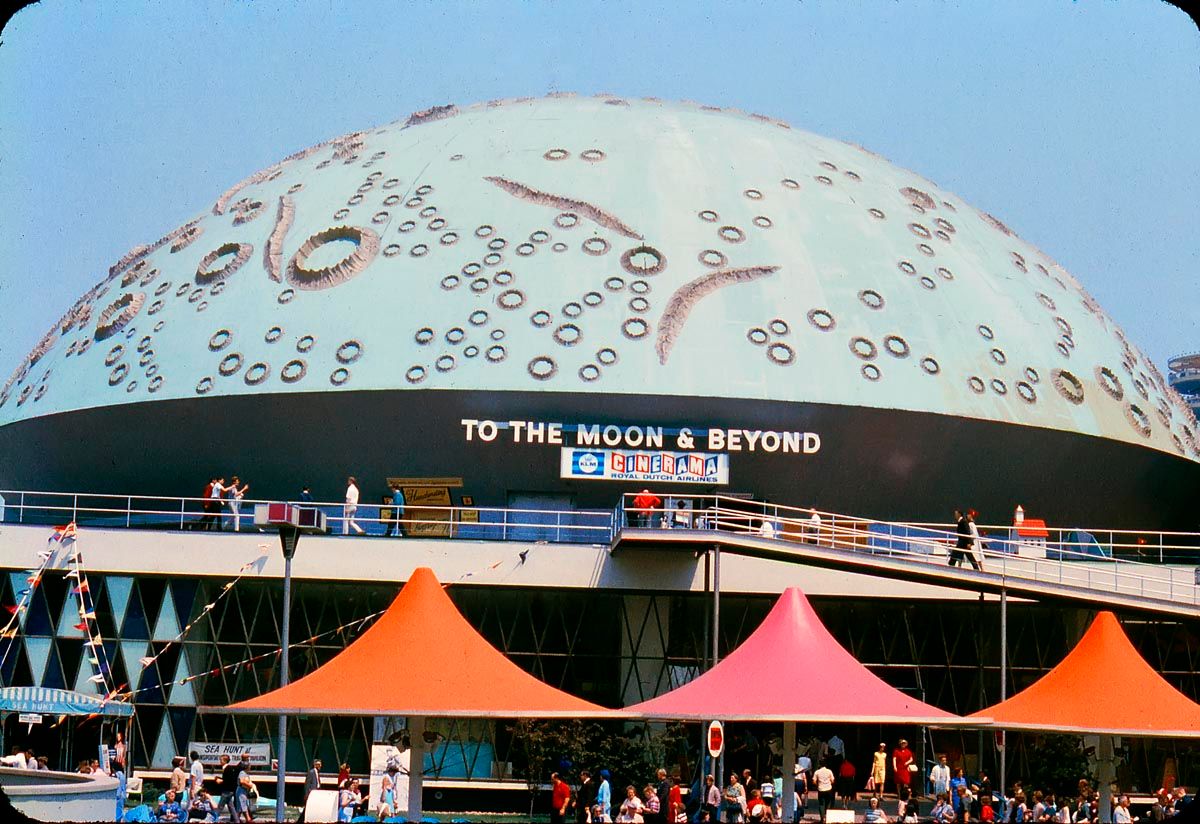 As long as we are at the Travel and Transportation pavilion, let's take a look around. See those tires? They are not ordinary gigantic tires! They were known as "M-6 Rolling Liquid Transporters". Here's what that sign says: The Rolling Liquid Transporter makes it possible for Army units to more than double their operating range. Carrying up to 500 gallons of fuel or water in each of their huge tires, RLTs can be towed singly or in tandem over any terrain which trucks, tanks or amphibious vehicles can negotiate. Five of these Army transporters can hold enough gasoline to supply the average motorist's automobile with fuel for eight years.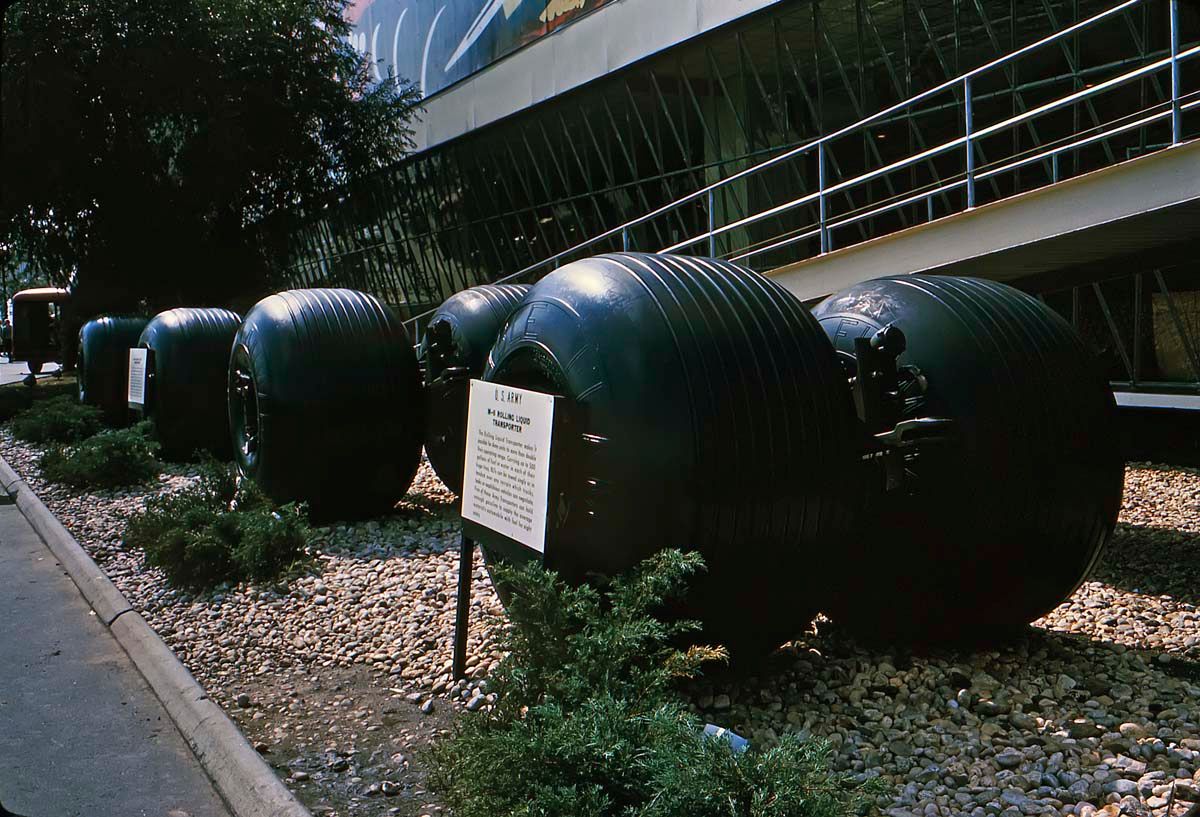 I believe that this photo was taken from the Monorail; you can see part of the track and another Monorail vehicle in the distance. We are zipping past a part of the Amusement Area, including the Log Flume Ride. I guess New Yorkers were way too cool to ride in a hollowed-out log, there are two "empties" floating down the trough. I have no idea what "Franksville" was; maybe they sold hot dogs!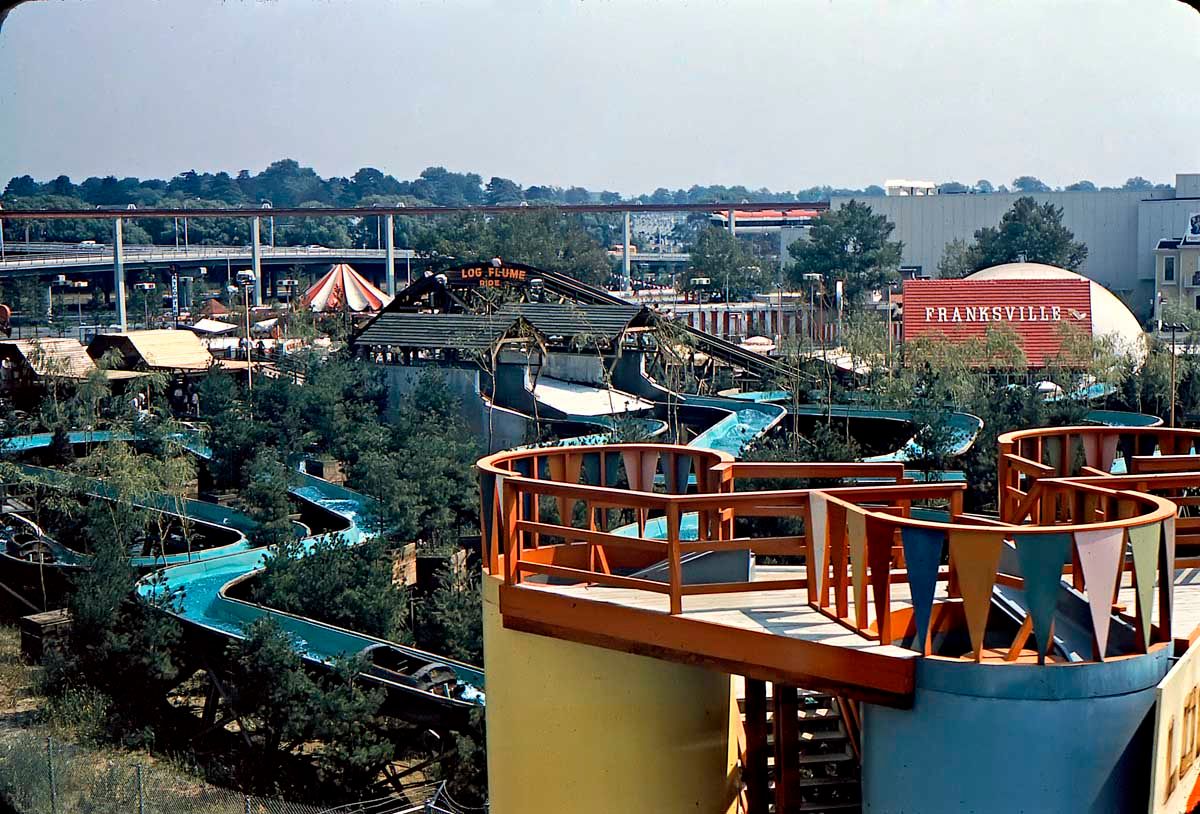 Here's a little somethin' for the ladies! Somebody's nekkid. For a microsecond I thought that this might be from General Electric's "Magic Skyway", but thanks to nywf64.com I know that this scene is from the Travelers Insurance's "Triumph of Man" show, which was a series of 13 dioramas showing the progress of humans from grunting goons to smart-alecky astronauts. This photo shows the first diorama - The Dawn of Man! This is East Africa and man; your ancestor of a million and a half years ago. He is ape-like. Clothed in coarse hair. But he stands upright. He can think. He can learn. Early man uses rocks and clubs to kill animals for food. He fashions small stone tools to help him cut through tough hides. His world is violent; cruel. But he survives. And this simple pebble tool is the beginning of a technology which will take man to the stars.