You all know GDB to be primarily about Disneyland, but I have an appreciation for Walt Disney World too. That massive park debuted on October 1st, 1971, which means that today marks the 45th anniversary of the opening of Walt Disney World. As a kid I remember seeing a lot of publicity and I wanted to go there SO much. But, 45 years later, I've still never set foot in Florida.
I don't have any amazing opening day photos to share, but I do have a few nice random images from the park's first few years. Like this beautiful November 1974 photo of the entrance to Tomorrowland! There are those distinctive pylons, which additionally served as fountains. The smooth turquoise walls also had water cascading over them - a nice touch.
In the distance is the Star Jets, which had just opened this year - in fact, they might not even be open yet in this photo, since they debuted on November 28th. That attraction sits above the station where the Peoplemover would be in 1975.
Look at that beautiful Florida sky!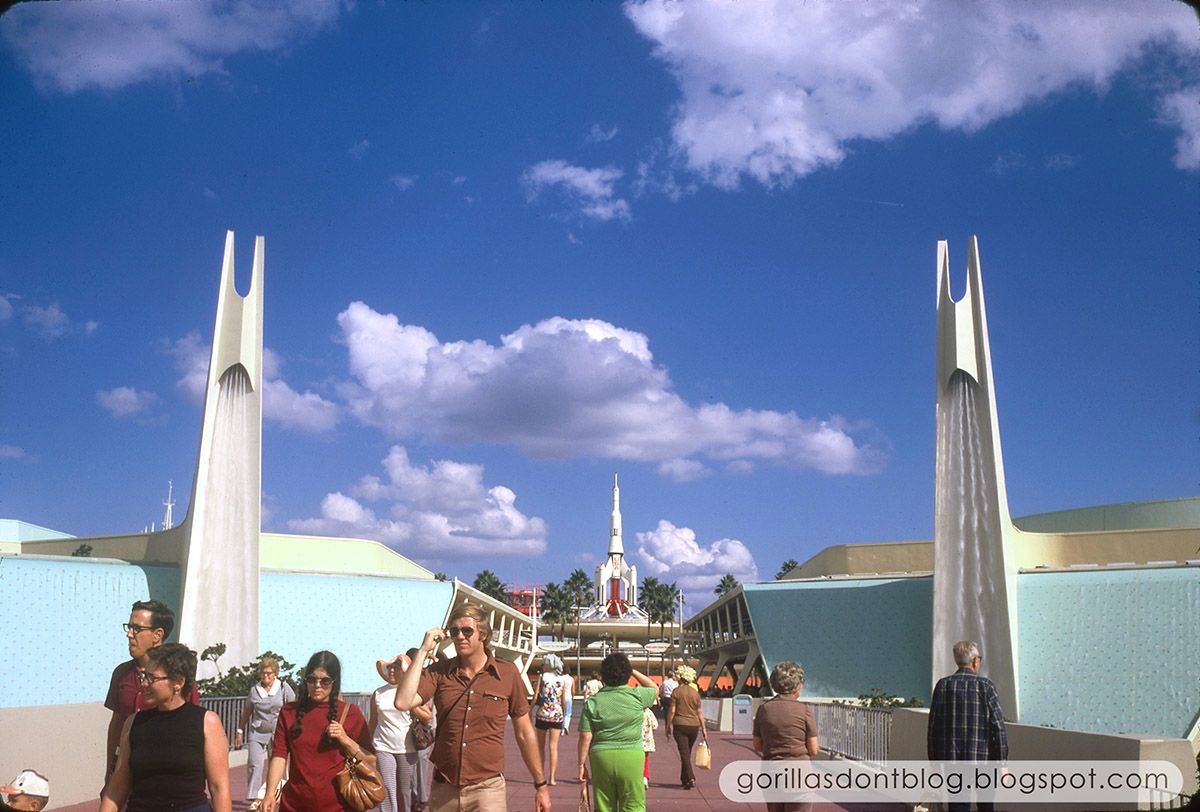 Next is a photo from November of 1971 - the park was only weeks old. Hey, there are the Three Caballeros! José Carioca (a parrot), Panchito Pistoles (a rooster), and Donald Duck. Talk about colorful! I love seeing Donald with a serape, and a sombrero perched at a jaunty angle on his head. The small glimpse of Frontierland shows that it is very clean and tidy. Tom Sawyer Island (in the background) would not open until May of 1973.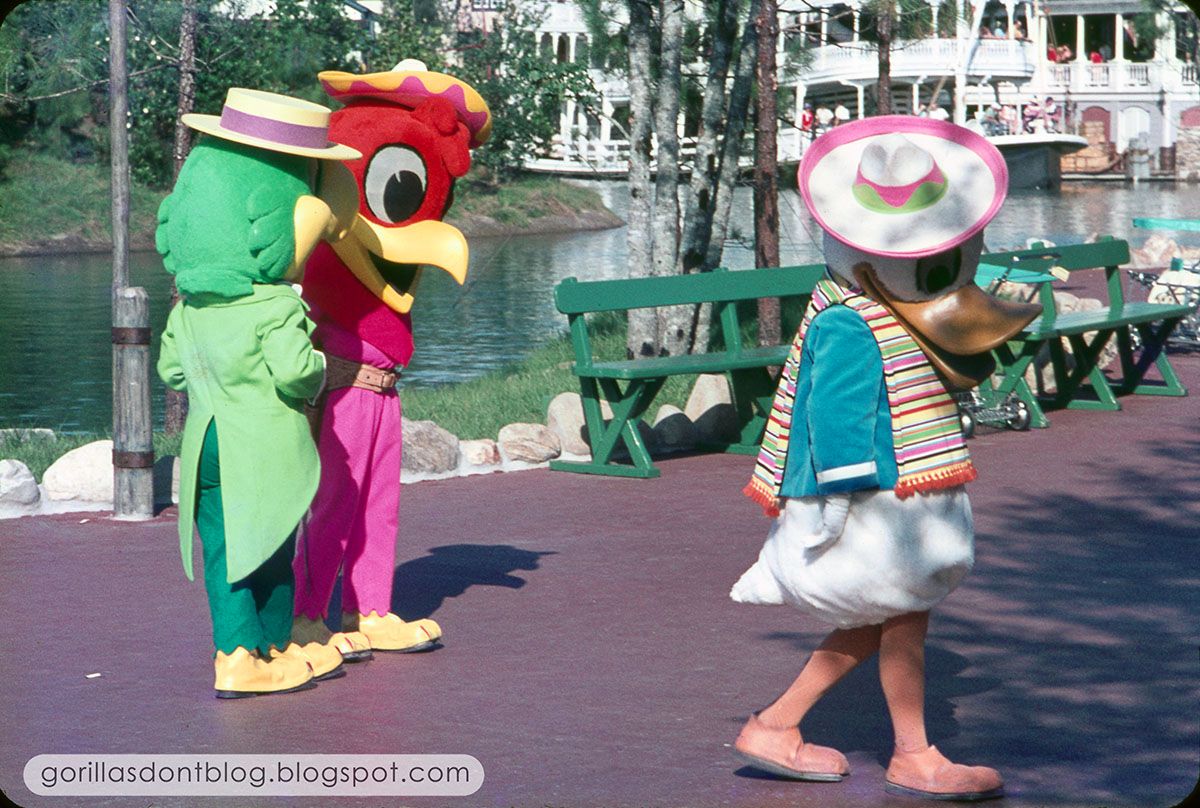 And finally, here is a nice photo of one of the Swan Boats as it made its way around a waterway that led through Fantasyland and (as seen here) Adventureland. Notice the pieces of ship's hardware to our right, a sign that we are near the Swiss Family Treehouse.
The Swan Boats opened on May 20th, 1973; apparently the boats experienced frequent mechanical issues and were difficult to maintain. The ride was eventually closed in August of 1983.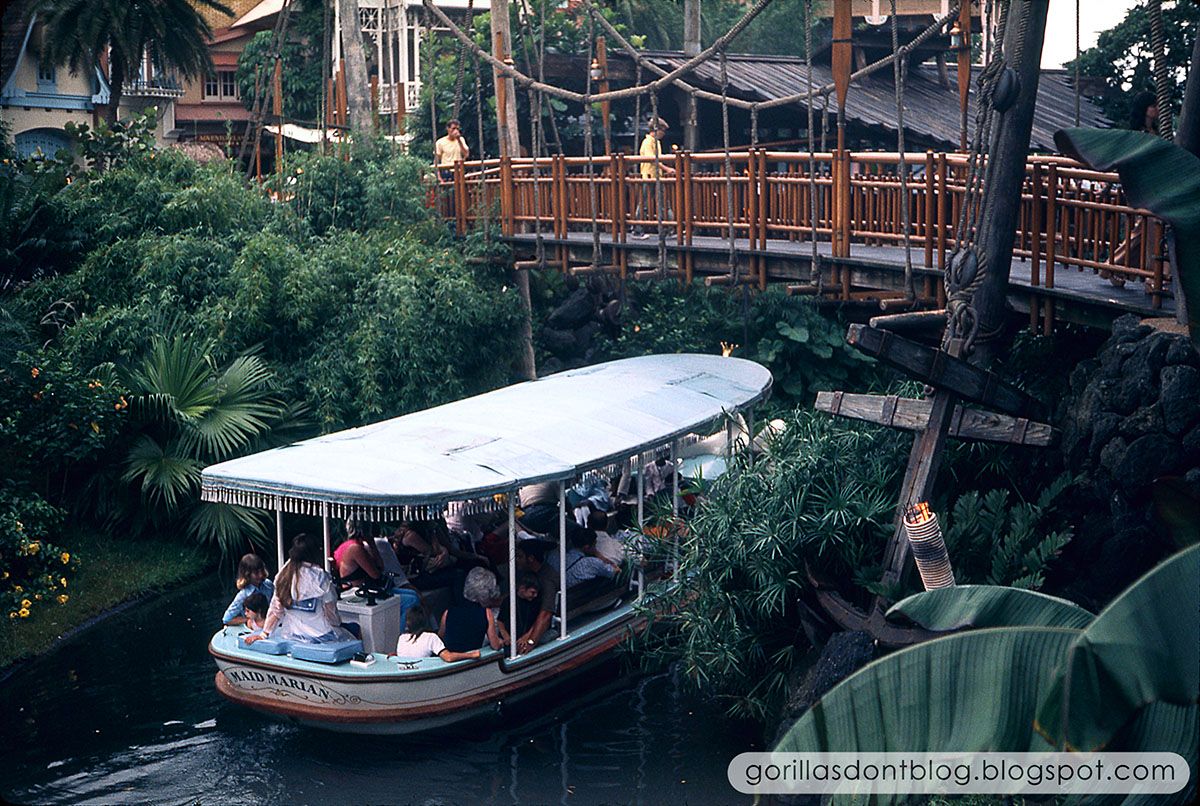 Happy 45th Birthday, Walt Disney World!