Here is the third installment of some cool photos of models built for EPCOT, courtesy of Mike Devlin!
The first three images are of the United Kingdom Pavilion. Mike says, "Of all the pavilions we modeled, this was, at the time, the least developed, so very little detail existed. At one point, an English-style train station was intended for the rear area, but it never materialized".
As was typical of most of these models, this one is done in shades of gray to better show off the forms and layouts. I like to think of it as a "zombie world"! Closest to us is what appears to be buildings that resemble old English shops, or perhaps a pub, while in the background you've got a miniature "Downton Abbey"! Tiny dramas were happening inside.
I don't even care what else the U.K. pavilion has - there's a gazebo, and that's enough for me. But it might not be enough for you, which is OK, because there is a small park (complete with statue... was it based on a real sculpture?), a charming, winding street, and several other buildings that I assume held shops or eateries, since rides were practically nonexistent in World Showcase.
Having never been to Florida, I have no idea if this resembles the final U.K. pavilion at all. Maybe one of you can tell me. I guess I always assumed that the pavilions were mostly right along the water, and did not know that they meandered back as far as this model does.
Hey, look, there's a houseboat, in the world's shortest canal!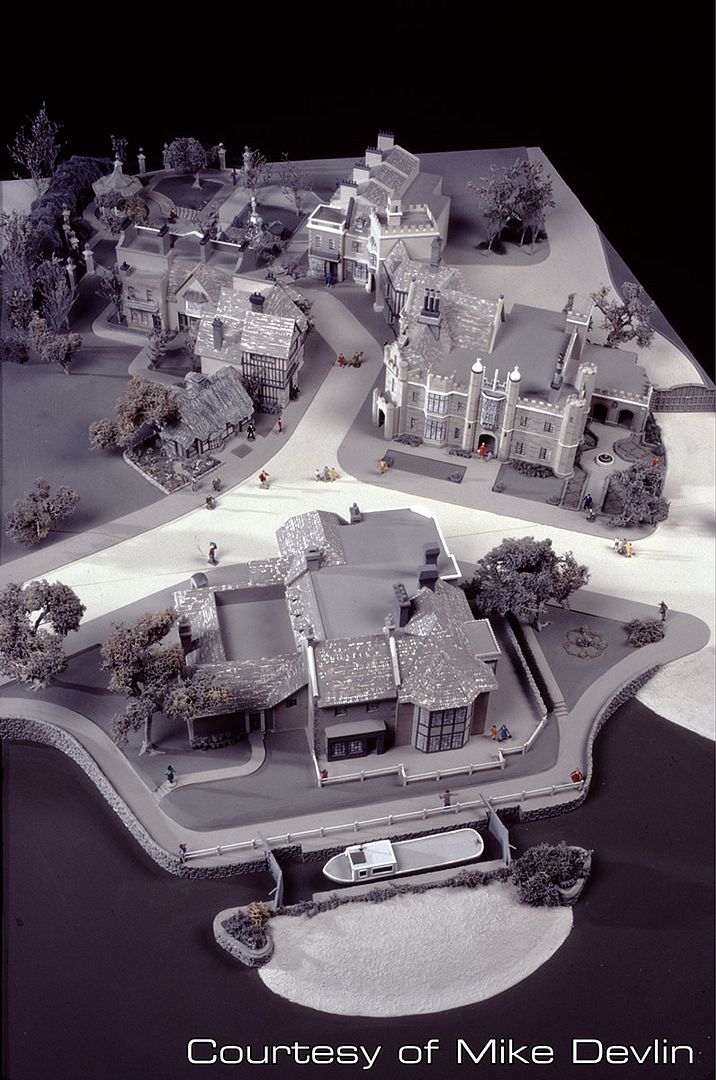 This next photo is the only one that is from "Future World" rather than World Showcase. Mike says, "The photo... is an early version of the Journey Into Imagination building. "...this model was assembled and taken apart a couple times (the reason for the mismatched seams in several places)." I remember reading that Tony Baxter was very inspired by the idea of buildings with crystalline forms, and this one seems to back that up.
Stay tuned for more EPCOT models!