Steve Stuart (aka "
Nanook
") is well known to GDB regulars with his fun commentaries; and along the way he's shared items from his personal collection of Disney stuff... here's another neat piece of ephemera.
Steve has a rare poster and press kit for the wonderful 1956 featurette, "Disneyland U.S.A." (from the "People and Places" series). This is probably my favorite of all Disneyland promotional films, showing the park in the early days, all in glorious Kodachrome. It's beautiful! If you've never seen it, the whole thing is on YouTube... check it out
HERE
.
First off is the poster, as seen in the fancy mat from Steve's favorite framer! The poster's wavy rainbow hints at the brilliant hues that would dazzle moviegoers; I love the little line drawings of various attractions, reminiscent of the kind that appear in so many vintage brochures. After a little bit of research, it appears that this 42-minute film appeared along with "Westward Ho, The Wagons!", since both were released on December 20th, 1956.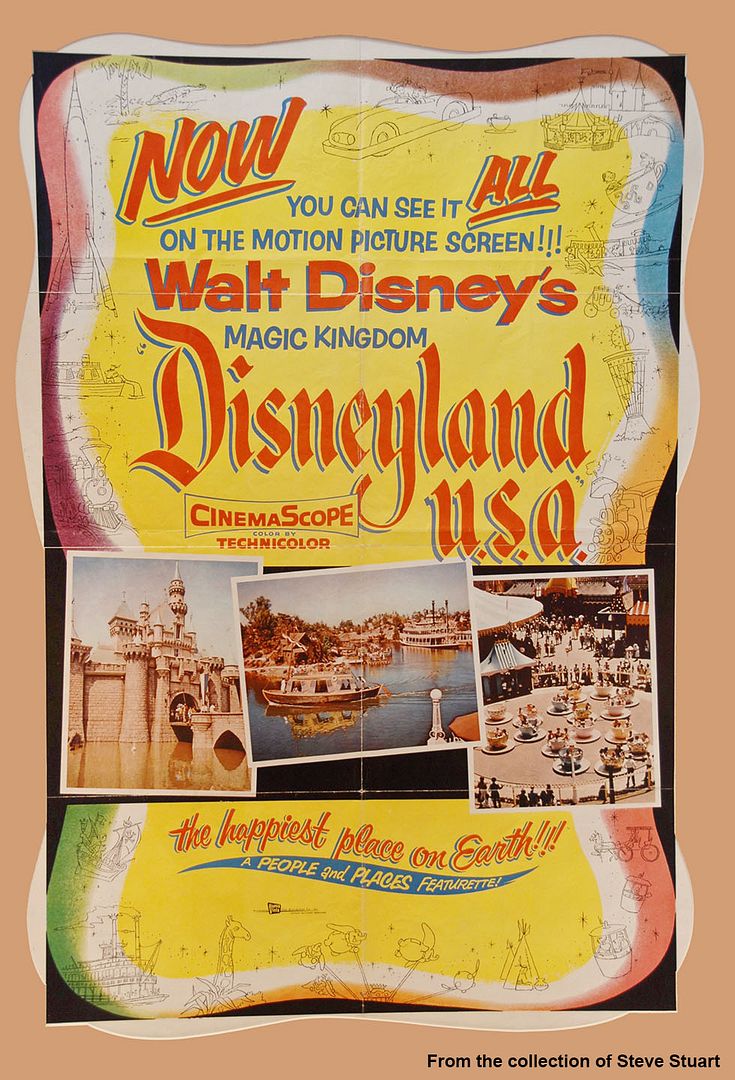 Here's a neat image showing a Conestoga Wagon, a Stage Coach, and the Pack Mules. I would imagine that this would have been reproduced at about 4 inches wide, in smudged halftones in your local newspaper.
Here's the cover of the press book; basically a black, white and red version of the poster.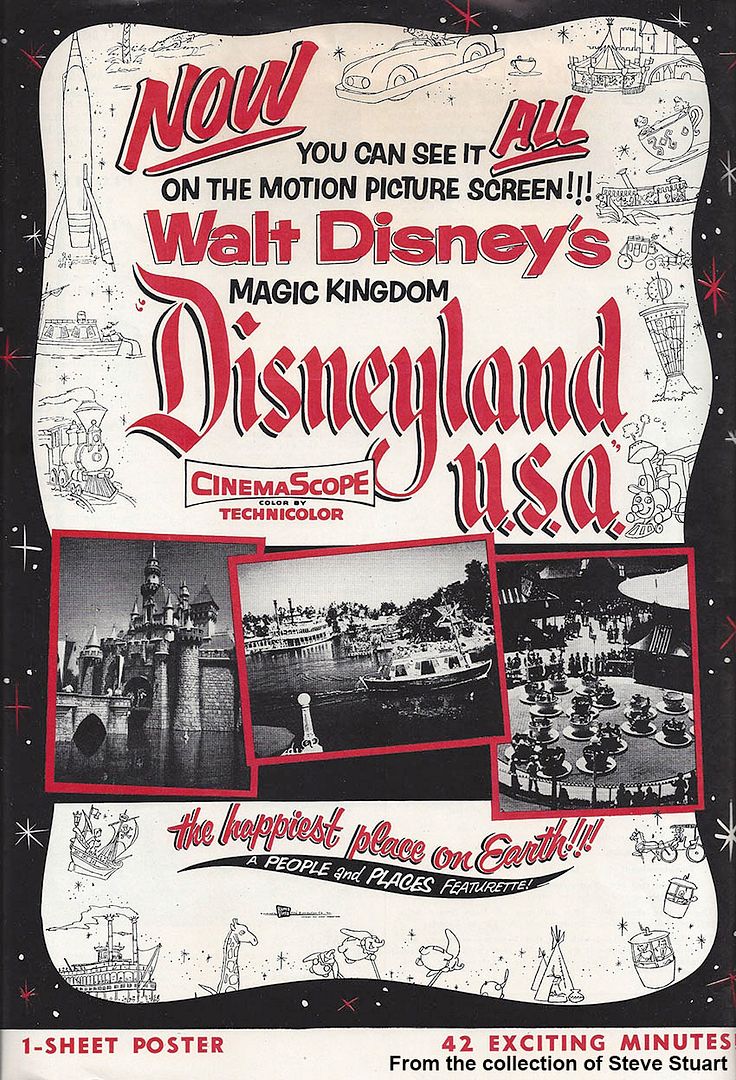 Who loves slugs? No, not the slimy little boogers that chew on your tomatoes. I'm talking about these little pieces of text and artwork, all ready to go with halftone grays. I think my favorite is the one in the middle.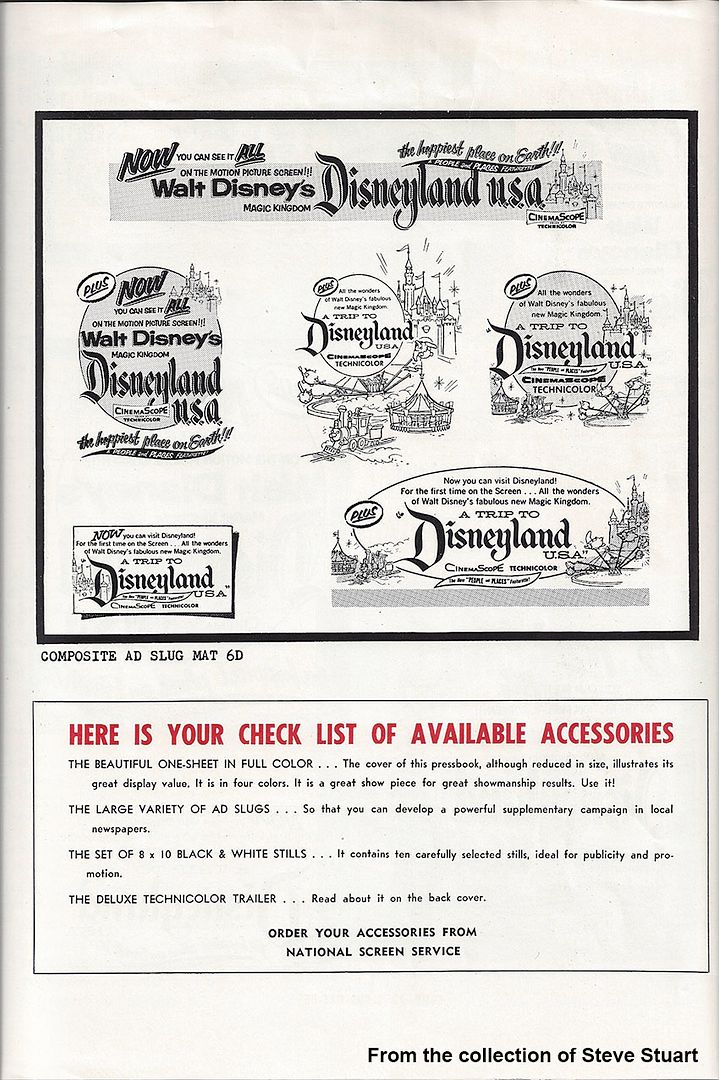 Book it now! Theater managers apparently needed convincing to show Disneyland U.S.A. I love the little blurbs that they provide. "42 Minutes of Sheer Enchantment!". "The Most Exciting 42 Minutes That You Will Ever Experience!". So how long is the movie, anyway? Of course these blurbs get the job done, but they're not very inspired.
Presumably, lazy newspaper editors could write a whole article about Disneyland U.S.A. by copying these prewritten promotional pieces. Hopefully they at least mixed things up so that it wasn't so obvious. Just like my school book reports!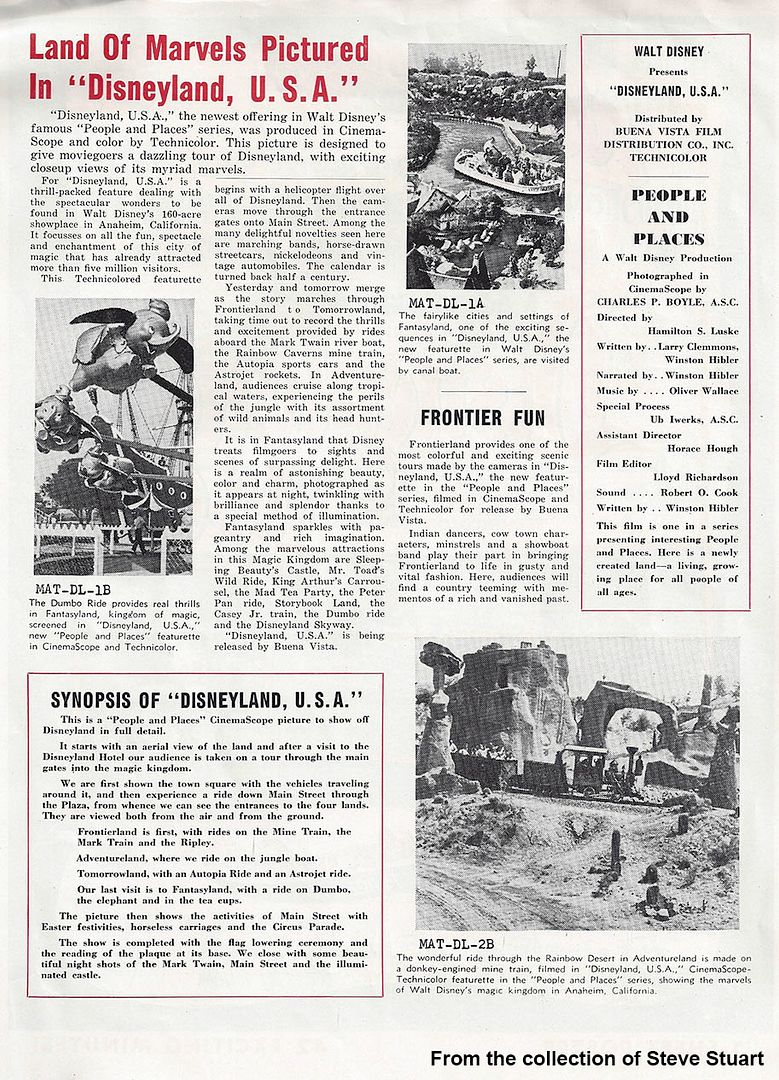 I love the big ad for the classic album, "Walt Disney Takes you to Disneyland (A Musical Tour)" - possibly my favorite Disney album (though if you ask me on another day I might list the famous Haunted Mansion record instead). The two articles at the top of the page are puzzling to me - I guess they provided additional material in case a publication wanted to write an extended article.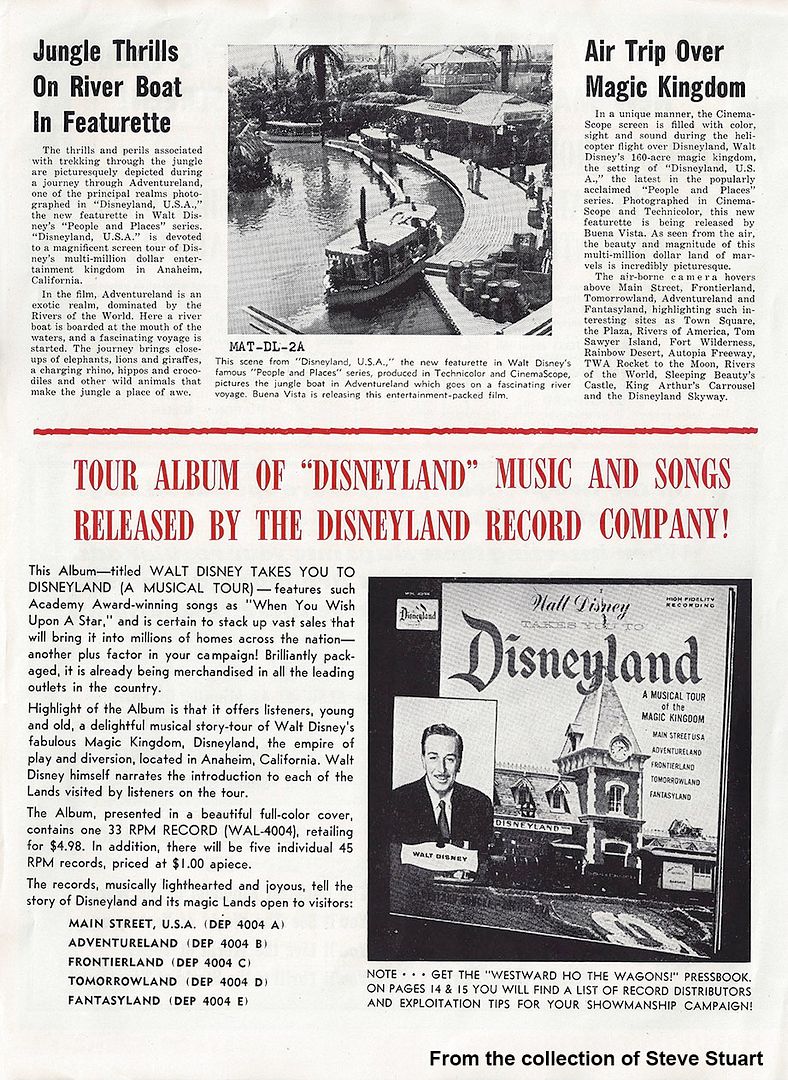 More delicious slugs! I can imagine seeing these reproduced in magazines and newspapers of the era, along with dozens of other movies and short features. "Now you can see it ALL on the motion picture screen"... sounds like a movie that is not appropriate for the whole family!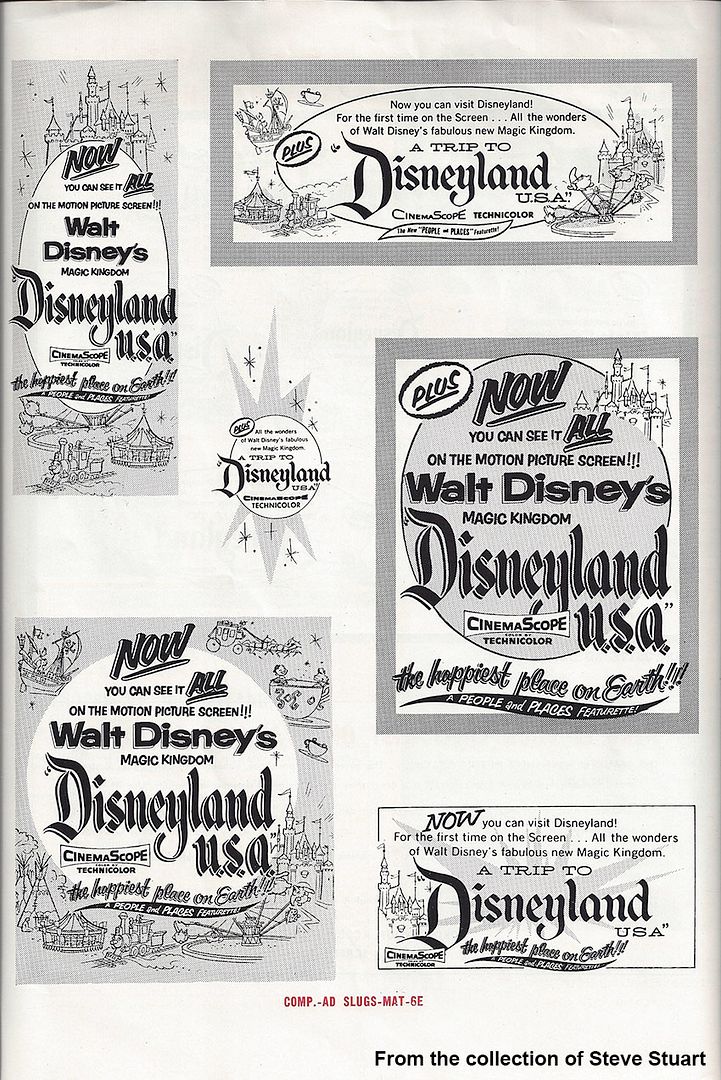 Many thanks to Steve Stuart for sharing this great vintage press kit!