Welcome to the Indio Date Festival! "What the hell is that?", you ask. Indio is located in Riverside County, about 125 miles east of Los Angeles. It's not too far (26 miles) from Palm Springs, and because of its desert climate, palm trees (imported from Algeria) bearing dates became a major crop. Today around 35 million pounds of dates are produced annually! That's a lot of fiber.
The Date Festival was hatched in 1947; it is considered part of the Riverside County Fair, and you can find all of the things you might expect to find at a big county fair. Rodeos, musical acts, monster truck rallies, parades, various booths and exhibits, and carnival food and attractions. And clowns! Check out Bobo the clown, resplendent in Wonder-bread polka dots. He is clearly a master of balloon arts! The cute little girl (named Corinne, according to the slide's label) is showing off her charming inflatable chapeau (held on by static electricity?), while other kids look on with envy (and maybe a little sloth).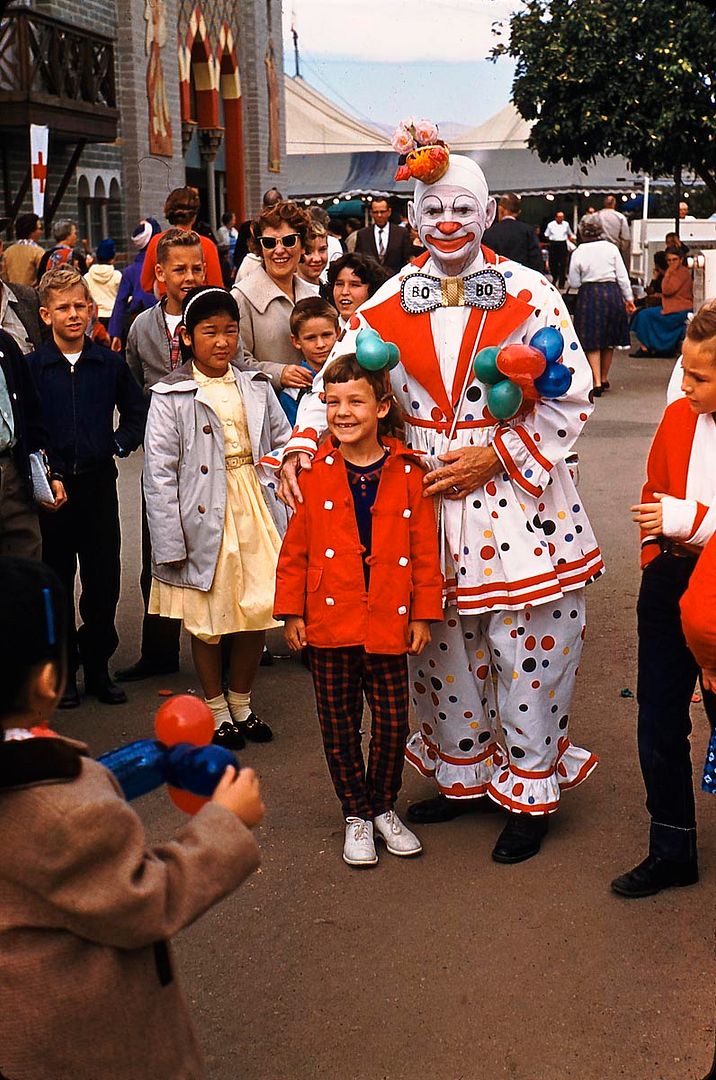 Here's Corinne again, with a fez (the king of hats!). She's posing next to a camel (one hump means it's an Arabian dromedary). Don't let him spit at you, kid. My understanding is that the fanciful "Arabian" theme has been downplayed (if not completely eliminated) since 9/11.