That's right homies, today is post # 2000 here on Gorillas Don't Blog! I remember, long ago, when I planned on quitting after 1000 posts (see the 1000th post here). What a fool I was! The comments and participation by the readers of GDB are what make this project fun and keep me going when I am in danger of burnout. So thanks to everybody who has taken the time to comment, imparting wisdom and humor to my hastily-written posts.
On rare occasions I've even had a chance to meet a few of you, as well as my fellow bloggers. Patrick (
Matterhorn1959
) Dave (
Davelandblog
), Tim (
Vintage Disneyland Tickets
), Chris (
Meet the World
), Jason (
Disneyland Nomenclature
), Connie (
Life Is A Journey
), Kevin (
Kevin Kidney
), Ken (
Outside The Berm
), and oh jeez, I'm probably leaving somebody out. There are
so many
other great blogs out there that I read on a regular basis... too many to mention, but they are all appreciated. The Disney blogger community is made up of some wonderful people!
I have a few images that I have been saving for #2000... photos that I consider to be extra special. Hopefully you'll agree! Like this first picture (undated, but probably 1956 or 1957) in glorious Kodachrome; Black Bart - the scoundrel! - hams it up for a photographer, robbing a group of five girls in front of a colorful Rainbow Ridge.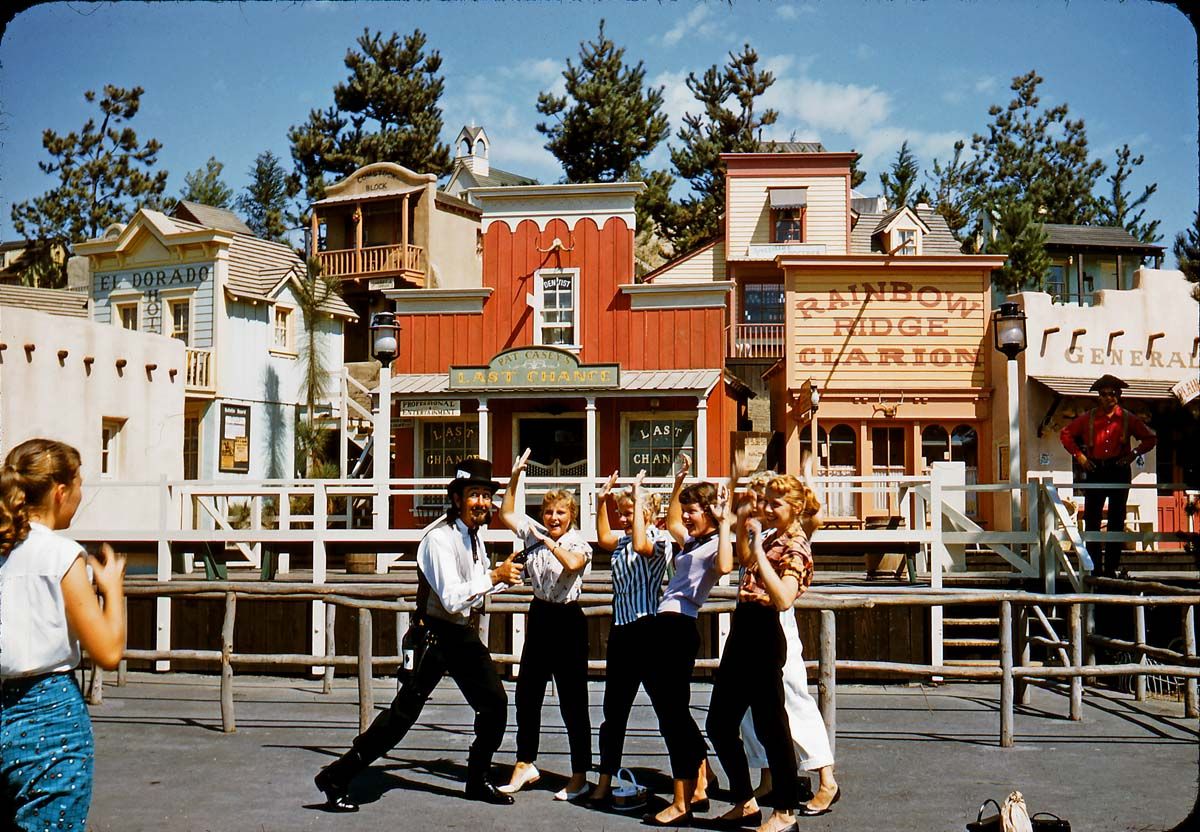 Here's a closer look. If this picture doesn't make you smile, nothing will! Skinny black pants were "in" for girls that year, apparently. I love the look on Bart's face, and the pure joy on the faces of the girls.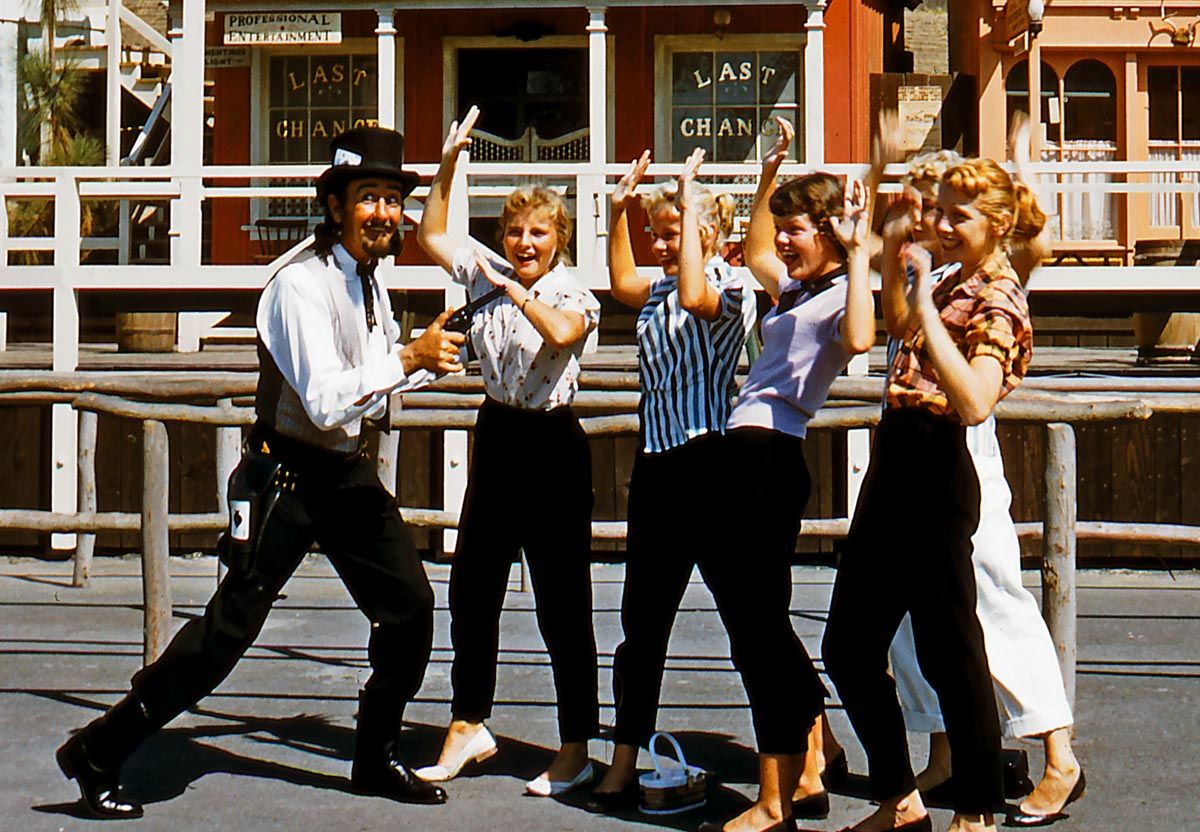 The lovable (and, I am legally obligated to add, "short-lived") Viewliner was a spiffy little train that ran between Tomorrowland and Fantasyland for about 15 months before its demise. Sure, we love the Monorail that replaced it, but if only the two could have lived together in peace and harmony. This terrific shot shows the "fastest miniature train in the world" as it crossed the bridge over Tomorrowland Lake. The ducks are not impressed.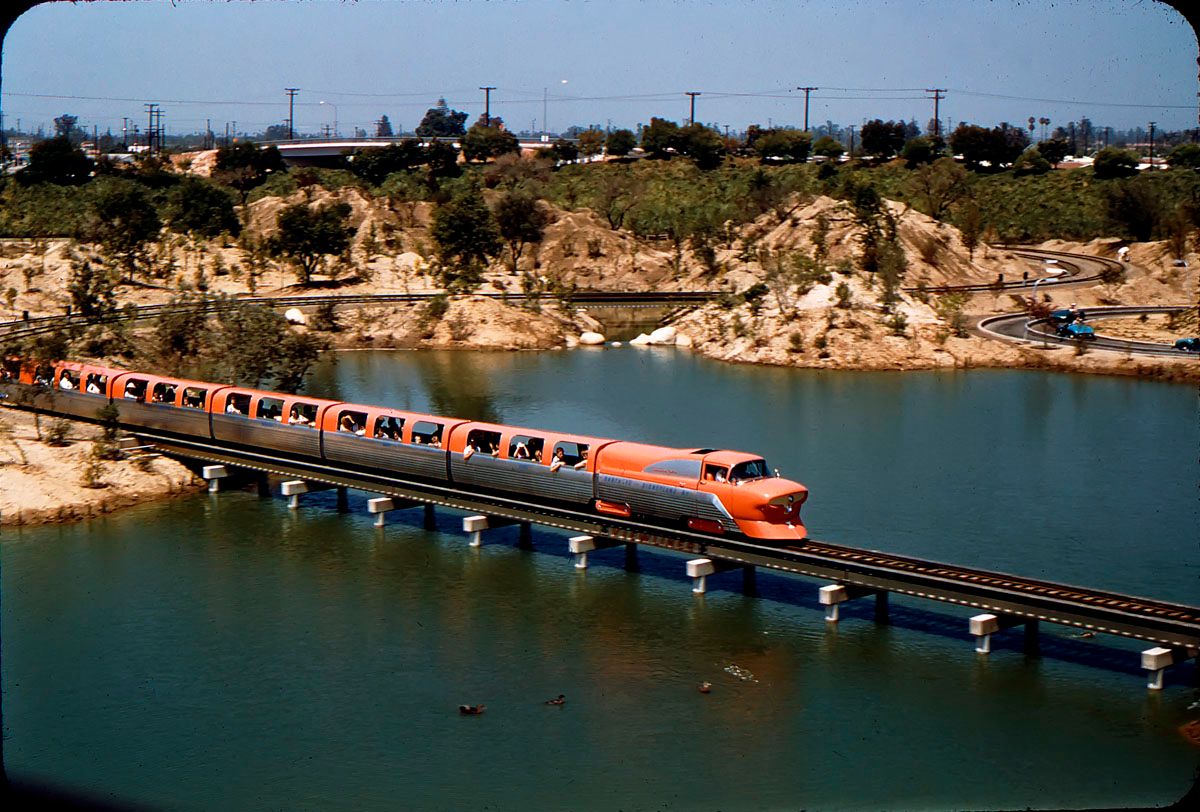 Here's a nice photo of the old bandstand (circa 1955), from the short period when it was just to the west of Sleeping Beauty Castle. I think that the orange roof didn't stay that color for very long, either! A small group of guests has gathered to listen to the Disneyland Band; the small flags and the patriotic bunting might be leftover from the opening day ceremonies.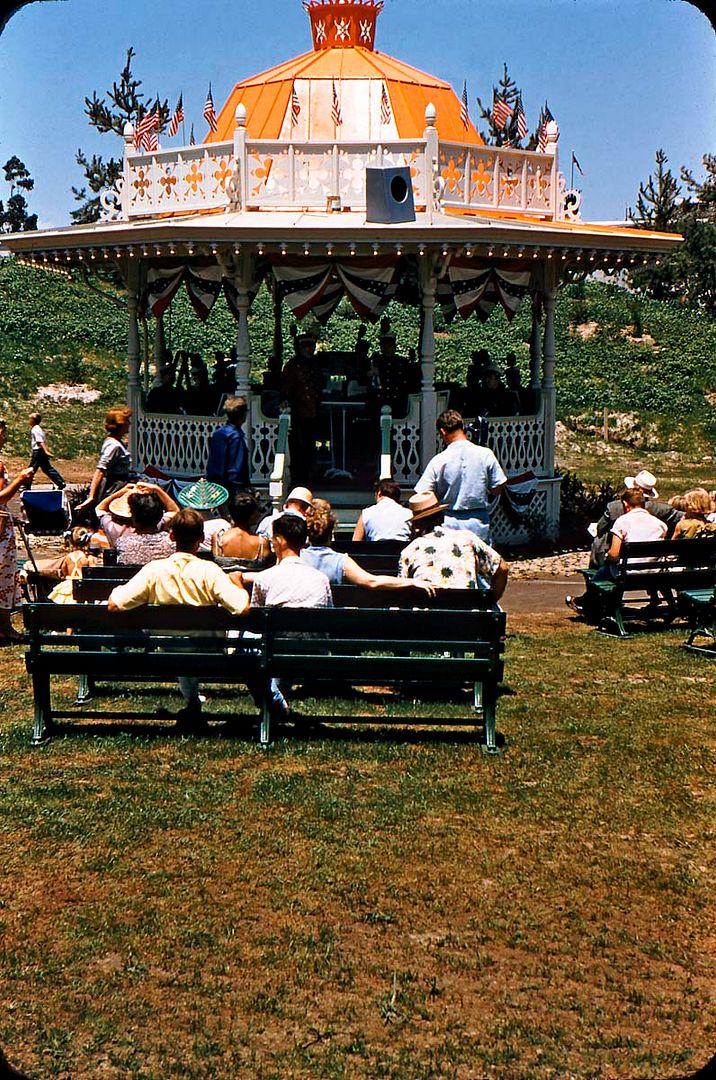 This is really the only decent photo of a Phantom Boat that I have... but it's a doozy! Calling Batman... somebody stole your boat. I love the big fins and the "jet engine" cowlings, combined with the prosaic outboard motor. Those motors were notorious for overheating and conking out, leaving guests stranded. Eventually a cast member sat in the back and piloted the boats for them. Lame! From this angle, it's as if there was nothing but miles of grassy meadow in the background; just imagine if this attraction had survived to see beautiful mature landscaping.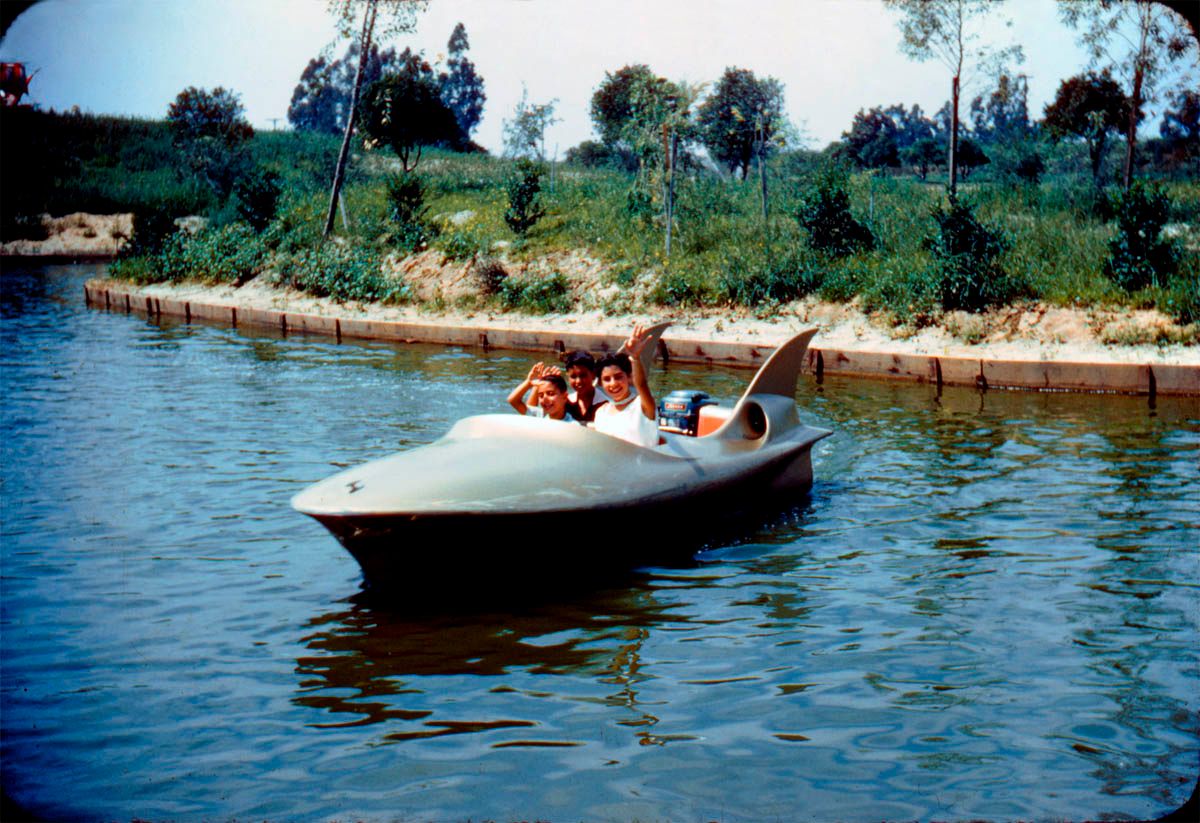 Well, that about does it for today! I am sorry to say that there definitely won't be a
3000th
post, because I am very nearly out of slides, and will almost certainly run out sometime this year. At that point... who knows. I've got some thinkin' to do. Meanwhile,
thanks
once again to all GDB readers for your support!