It's time for PART 26 in the ongoing series of vintage amusement park postcards from the collection of Ken Martinez! Wow, that's a lot of stuff... with more to come. Today is a shorter post than usual, but I think you'll agree that it is particularly interesting. Here's Ken:
Mine Trains and Monorails -
Riverside Park, Agawam, Massachusetts
Riverside Park was a traditional park that started out as a picnic grove called Riverside Grove before becoming Riverside Park in the early 1900's. The park was eventually purchased by Premier Parks (Six Flags) in 1996.
Here's the El Dorado Mine Train at the park with the Thunderbolt coaster in the backdrop. I love this postcard because it so strongly resembles the Mine Train Ride at Disneyland with the Rainbow Ridge load area. Even the mining cars are the same color as the Rainbow Caverns Mine Train. Apparently a fire destroyed the attraction sometime in 1971 and put the coaster in the background out of commission for a while.
Another ride familiar to Disneyland fans is the Monorail. I think I'll call this one Monorail Pink. In addition there was a Jungle river ride similar to Disneyland's called "Jungle Cruise" complete with mechanical animals and candy striped canopy launches. To top it off there was also a steam riverboat. Who needs Nara Dreamland when we had Riverside Park right here in the good ol' U.S.A.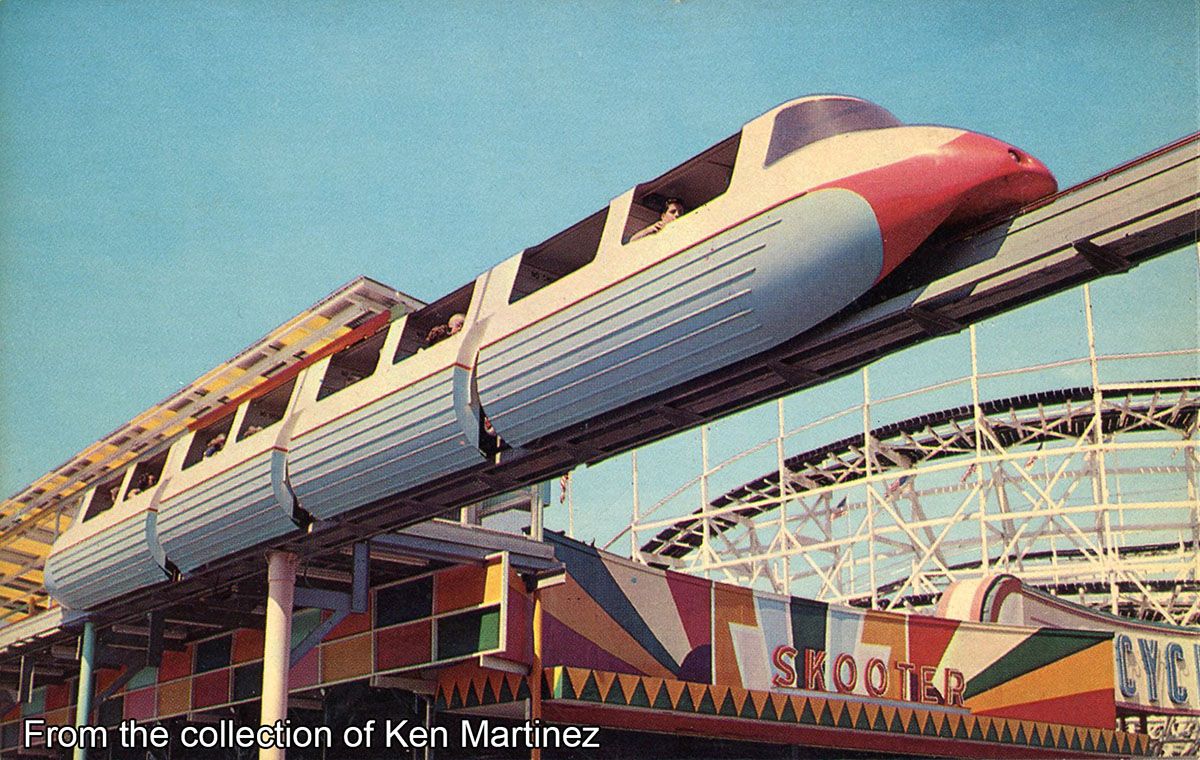 Riverside Park now operates as "Six Flags New England", a modern theme park which means it has survived. At least the park and its classic Thunderbolt (oldest operating coaster at a Six Flags theme park) are still in operation. Let's hope it doesn't meet the same fate as Geauga Lake which later became Six Flags Ohio and then was sold to Cedar Fair before closing. Hope you enjoyed today's post.
Information Source material:
Funland U.S.A. copyright 1978 by Tim Onosko
Roller Coaster Database http://rcdb.com/
Thanks Ken! I love seeing these Disneyland clones. As Ken pointed out to me in an email, Disney certainly took inspiration from other parks (and World's Fairs) too. Maybe we'll see some of those in future posts.