Here is the fifth installment of scans featuring vintage postcards from the collection of Ken Martinez! Today's subject - Frontier Village - is one that interests me a lot, although I didn't know anything about it until years after it had closed. As always, Ken has provided lots of great info:
Frontier Village, San Jose, California
Frontier Village was a western themed amusement park located in San Jose, California. It opened on October 21, 1961. It was one of several local parks that dotted the an Francisco Bay Area along with Santa Cruz Beach Boardwalk, Santa's Village, and Children's Fairyland in Oakland. Like the other three parks, it was a place I spent time at during my childhood.
Probably the most iconic image of Frontier Village was the main entrance to the park which consisted of two wooden frontier blockhouses. Here visitors would pass the block houses, cross a bridge over a lagoon and venture onto Central Square. In the distance is the Frontier Village train station.
Here's the Frontier Village Victorian train station in Central Square. It's one of the first buildings seen after entering Frontier Village. From Central Square visitors would venture further and enter Main Street.
The first building visitors saw entering Main Street was the Silver Dollar Saloon. Many of the buildings on Main Street were two-story with the upper story comprising of offices for park personnel. Also on Main Street were the General Store, Marshal's Office and Jail, Arcade and Last National Bank.
In front of the Frontier Village Marshal's Office on Main Street we have the marshal greeting a young cowpoke. Located in this building were Lost and Found and First Aid. Here visitors could also buy tickets or report any problems. There were several men that played the role of Frontier Village Marshal throughout the park's history.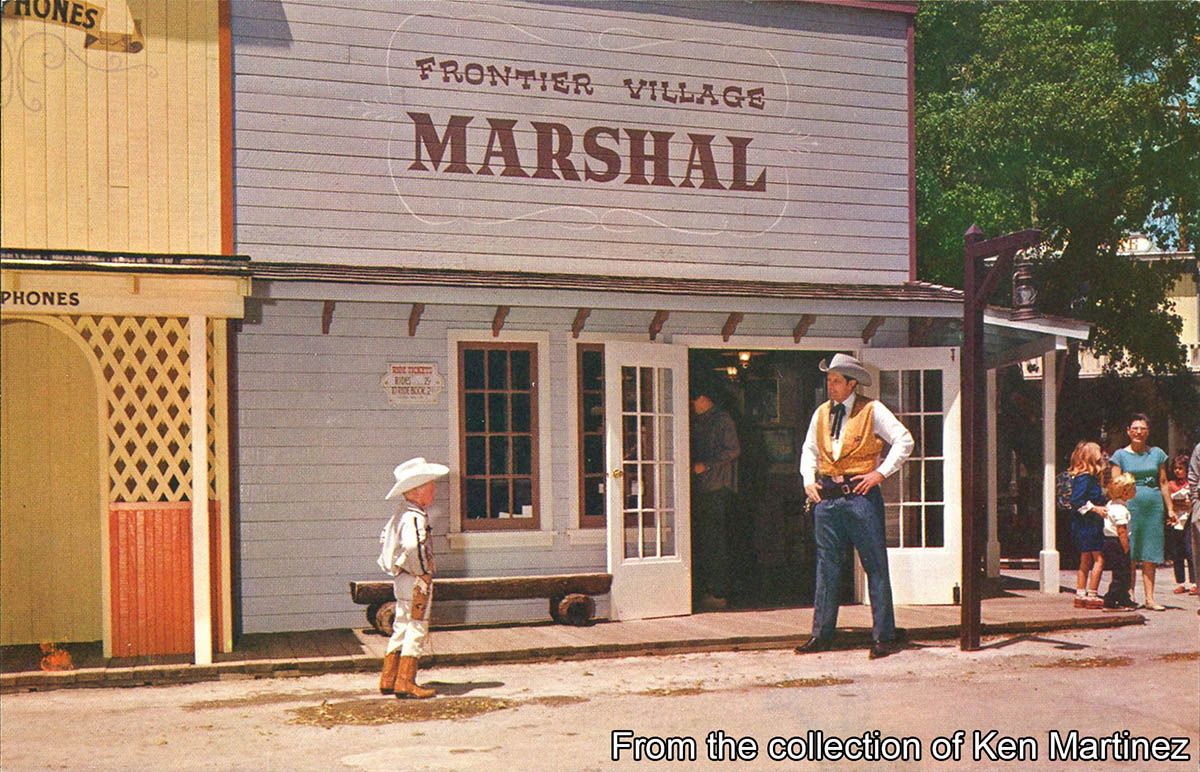 Here we have one of the Frontier Village's costumed characters "Tumbleweed" posing in the opening of the Lost Dutchman's Mine. Other characters included Theodore the Bear and the fluorescent green gorilla "Kaktus Kong". I'm still on the lookout for any ephemera of postcards showing the elusive gorilla.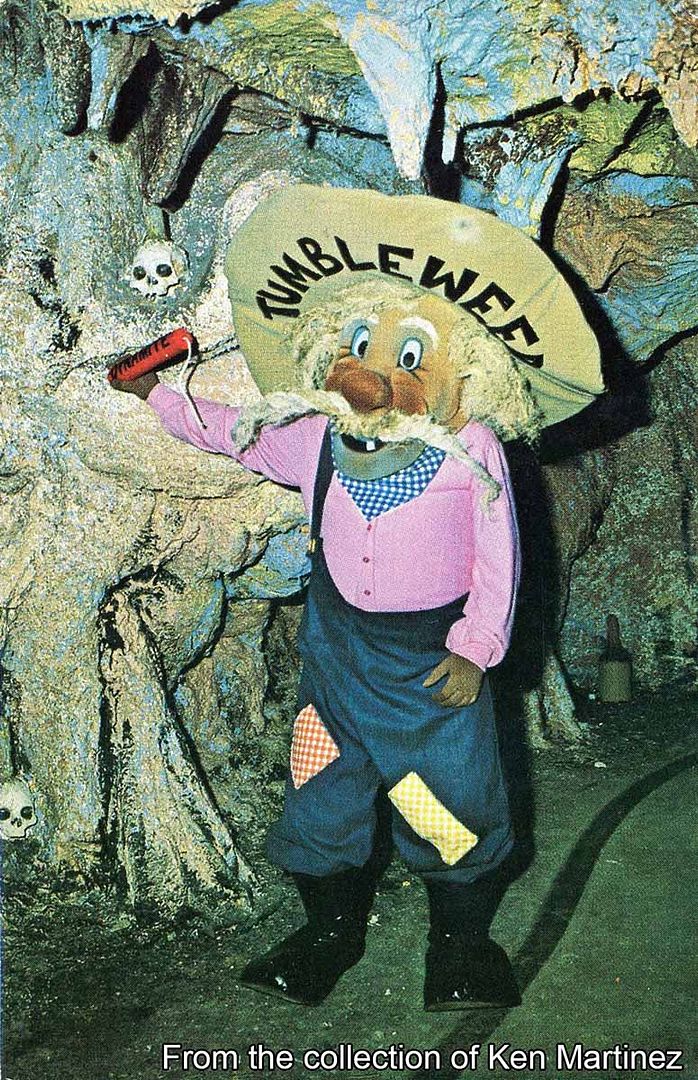 The "Lost Dutchman's Mine" was manufactured by Arrow Development Company. A conventional black light dark ride, it would carry riders through a subterranean world aboard "ore cart" vehicles. If you look close enough you can see the bus bar track that powered and guided the vehicles through the cavern, passed waterfalls, glowing stalactites and bubbling pots.
The Lost Dutchman's Mine also called Lost Frontier Mine had a haunted theme so it was filled with several skeleton miners including the one shown here who would ignite the box or TNT creating an "explosion" and flash of bright light startling riders in the "ore carts".
Frontier Village closed forever on September 28, 1980. There were plans to expand the park in the late 1970's, but competition from the new Marriott's Great America theme park which opened in 1976 and local neighborhood resistance ensured its demise. Hope you enjoyed your visit to Frontier Village.
Information Source material:
Frontier Village (Images of America) copyright 2013 by Bob Johnson
Frontier Village www.frontiervillage.net
It makes me sad that this charming park is now history; when my niece and nephew were little (and lived in San Jose), we certainly would have visited Frontier Village many times! Oh well.
THANK YOU, Ken Martinez, for sharing more of your vintage postcards, and for all of your research! I truly appreciate it.