I'm guessing a lot of GDB readers are fans of vintage Disneyland souvenirs. There are different kinds of souvenirs... many were purchased in the park's various stores. Then there are actual artifacts from the attractions (not many of those!), or even the attraction posters. Then there are the paper guides, gate handouts, flyers, ticket books, and other ephemera that were given out to guests (or swiped by them, in the case of restaurant menus). Today's souvenir falls into the third category!
First, a little bit of history; you're all familiar with the wonderful Carnation Milk truck that was usually parked on West Center Street, next to the Carnation Ice Cream Parlor of course. Here's a photo of it not parked on West Center Street; as you can see, it is near the Plaza Inn (circa 1977).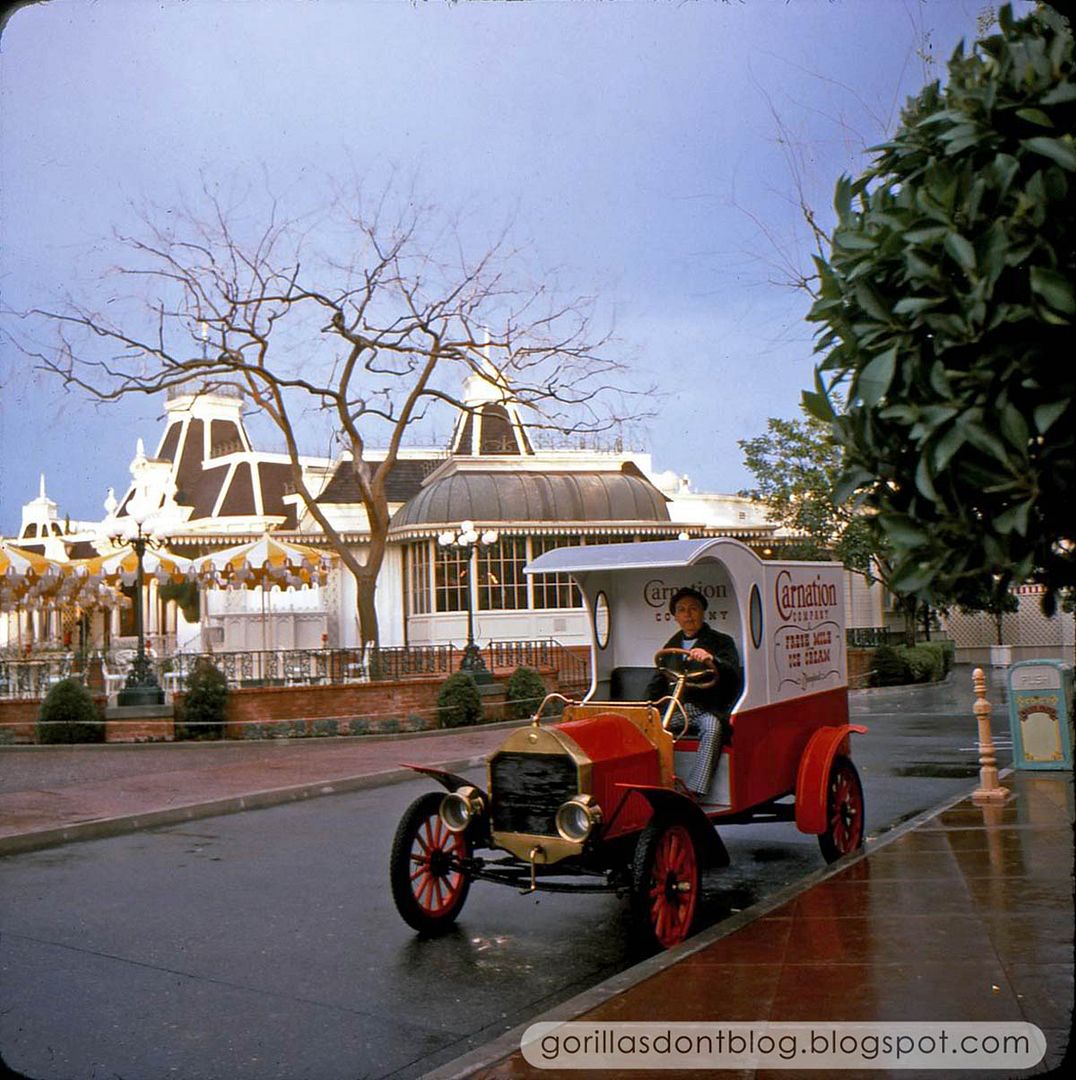 Here's a picture of it right next to the Ice Cream Parlor; people loved to have their photos taken while sitting in the driver's seat.
SO... a few years ago I acquired this fun "kiddie menu"; as you can see, it is intended to be folded into a miniature version of the iconic truck. I assume that it was originally on a rectangular sheet of paper, and that this is the punched-out (but never folded) remainder. It is undated, and I have personally never seen another one.
The prices, while low, are not as low as they were on the very early menus, so I can only guess that this is from the 1960's, or even the 70's. It's strange that Disneyland isn't mentioned at all - even on the exterior graphics. The real truck had the famous gothic "Disneyland" lettering on the back (which you can see
HERE
).
I suppose it's possible that this menu was given to children at the restaurant that was a part of the Carnation headquarters on Wilshire Boulevard. But why make it look like a distinctive feature from Disneyland, if that's the case? Here's an old photo of the headquarters, found on the interwebs.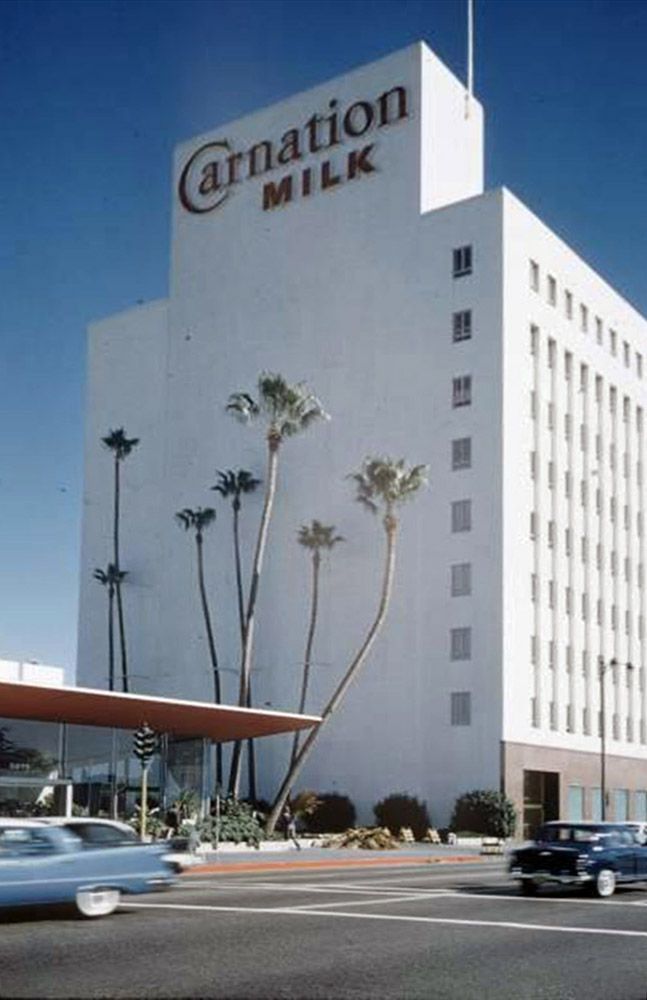 Just for fun, I printed a copy of the front side of the menu, using heavy paper; I cut it out with an X-acto knife (I'm lucky to be alive!), and folded it accordingly. No glue or tape was required... just three tabs inserted into their respective slots. Say, it looks pretty swell!
Bob Gurr would be proud. I know what I'm driving tomorrow.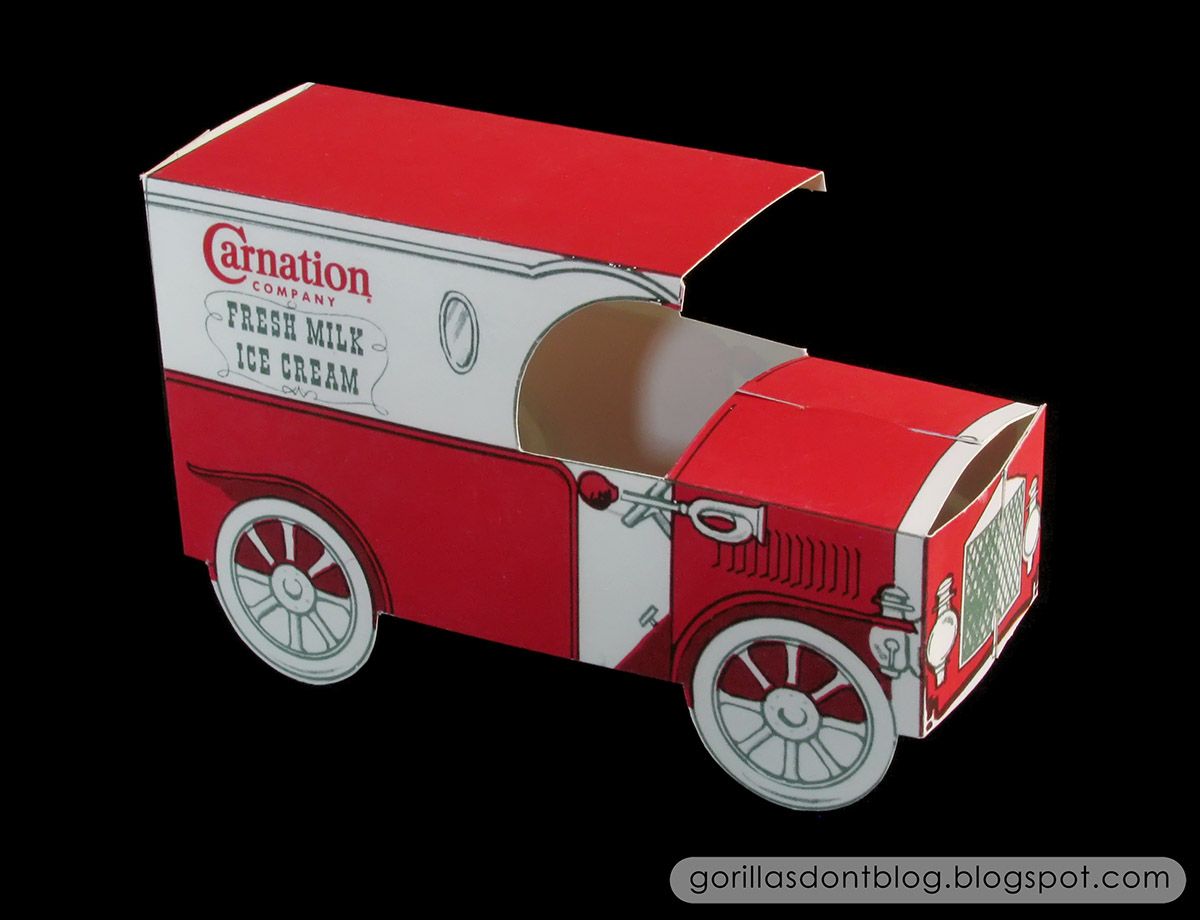 PS: I am heading out of town this morning, but there will be new posts for you each day. I'll try to check in whenever time permits! Have great weekend.