Greetings, GDB readers! Today is the momentous
NINTH
anniversary of Gorillas Don't Blog. Yes, waaaay back in 2006, I decided to share
just a few
of my vintage Disneyland slides for folks who might enjoy them. I'm not even sure how most people found this blog, since I did absolutely nothing to advertise it. On one hand I feel like I should have done something to get the word out… viewership hasn't really changed in years! But I'm weird about it. For one thing, I generally don't like Facebook. For another, I am mentally deranged. Which reminds me, I have now shared over 2000 consecutive posts without missing a day. That's over five years.
ANYWAY…. on with the pictures! There are some goodies today.
Let's start with this fun photo of three lovely hostesses from Adventureland's "Tahitian Terrace", from July 25, 1966. Walt was still with us at that point. If I could go back in time and visit any restaurant, I think the Tahitian Terrace would be way up there at the top of the list. How could anyone resist these ladies? I love their dazzling dresses, the flowers in their hair, and the leis.
One fun detail: take a look at the tall one on the left...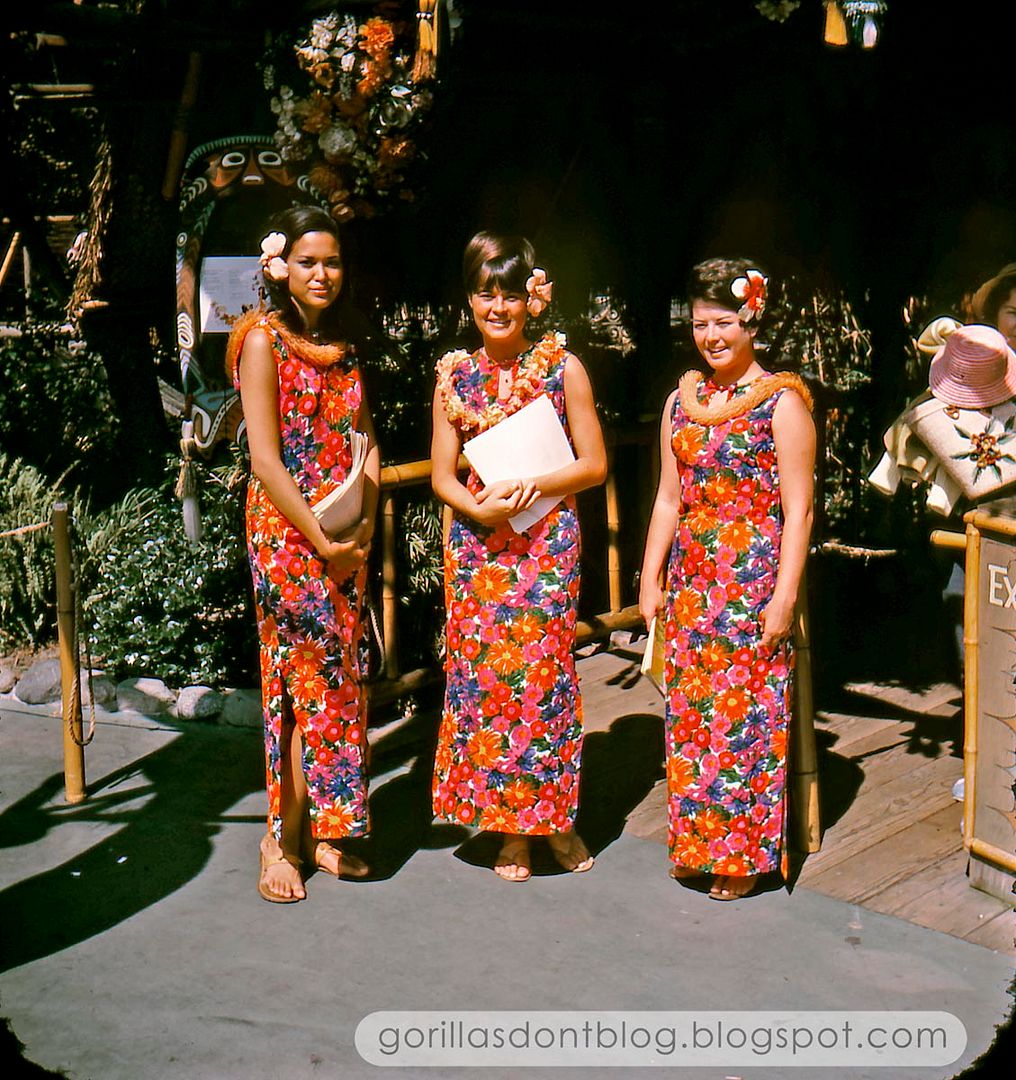 Hello, Carliss Rofoli! She's pictured in the Summer 1966 issue of "Backstage Disneyland" - a magazine for Disneyland employees. Isn't she pretty? I wonder where she is today.
I included this closeup because Carliss and another hostesses are holding stacks of those colorful, wonderful menus that I'm sure you've seen before. Those menus can fetch over $200 apiece on ebay, and up to $400!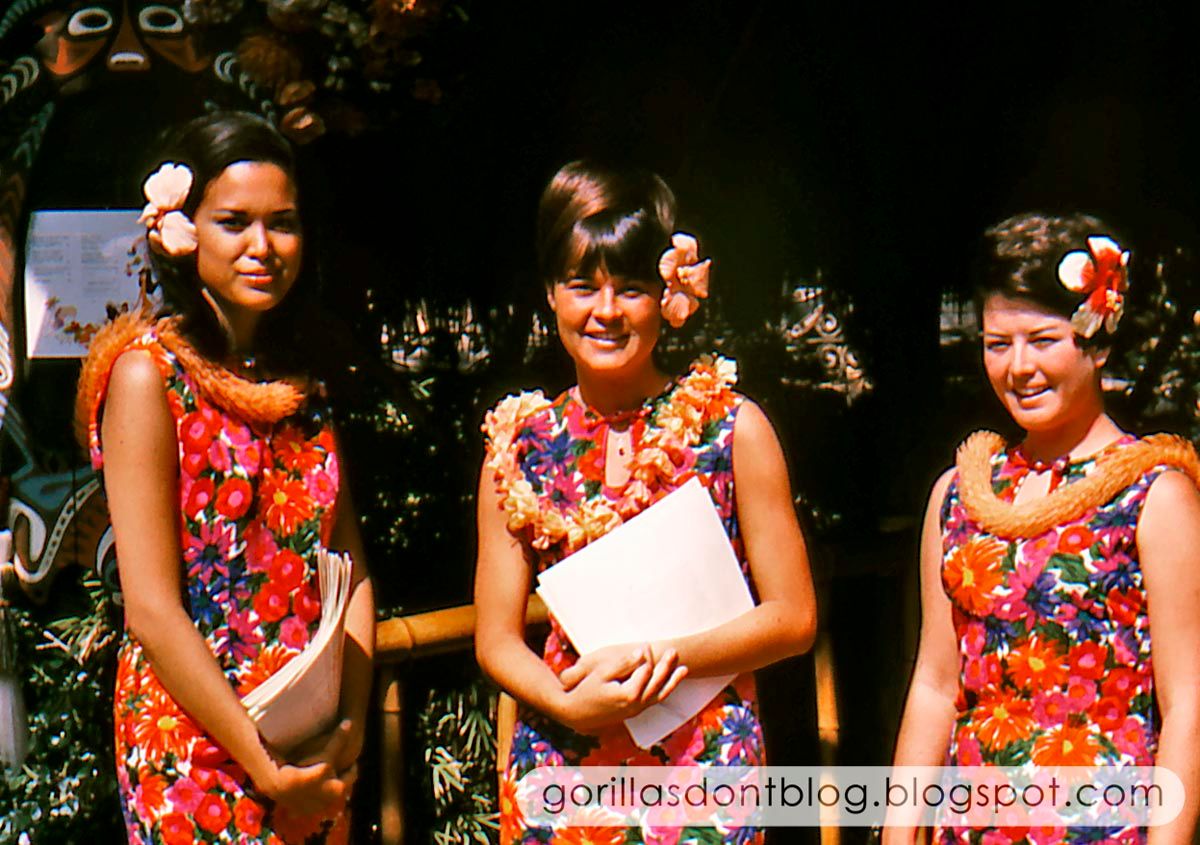 You know, these menus (though they are probably holding the green lunch version rather than this orange dinner version).
Next we'll head over to Fantasyland, circa November of 1960. There's the familiar Pirate Ship to our left, but the neat thing is seeing Skull Rock to our right, still under construction. The rebar outline of the skull is clearly visible, looking very much like a CG "wireframe" model.
Over in Frontierland (from 1957), we get a good look at a large "storybook"-style billboard showing the layout of the nearby Rainbow Caverns Mine Ride. In the background you can see the not-yet-finished location for the "Casa de Fritos" restaurant. I'd love to know which Disney artist designed those wonderful, stylized storybook signs (there was also one for the Skyway, and for Tom Sawyer Island) - they resemble the background paintings from animated shorts of the period.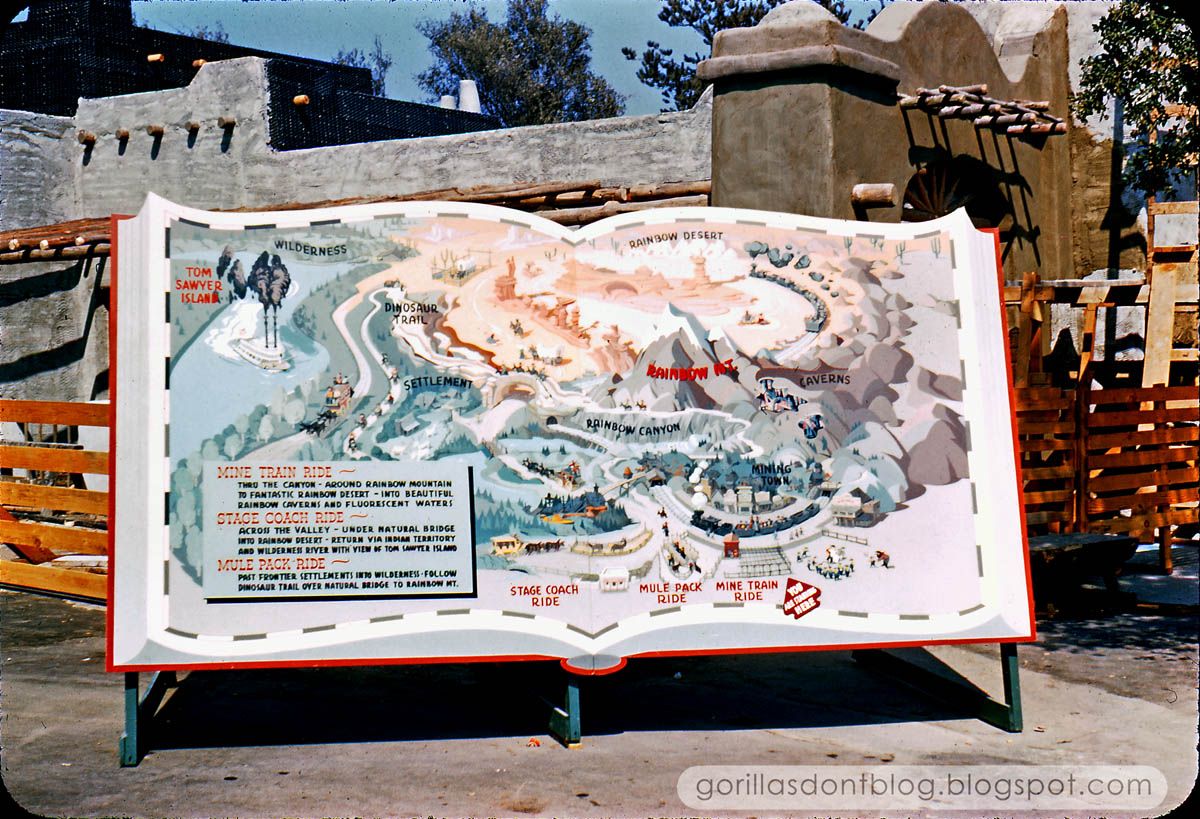 Next we have this beauty from the Instamatic negatives given to me by "Mr. X". It was shot in Fantasyland, near the "Alice in Wonderland" attraction (giant leaves are just visible to our right), with the red Monorail, the Matterhorn, and the Skyway. I love the sense of movement and activity in this picture.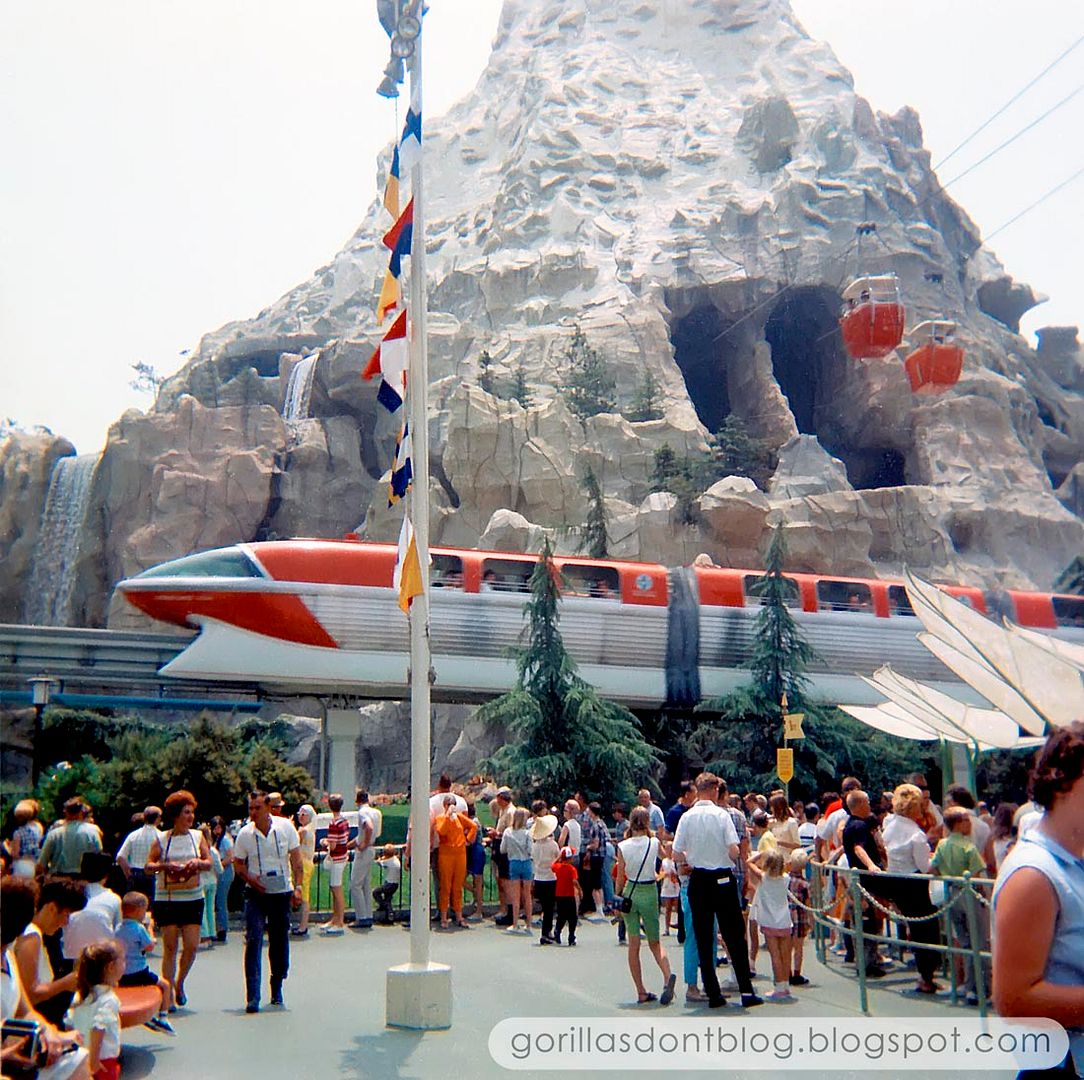 And lastly, here's a neat (and rare) 1957 shot, taken aboard the blue Viewliner, just as it was about to pass its salmon-colored twin. It's hard to believe that these little trains were in the park for such a short time - around 15 months. And that they were apparently scrapped, though, long ago, one reader of this blog said that he saw one backstage years after the ride was closed. I wish I could confirm this! Even so, they were never seen again by the general public.
Well, that's it for this special edition of GDB! As always, I would like to thank all of the folks who continue to check it out regularly; and a special thanks goes to those who have contributed to this blog with their helpful and friendly comments, and to those who have shared their personal photos and souvenir items. It definitely helps to keep me going (mentally)!
Who knows what the future holds, but I will keep on keepin' on until at least the end of the year. Then my people will place me on an ice flow, and I'm on my own.