Today I am happy to share some great vintage photos, provided to us by GDB regular and sometimes-contributor
Chuck Hansen
. Today's photos feature the 1967 version of the Daffodil Parade as seen in Puyallup, WA (more on that below)! Poor Chuck tried to send these photos to me last week so that they could be posted on the very Saturday that the 2015 Daffodil Parade was happening, but internet gremlins (from the Kremlin) kept fouling things up. So it's a week later than we had hoped, but that doesn't mean that the photos are any less fun or charming.
Chuck has also done a fantastic job of researching and writing about each of the slides, allowing me more time to work on my "Welcome Back Kotter" musical. Let's take a look at these neat pictures from nearly 50 years ago, with Chuck's great descriptions:
The Puyallup Valley Daffodil Festival has its roots in the decimation of the area's hops industry after the implementation of Prohibition. Searching for another crop to replace hops, local farmers followed the Department of Agriculture's recommendation, found the region ideally suited to the cultivation of daffodils, and an industry was born (although there is no truth to the widespread rumor that the talking daffodils in Alice in Wonderland were bred here).
In celebration of a cornerstone of the region's agricultural output, the first Daffodil Festival was held in 1933. The first parade was held the following year and has been held every year since (with the exception of 1943, 1944, and 1945 due to WWII). Currently, the parade consists of more than 180 floats, bands, and marching or mounted units and progresses through the cities of Tacoma, Puyallup, Sumner, and Orting.
My parents moved to Tacoma in late 1965 when my father was transferred to nearby McChord Air Force Base and spent slightly more than three years there. This series of slides documents the 1967 Daffodil Parade from the SE corner of the intersection of Meridian St and Stewart Ave in Puyallup. My parents couldn't remember much about this parade, but I was able to find a few photos with detailed captions online at the Tacoma Public Library's website. Since the library's pictures don't cover every float my parents photographed, I'll do the best I can. Feel free to fill in the details yourself!
"Fun 'n Fantasy" was the theme of the 34th Puyallup Valley Daffodil Festival, featuring 31 floats, 28 bands, 21 drill teams and 8 mounted units. Compare and contrast that with the more than 180 units of today's parade. Please keep your answer to less than 150 words and be sure to write in complete sentences.
The first slide shows a float with the theme of "Flight of Fancy," and let me tell you, it sure looks fancy to me! Here's the Tacoma Library's description: "Swooping on butterfly wings were the four princesses of the Lakewood Summer Festival, Sally Fiss and Chris Hickson of Clover Park High School and Patsy Thompson and Ann Harris of Lakes High." That float is covered in daffodil blooms. Before the parades began back in 1934, the blooms were either thrown away or used as fertilizer since they weren't needed for bulb production.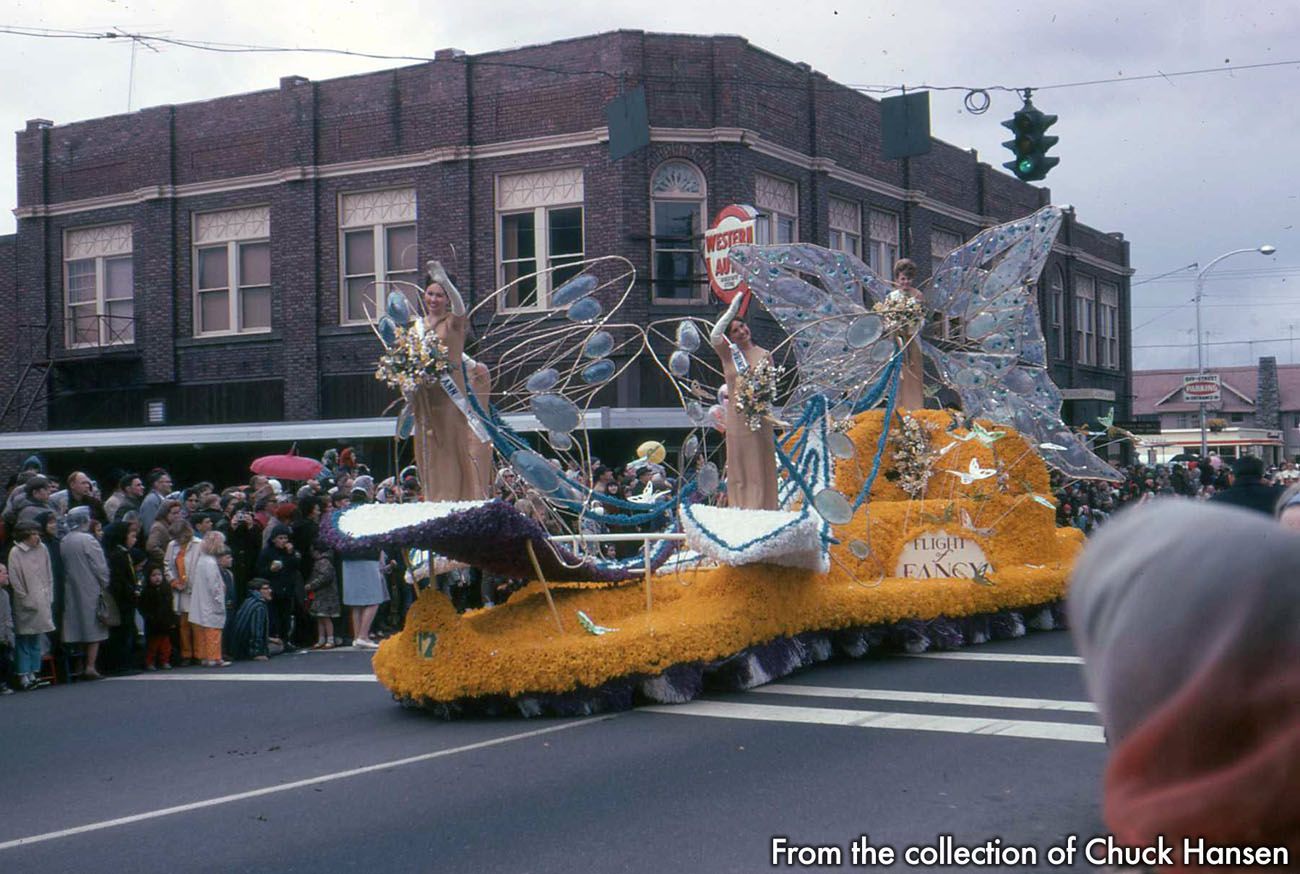 The next image appears to be couples ballroom dancing. Either that, or the fella at the front of the float is holding that woman hostage. I can just hear Lawrence Welk's orchestra in my mind (of course, that would be there regardless of what was on this slide).
The third photo shows the float sponsored by the Afifi Shrine Temple in Tacoma, Washington. According to their website, the word afifi means "a characteristic of a woman who is virtuous and refrains from anything crude or vulgar," which is kind of unexpected for an organization composed entirely of men. But these men also make parade floats out of pretty flowers, so I'm guessing they don't feel terribly bound by traditional stereotypes. Wearing a fez is liberating like that. Founded in 1888, the Afifi Shrine helps support the $460 million worth of charity care provided in 2014 at 22 Shriners Hospitals for Children across North America.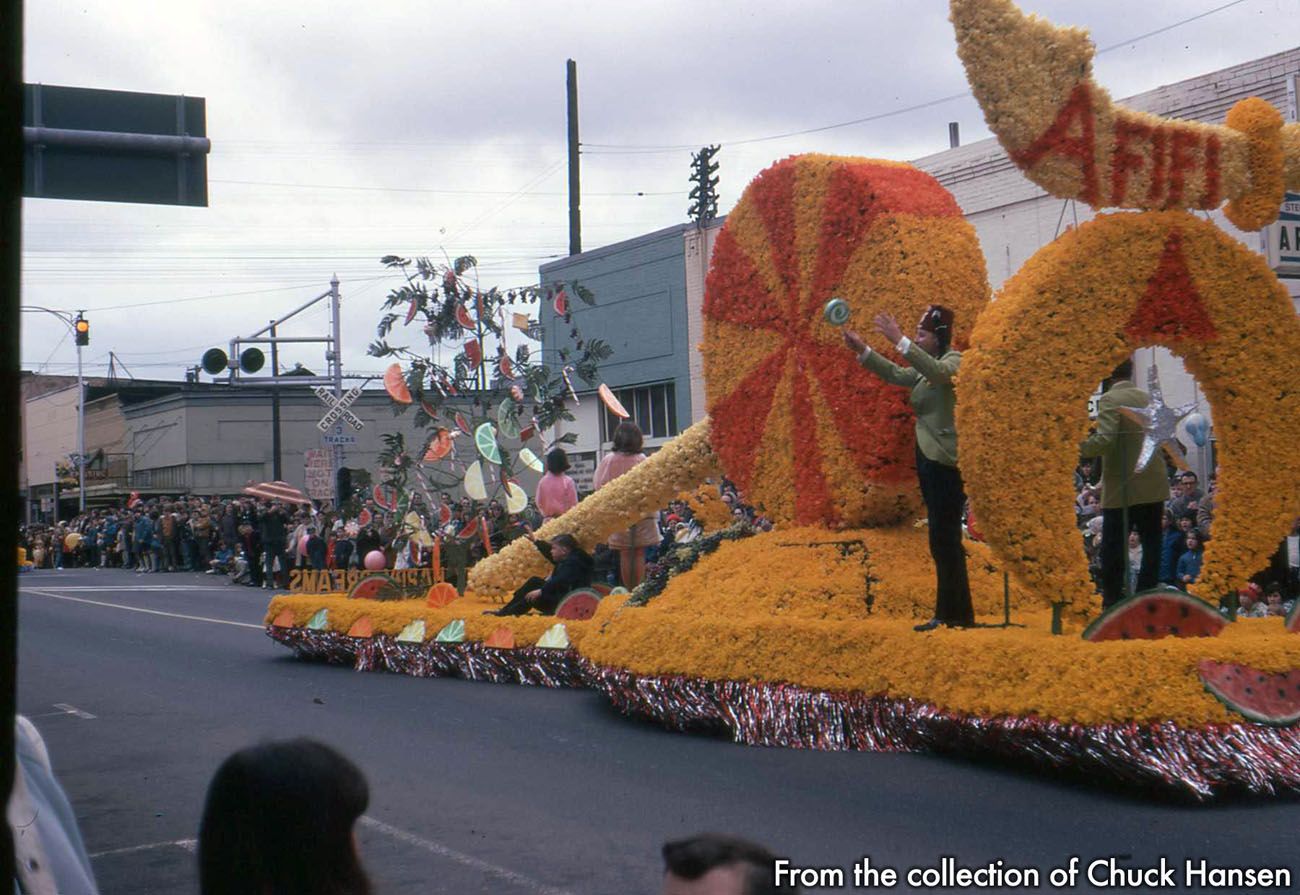 I'm not entirely sure about the next photo, but I have found references online to an "Afifi Mounted Patrol," so I'm going to guess that these colorfully-dressed fellows aren't actually terribly lost Bedouins. All sorts of neat details are visible along the street - a Western Auto advertising Homelite chainsaws and at least two gas stations. And I hope Melissa's paying attention...
Picture number five features the float "Thailand Fantasy," which, as the text indicates, was a salute to the US Seabees, who were celebrating their 25th year in 1967 With a history going back to WWII, the Seabees are the US Navy's construction forces, taking their name from the abbreviation for "Construction Battalions," and were well-represented at nearby Bremerton Naval Station. From the Tacoma Library: "the 60-foot moving scroll on the 55-foot float depicts the aid being given by the Seabees to the people of Thailand. Winner of the President's Trophy, the Seabees float had previously won the Grand Marshal's Award in the Pasadena Tournament of Roses Parade." I've never heard of a two-time winning float before. I wonder... is there some sort of "Triple Crown" for flower floats?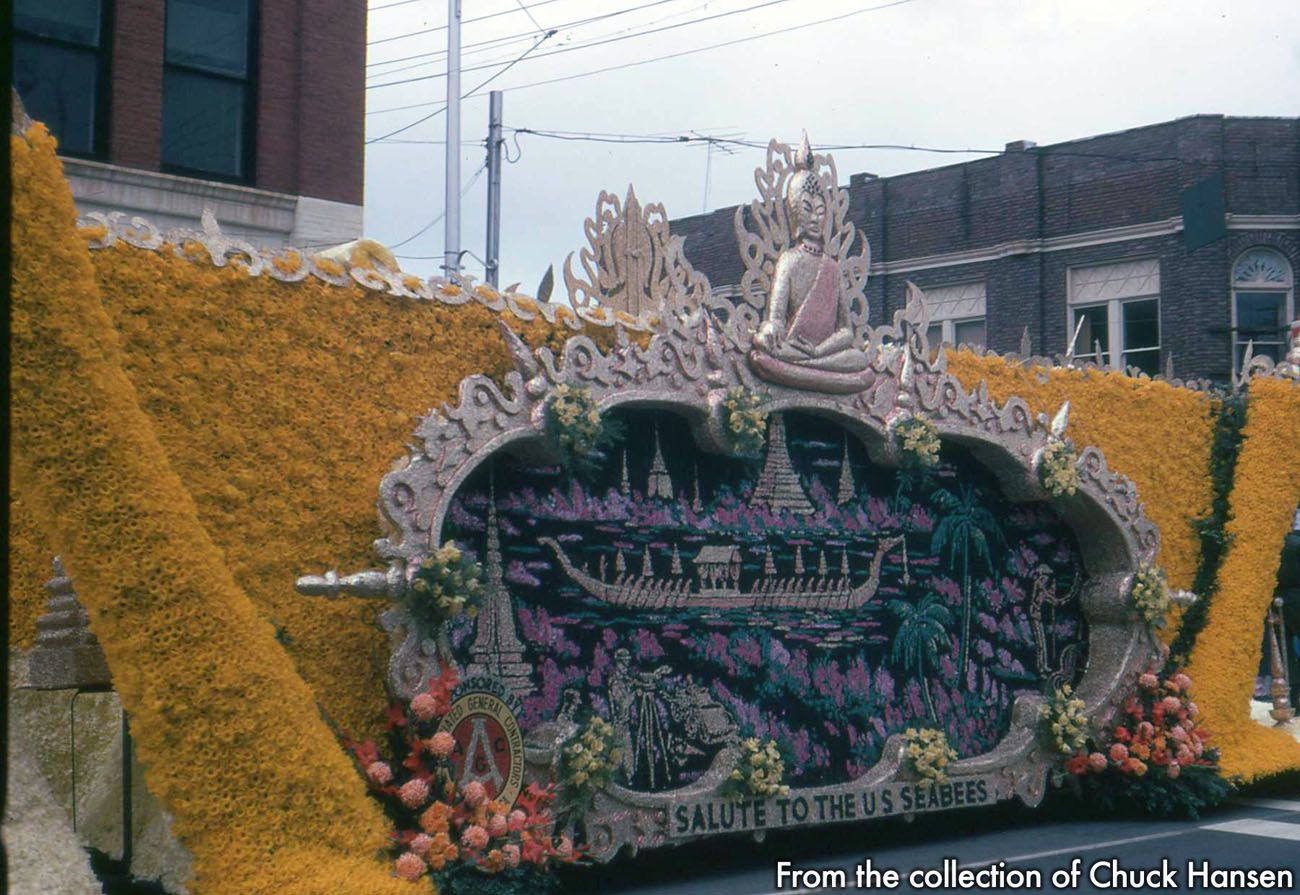 Our next photo shows the "Royal Fantasy" float, sponsored by the Tacoma Vocational-Technical Institute, and featuring several characters that should be familiar to regular readers of this blog. Snow White was re-released in June of 1967, and that fact was what helped me find corroborating information at the library dating these unmarked slides to 1967.
I'm not entirely sure what this next entrant is supposed to be. Fairy godmother? Glinda, the Good Witch of the North (or South, if you're reading the book)? A dream of a rarebit fiend? I honestly don't know. In the background, however, I do recognize a couple of familiar objects floating above the crowd.
The final slide I'll share today (I have a few more, but this is already far longer than it should be) features the 1967 Daffodil Festival Queen, Miss Carol Parcheta, then all of 17 years old and a student at Franklin Pierce High School in Tacoma. According to the Tacoma Library, Miss Parcheta went on to continue her education at Puget Sound University in Tacoma, and seems to have subsequently disappeared from the Interwebs. I'm going to theorize she went on to work for U.N.C.L.E. with Napoleon Solo and Ilya Kuryakin. It seems to be the most logical next career step.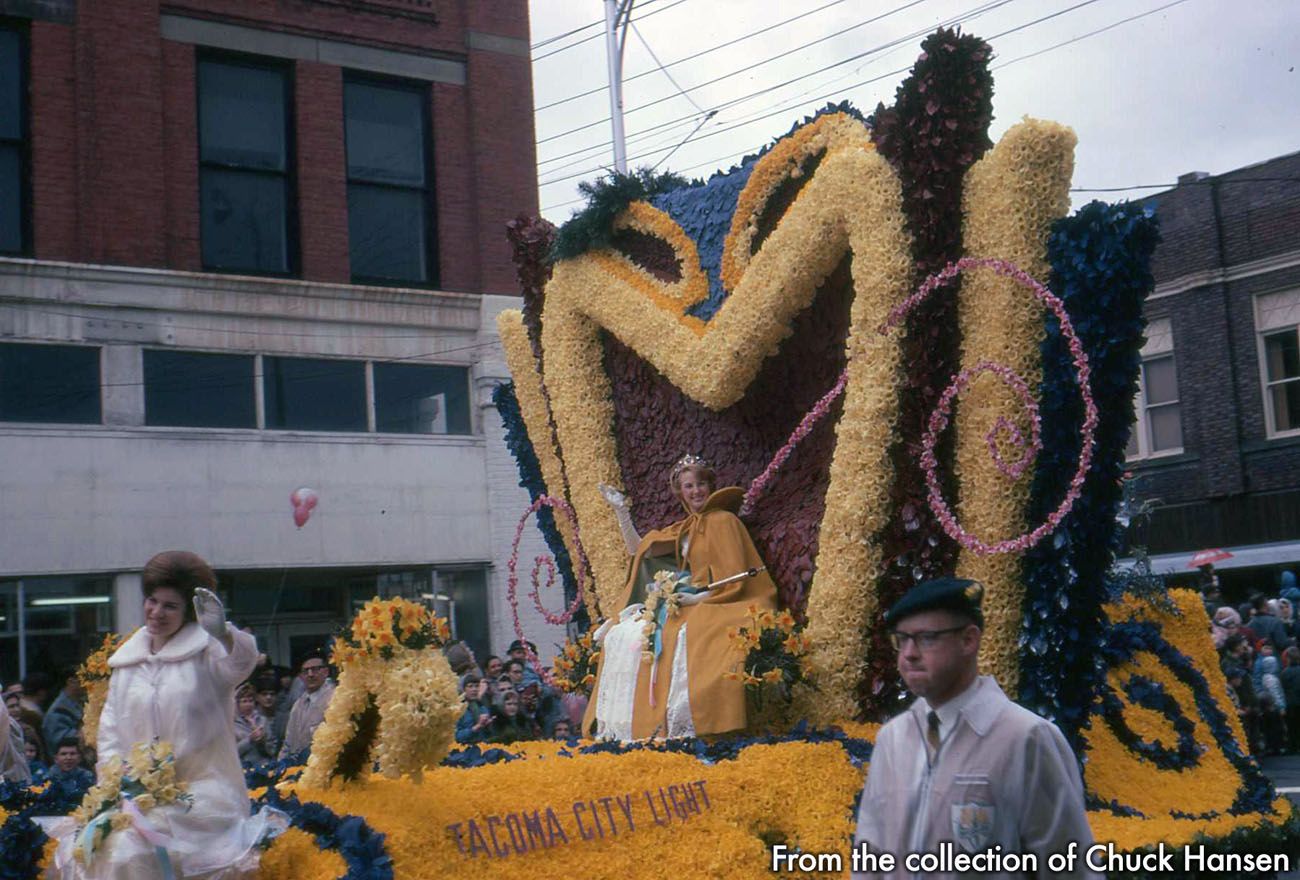 MANY THANKS to Chuck Hansen for taking the time to scan his parent's slides, and for the even more laborious research that he did in order to provide the descriptions for this slice of 1967 Americana. He makes me look lazy by comparison, but I guess I can forgive him!