Today we'll take a little detour so that I can share some slides from "Expo '67" in Montreal! It is not as fondly remembered as the '64 New York Fair, but it was attendance was huge - - according to Wikipedia, "...It is considered to be the most successful World's Fair of the 20th century, with over 50 million visitors and 62 nations participating." Zowie! We'll see if any of my readers care!e

First up is this photo of the German Pavilion. "A glance at the striking silhouette of the German Pavilion inevitably invites a closer look. Its roof, supported by eight steel masts, of which the highest soars 120 feet into the sky, is made of a steel net lined with a 100,000-sq. ft. translucent plastic skin." Skin, cooooool.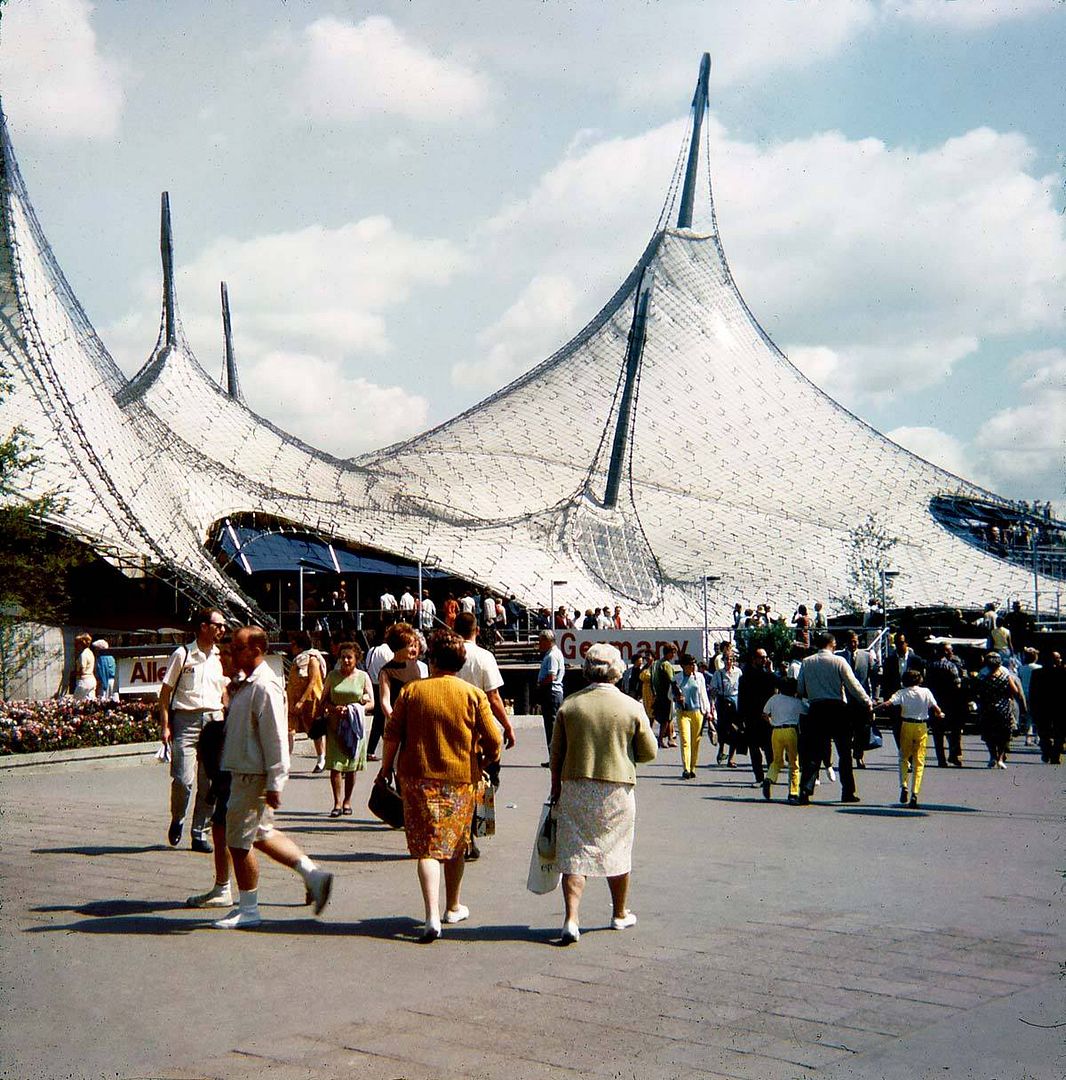 Look at them funny trees, ma! Why, that's the Canadian Pulp and Paper Industry Pavilion! Whoo-hoo, did somebody say PULP? I'm so there. "Forests affect Man and his World profoundly. Paper, for which the forests produce raw material, is the principal tool Man uses to record his thoughts." Paper, I remember that stuff. I think I saw a picture of some on my computer.



And it only makes sense that more Canadian fun would be nearby, namely the Canadian Pacific - Cominco Pavilion. Visitors to this pavilion "... will see a completely new dimension in the art of motion pictures. Francis Thompson and Alexander Hammid, who produced an outstanding award-winning film for the New York World's Fair, have used a new multi-camera film technique and spent 18 months traveling across Canada to produce a charmingly humorous film on Canadian youth against a background of some of the country's most beautiful scenery."