Today I have two more Disneyland photos from GDB reader Chuck Hansen's personal collection! The pictures are great, but Chuck's recollections make them even better.
"I only have two slides from my first trip to DL, and this is the only one that's in focus. It's still pretty meh. It was taken in probably July of 1971, within a day or two of the Universal slides I sent you earlier. From left to right are my dad's cousin, Jimmy; my mother in another outfit she made herself, me in a gloriously color-coordinated outfit that included by favorite button-up sleeveless shirt, red socks, and brown shoes. my Hansen Grandparents, and two random people, one of whom seems to be practicing the proper posture for that Verizon flip phone she'll have in another 35 years"
.
"I was two-and-a-half, and I can honestly say this visit changed my life. I still remember specific events from this one-day visit from my low-angle vantage point; the horse-drawn streetcars; watching the DL Band march past a I enjoyed a carton of Carnation milk from the curb next to West Center Street; running all over the Mark Twain by myself and thinking we'd traveled to another part of the Park; lunch at the Magnolia Tree/River Belle Terrace (not sure when in '71 the name actually changed); "Let's All Sing Like the Birdies Sing" in the Tiki Room; watching "Winnie-the-Pooh and the Blustery Day" in the Fantasyland Theater; traveling past a distant castle on a train (which I later realized was Cinderella's Castle from Casey Jr.); standing up in a boat as we plowed through a terrifying gale (Pirates of the Caribbean); being enchanted by It's a Small World; being scared out of my wits by a blacklit, animatronic Captain Hook; and stumbling out of the park clinging tightly to a Mickey Mouse-shaped balloon. I know the whole family had a marvelous time - so much fun that nobody remembered to take any more pictures"
.
"Afterwards, I was Disneyland crazy, alerting on every toy or book that was remotely connected to the place. I used to draw maps of how to get there - basically a wavy line of a piece of paper that crossed a bridge at some point, went past some mountains, and ended up at a train station. I can remember climbing to the top of the monkey bars at the base daycare center and straining my eyes over the fence to the south, swearing I could just make it out on the horizon - a highly unlikely occurrence since we lived north of San Francisco. It was a long, LONG four years before we were to return"
.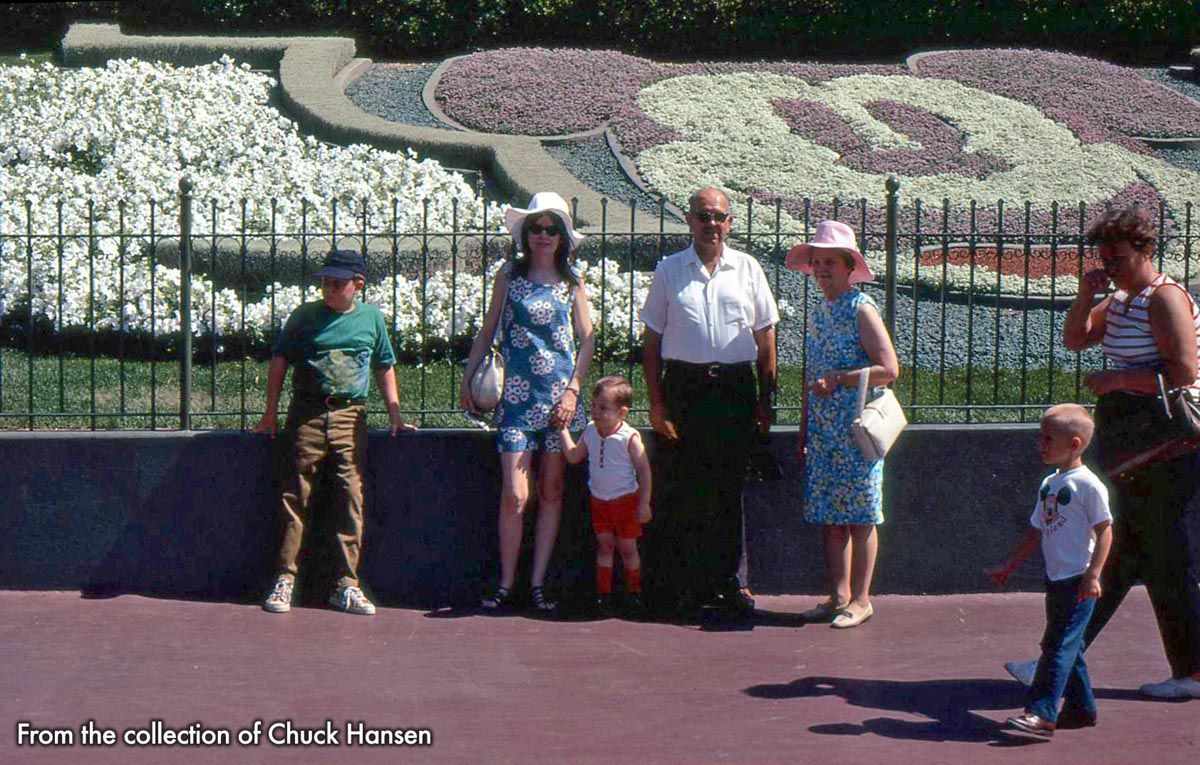 "The next picture is a scan of an Instamatic print taken in October of 1976 on the same trip as the other one I sent you of my sister and I in our DL t-shirts. I was almost 8 and in the 2nd grade; my sister was almost 5. We were moving out of California en route to Illinois and my parents treated us to not one but TWO days at Disneyland; it would be 17 years before I would return. This was taken just before my sister tagged me out and really put the smack-down on Goofy. The guy puts on a good show but has a glass jaw"
.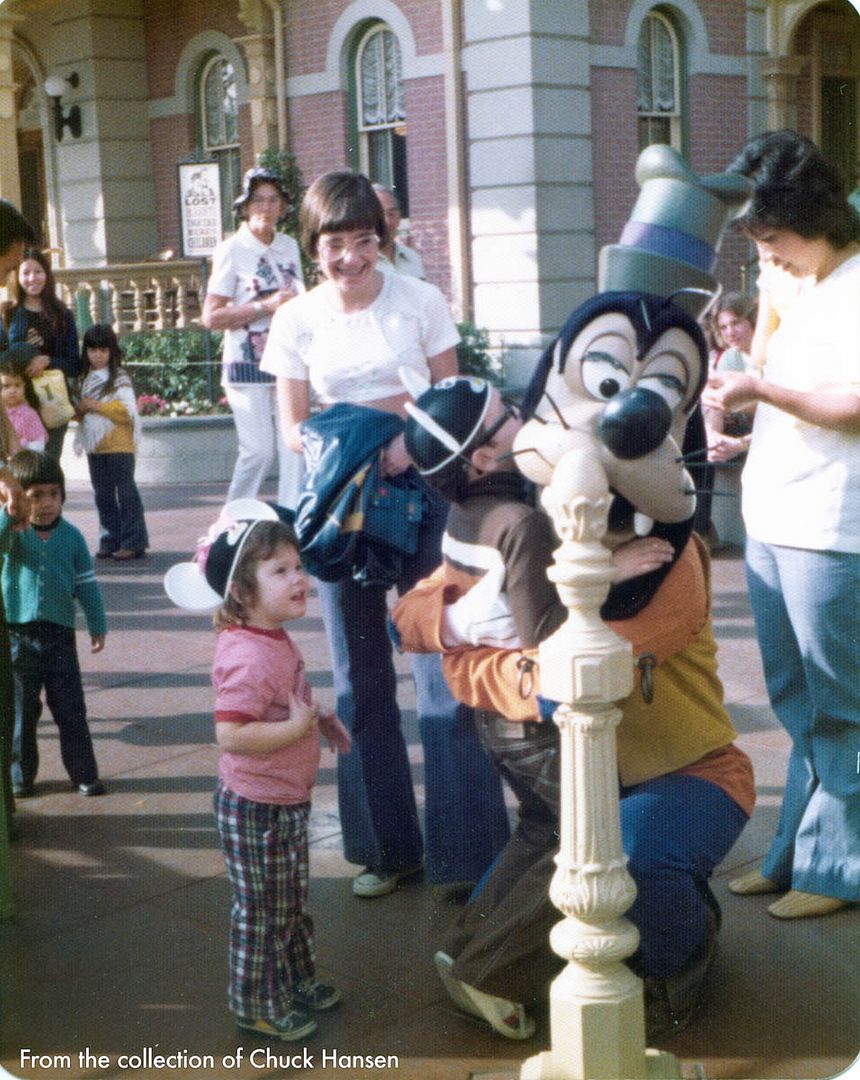 MANY THANKS to Chuck for sharing his photos and his wonderful memories of early visits to the park. This is the kind of thing that I really love, perhaps because I can identify with his experiences so much. We'll have more photos from Chuck in the future, I'm happy to say.