To whom it may concern:
Happy Mother's Day!
Hey howdy hey, today marks the
SEVEN YEAR ANNIVERSARY
of Gorillas Don't Blog! I can hardly believe it. In addition, I haven't missed a day since October 30, 2009; if my math is correct (and it probably isn't) that would make today my 1,300th consecutive day in a row. Wheeeee!
So let's get to the pictures already. First up is this supa-cool scene featuring the northern part of Fantasyland as it was in 1957. There's the old Fantasyland Station, complete with train (and original yellow passenger cars); the Viewliner; the Midget Autopia, the Motor Boat Cruise, and the Junior Autopia. It is interesting to note that basically nothing in this photo exists today.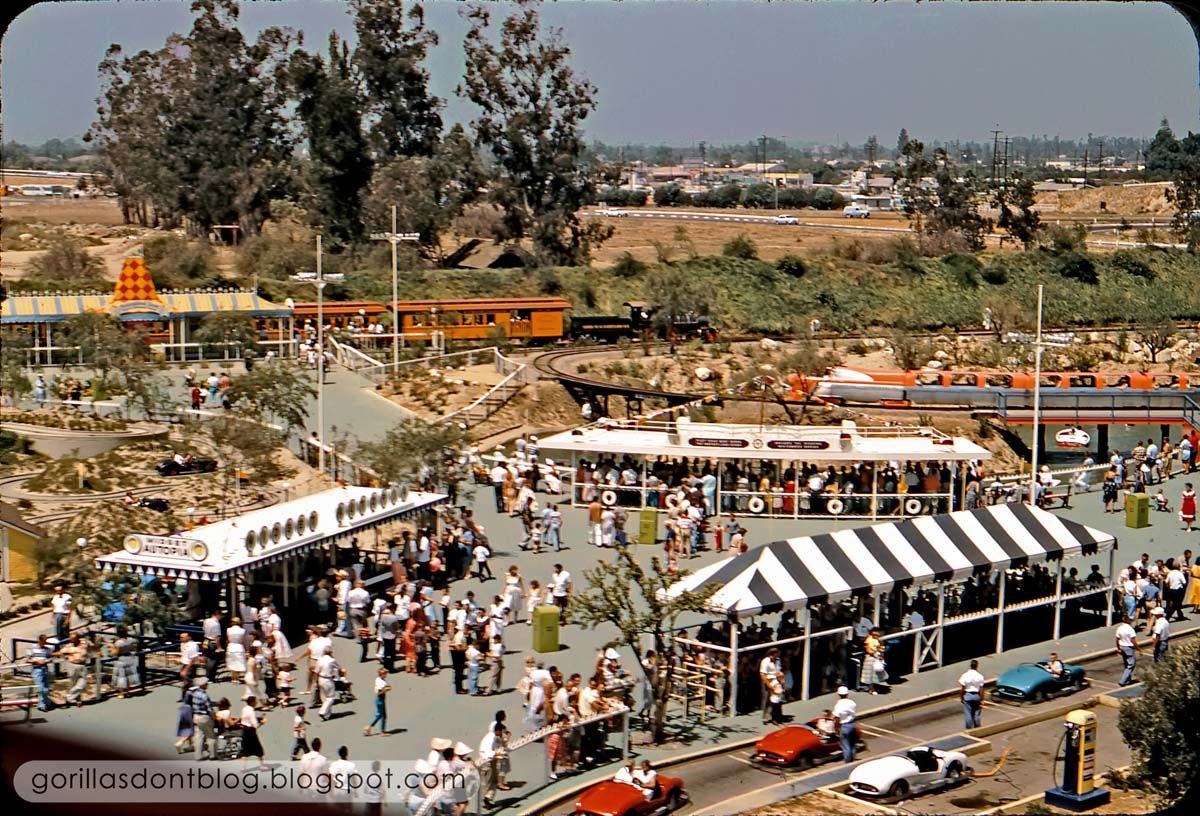 Here's a neat photo of a sign heralding the addition of the "Primeval World" section of the Grand Canyon Diorama, which is still one of my favorite things. The sign is a cool variation on the wonderful
attraction poster
. And you may have noticed some construction going on. Somebody had the bright idea to put up a new Administration building around the chunk of railroad track that would roll past the Primeval World scenes. Commenters on this blog have mentioned being able to hear dinosaur sounds (Triceratops babies querking) from the employee locker room upstairs!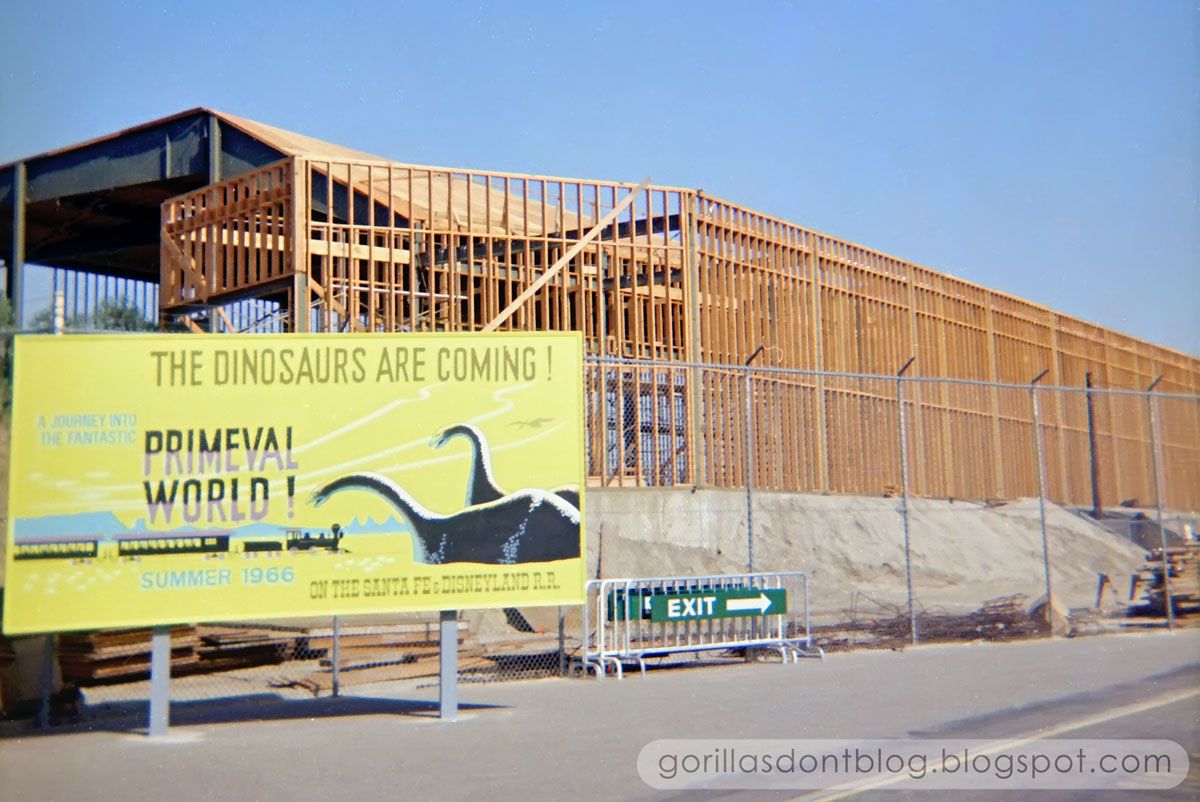 This next picture (from April 1962) shows the rather startling image of an antique hot-air balloon sitting at the end of Main Street. Or maybe it is not so startling, considering that it is blocking a fairytale castle. Somehow, "La Coquette" from Mike Todd's 1956 roadshow extravaganza "Around the World in 80 Days" wound up at the Hub for Easter. It
does
look pretty cool! At some point the balloon was
released into the air
, which would have been quite a sight.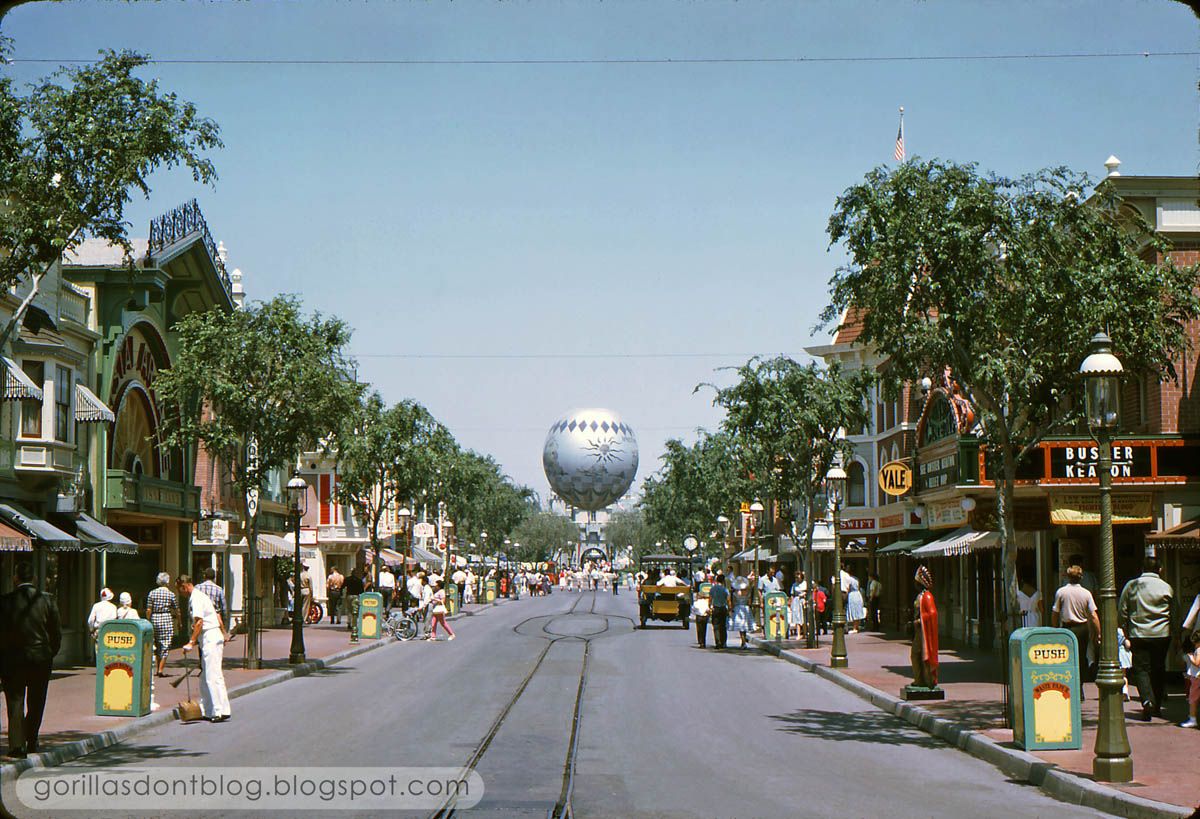 This next photo is from a slide date-stamped "September 1963", and it shows a packed Huck Finn raft crossing the glassy waters of the Rivers of America. But lo! What's that in the background?
Why, it's a certain Haunted Mansion under construction! Did the people nearby have any clue what was being built? Of course the ride itself would not open for another six years, which only increased the public's anticipation.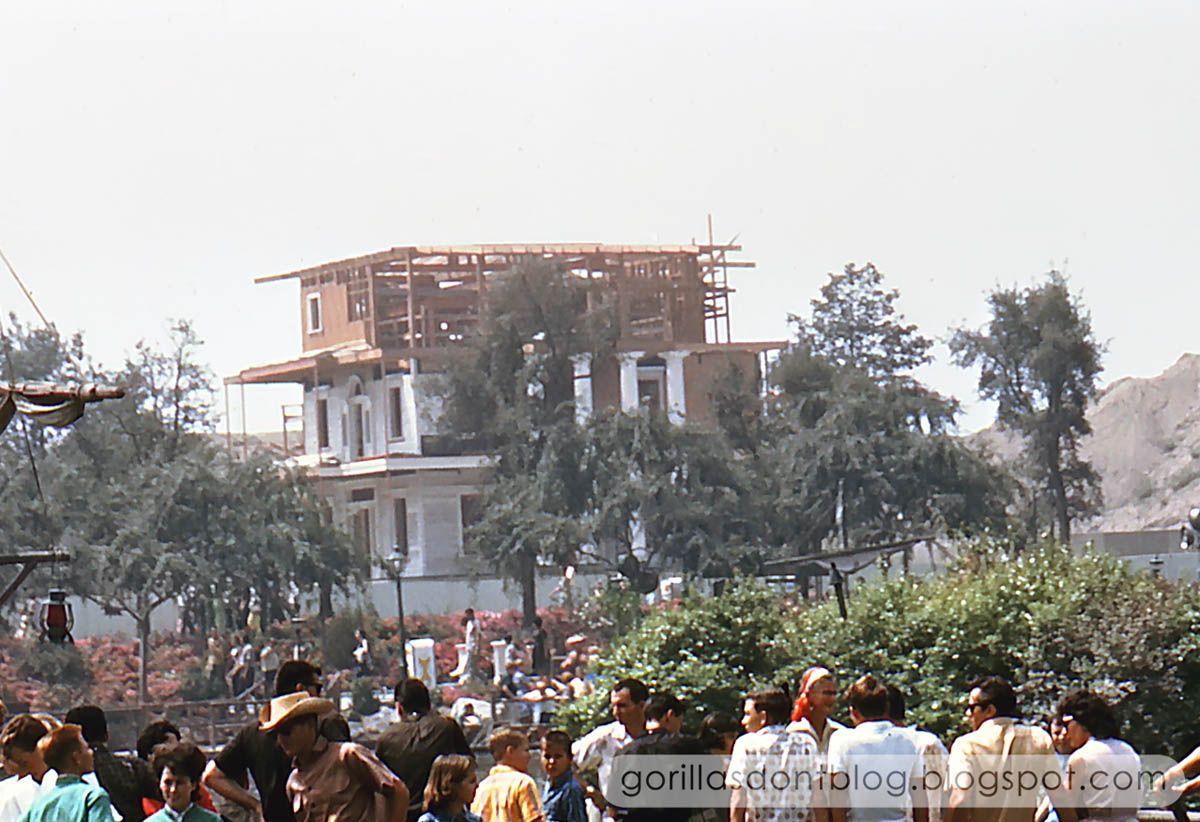 Aaaaand, since I am in a good mood, I am adding one last nice photo. The slide might be labeled "Matterhorn", but we all know that this is really Cascade Peak, still covered in scaffolding. If only they hadn't used so much wood in the construction. Leaks were bound to happen eventually. It's kind of cool to see the hard-hatted construction workers all over the Peak.
Seven years is a whole lotta time! Many thanks to everybody who continues to read GDB, or at least look at the pictures. A
special thanks
to those of you who take the time to comment; people come and go over the years, but if it wasn't for comments, I would have quit a long time ago!
I'm on my last box of images. It's a BIG box, probably over 1000 slides (500 of which are Mark Twain and castle shots), but they won't last forever - keep in mind that I have already scanned a portion of them. When it's all done, your pal Major Pepperidge will retire to his secret island lair and learn to play the ukelele.
NOTE: To all of you who commented this morning, THANKS! Apparently people were having trouble seeing the larger versions of the photos, so I re-composed the whole post, stupidly deleting the comments by accident. Sorry about that....