It has been over two months since we've visited the 1964 New York World's Fair, so let's hop in our cardboard box ("Calvin and Hobbes" style) and head back in time.
The New York State pavilion was an extremely popular destination, in large part because of the striking bird's-eye views that guests could get atop the 226-foot observation tower. And striking views meant that the cameras came out, resulting in many thousands of photos snapped from up there.
This is kind of an interesting view... I'm wondering where the photographer was standing that gave him an even more elevated view as he snapped a picture of his wife and son (near the Unisphere). The Fair below almost looks like an elaborate diorama. Notice the blue light globes that surrounded the edge of tower roof.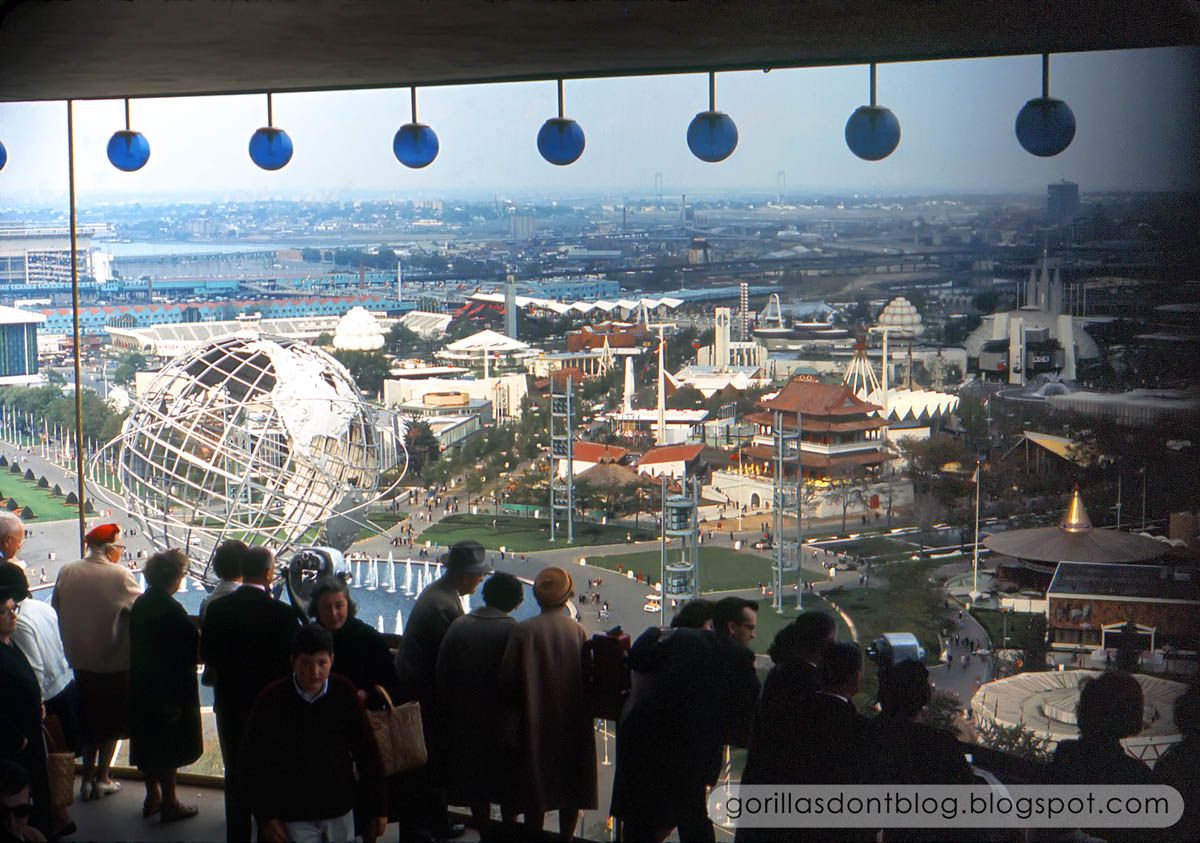 World's Fair freaks have seen images like the next 3 a jillion times, but the average person will hopefully still find these interesting. SO... there's the wonderful Unisphere. In the upper left corner is the United States pavilion; lower left (with the blue squares) is the New England States pavilion. In the upper right corner, the red tile roof of the Republic of China building is prominent.
The white-domed General Electric pavilion ("Progressland") is easily spotted in the upper left of this picture. In the upper left, the hexagonal Better Living Center, and next to it, the Pepsi Cola pavilion (with the Tower of the Four Winds out front). The Eastman Kodak building is just below the Pepsi pavilion. Sweden's building at the bottom is modern, but the blue and gold façade reminds me of a medieval banner. The wavy roof of the Sermons From Science building is also distinctive.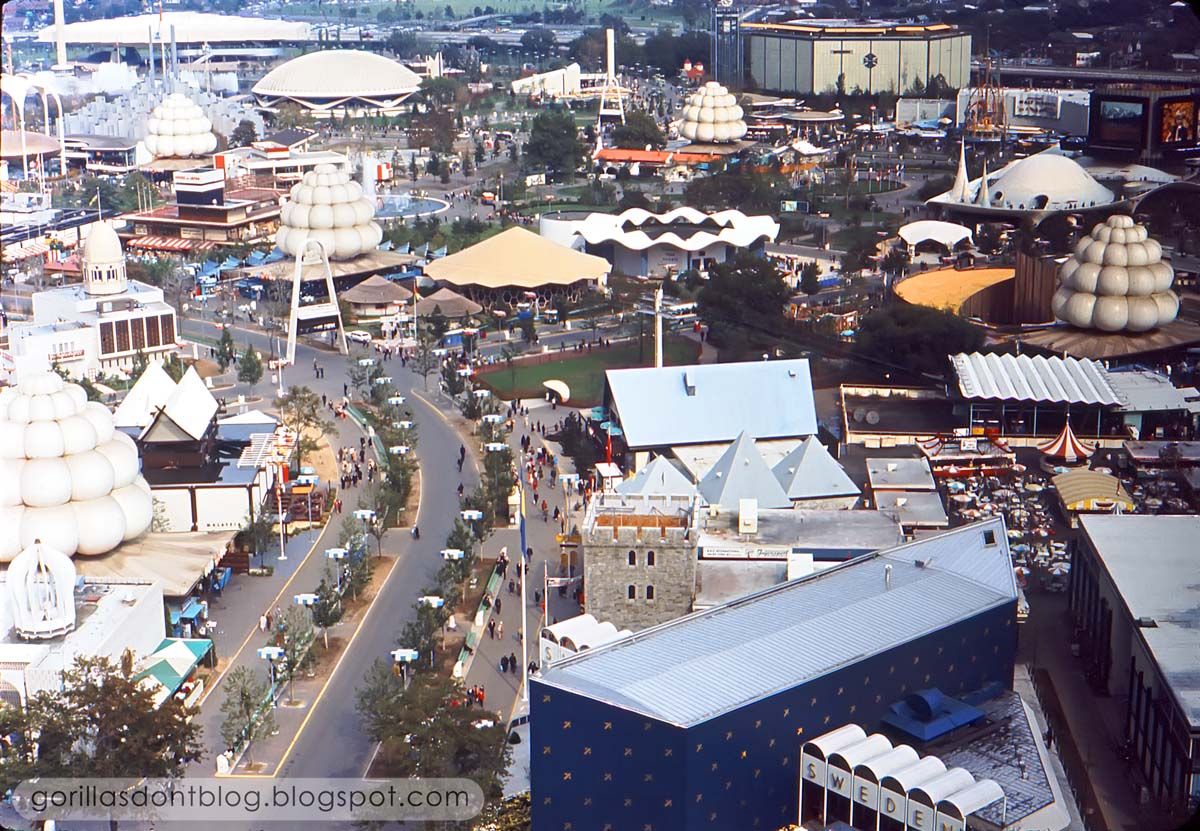 The huge oval building at center/right (with the frilly "tent" on top) is the Vatican pavilion (where guests could see Michelangelo's Pieta). And to the left of that is the Belgian Village (go get a waffle!). The large structure in the lower left was originally going to be the French pavilion, but it never was built. So instead it was The Pavilion of Paris and French Industry.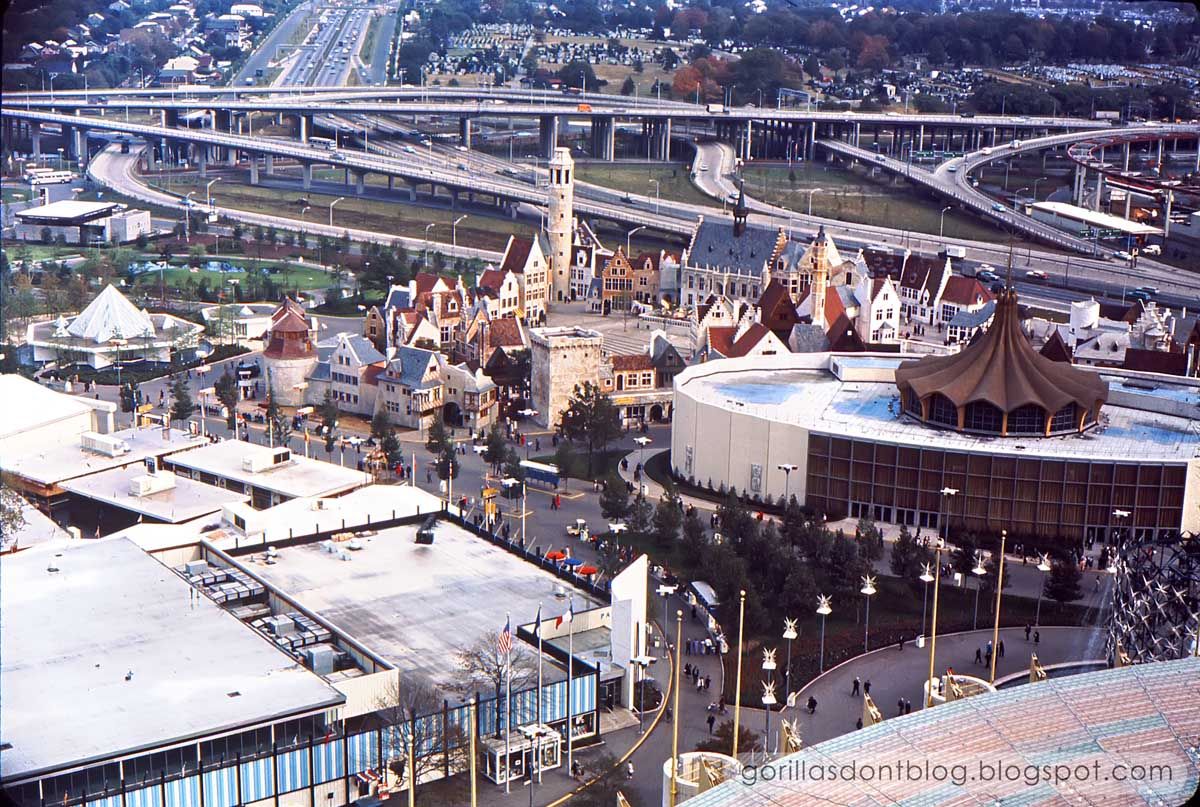 I think it's time to scan some more World's Fair slides.