Here's a commonly-seen view of the Mad Tea Party (I tend to just call it the "Teacups") as seen from the Skyway. With the colorful spinning things down below (including the Carousel), and the old dark ride façades, and the oodles of people, it would be hard to NOT take a photo of this scene.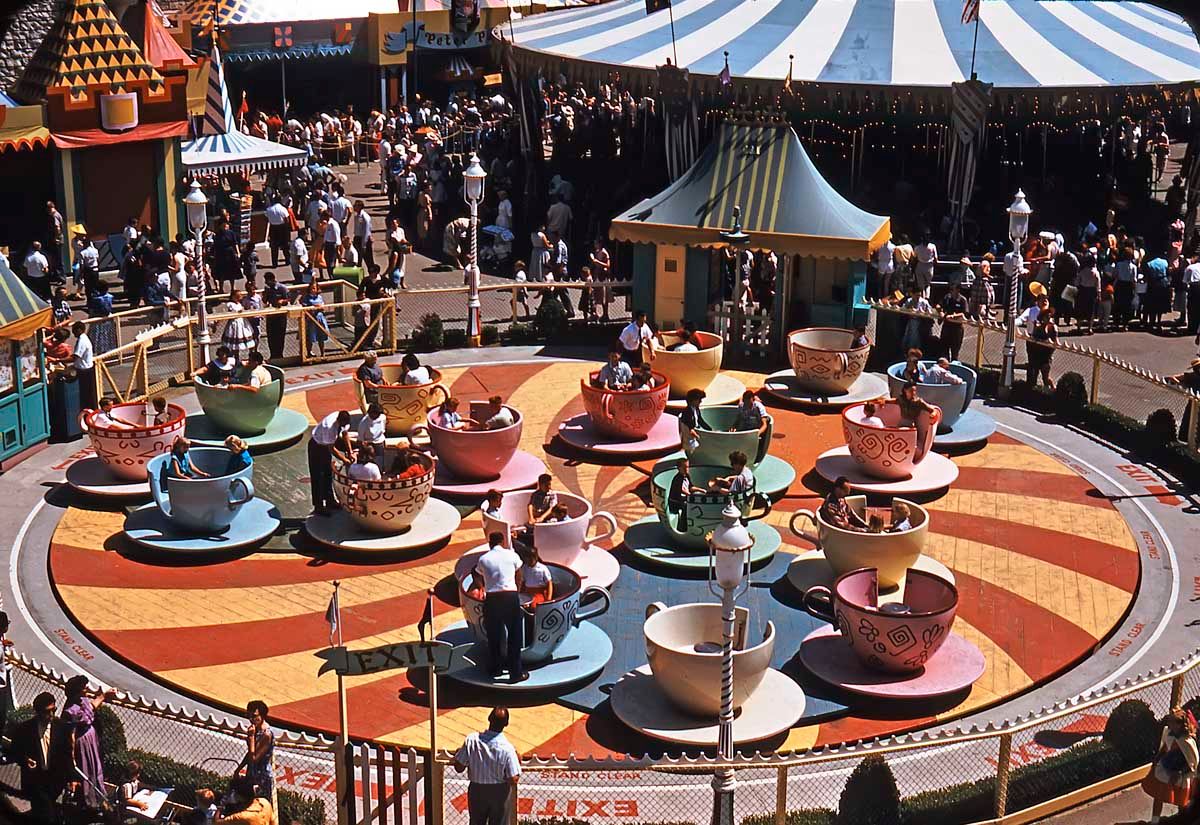 A ride on the Storybook Land Canal Boats also tended to produce photos of familiar views, such as this shot of Toad Hall - maybe tied with the miniature Cinderella Castle as the "most photographed" feature of this attraction. Buzz-cut kid is looking at Moley's waterfront shack. Up above, Casey Jr. affords a different perspective on the same scenery. In front of Casey, you can see the tips of three Atlas missiles that were just launched from the secret underground silos in Fantasyland.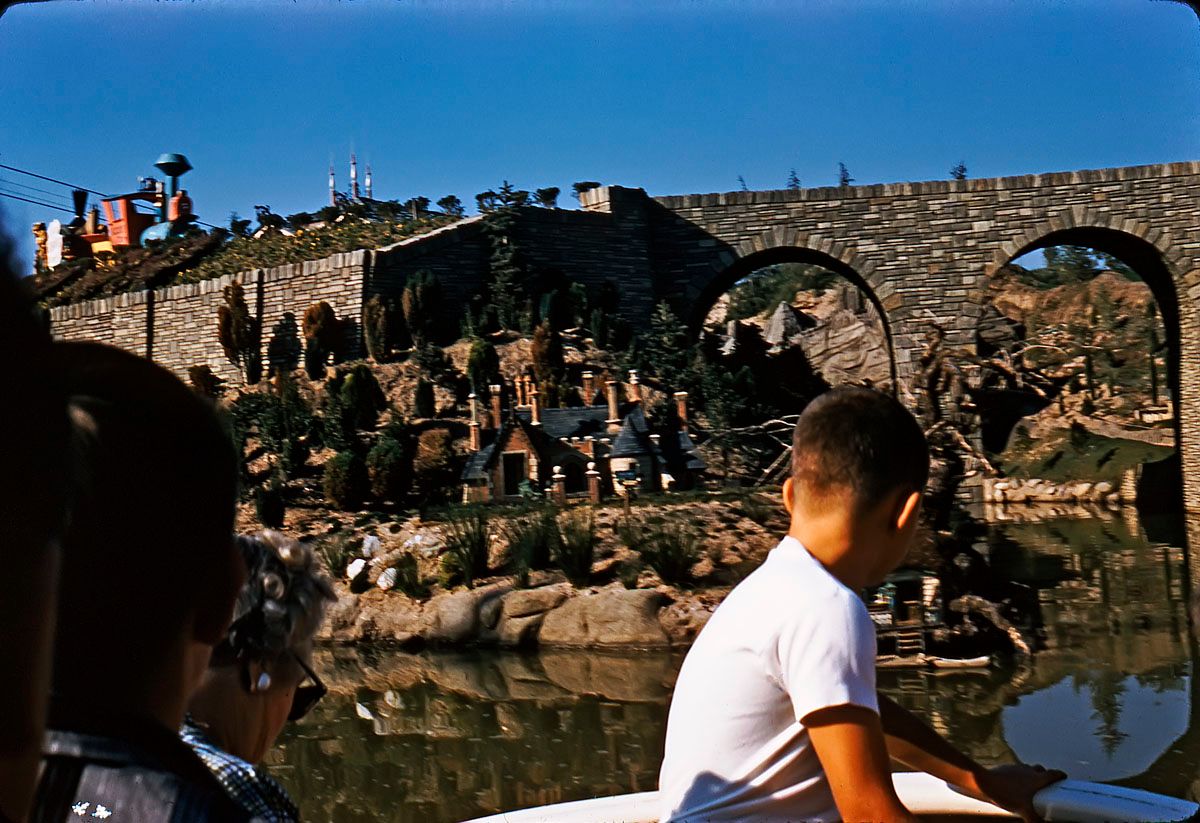 _________________________________________________


For those who might be interested, here is a report of my visit to Disneyland on Tuesday, September 27th! Sorry about the lack of photos; I am just not a camera guy (unlike
Daveland
, aka "Weegee Junior")!
My friend Amy and I managed to get to the park just as it opened, and walked through the east tunnel (after admiring the Halloween-themed Mickey flower portrait) at about 10:00 AM. Folks were crowded around the giant pumpkin Mickey head in the center of town square, all trying to get that perfect family photo, while the buildings had orange bunting (an unusual look) on them.

We noticed that a large portion of the crowd headed up Main Street was turning right into Tomorrowland, so we figured that we'd better get our Fast Passes for Star Tours. Little did we know that we'd have to stand in a 10 minute line just to get our passes! Since we couldn't hop on to Star Tours until 11:30, we headed straight over to Space Mountain, and waited in a very short line. The "Ghost Galaxy" overlay is a fun change, though I am hoping for future additions to the gags and effects.

After that we decided to check out Buzz Lightyear's Astro Blasters, something that Amy had never experienced (both of us had abysmal scores!) Since we still had more than an hour before our Fast Passes would work, we walked over to Fantasyland, and rode on the Dumbo attraction. A first for me! And it was fun, whaddaya know. Then we made a beeline for Mr. Toad, which had a fairly short line. I love that ride! We would have done Peter Pan, but took one look at the queue, and decided that we could wait. So we hopped on to the Snow White ride, and then we rode the Teacups, spinning that darn wheel as fast as we could. What a workout!

By now it was time to check out Star Tours. I enjoyed checking out the revamped queue, which had enough to look at that it made the wait seem shorter. I sort of miss the baskets full of robot parts that used to constantly move overhead, but it's not a big deal. Anyway, our first journey took us to the Wookie planet, and then we went to the Death Star. The motion simulator seemed to move more gently than it used to (or am I imagining things?). The screen was bright and sharp, and the 3-D was pretty good, but overall we walked off the ride thinking that it wasn't as amazing as we'd hoped.

After a ride on the Matterhorn we decided that we needed to see the Haunted Mansion, so we walked across the park and after a brief wait in line went into the foyer area, and then into the elevator with the stretching portraits. Complaint time: there must have been half a dozen people who were staring down at their phones, texting and tweeting with their brightly glowing screens. Seriously? You can't stay off your phones for a few minutes on the Haunted Mansion? I can only imagine the important messages that were sent. Also, EVERY time the lights go out, somebody (mostly a 20-something dude) thinks it's hilarious to scream loudly. How I would love to taze them! I didn't notice much new stuff in the Nightmare Before Christmas overlay, except maybe the giant "living" gingerbread house (that smelled of fresh gingerbread!) down on the ballroom floor.

I'm going to take a few shortcuts now, just to keep this from becoming a novel. We hopped on to the Disneyland Railroad at New Orleans Square/Frontierland Station, for a grand circle tour, which was fabulous as always. Then we visited Splash Mountain, which had a very short line in the morning. Later, the line was pretty long! We hit the Winnie the Pooh ride, which Amy had never seen.

The Mark Twain was being refurbished at Fowler's Harbor, which meant that the Columbia was out and about. Having never been aboard that venerable ship, we took a sail around the Rivers of America. So... another first for me!

We had lunch, then rode the Jungle Cruise and climbed Tarzan's Treehouse. Heading back over to Tomorrowland, and got in the standby line for Star Tours. It only took about 20 minutes to board our spacecraft. This second experience was WAY better than the first one! First of all, my photo showed up on screen as the rebel spy! Then we found ourselves in the middle of a pod race, and after that we wound up under the sea, zipping through the Gungan city, and then were terrorized by several giant, scary fish. The effect of being caught in the jaws of one of these creatures (and the 3-D effect of its tongue against the view screen) was fantastic! Also, the finale, in which the pointy end of a parked spacecraft crashed through our viewscreen, pointing right at us, was similarly great. This time we walked off the ride very enthused and impressed!

During the rest of our visit, we check out "It's a Small World", and we rode both the Haunted Mansion and Space Mountain twice more. Our final Mansion visit, 15 minutes before the park closed, was the best. There were only five or six other people in the elevator with us, and they weren't rude jerks!

That was about it for rides! We missed a few favorites (some of the dark rides), and didn't get around to the Monorail or Autopia, and I wanted to head over to Tom Sawyer Island, but Amy wasn't interested. Neither of us cared about Captain Eo! I did want to see Lincoln and the Mary Blair exhibit, but we just ran out of time, since the park closed at 8 o'clock.

After the park closed, we had a quick dinner in Downtown Disney, and then had a traffic-free ride home. Overall we had a
great
day, and I was regularly impressed with the cast members, particularly the ride operators. A+!