It's time for another look at a couple of fabulous vintage Disneyland attraction posters!

From 1956, this Skyway poster is one of my favorites. I bought this one from the Janzen brothers (of "E-Ticket Magazine" fame) for $300, which seemed cheap even then. Repros usually get the buttery yellow background completely wrong, using a much more harsh version of that hue. One particularly interesting feature of this poster is the depiction of the never-built "Air Boats" attraction over on the left; these were going to be large versions of the boats that are used to skim through the Everglades (see the giant propeller on the back?). Noisy and dangerous, and not particularly futuristic either! But part of me wishes that they really existed, if only for a little while.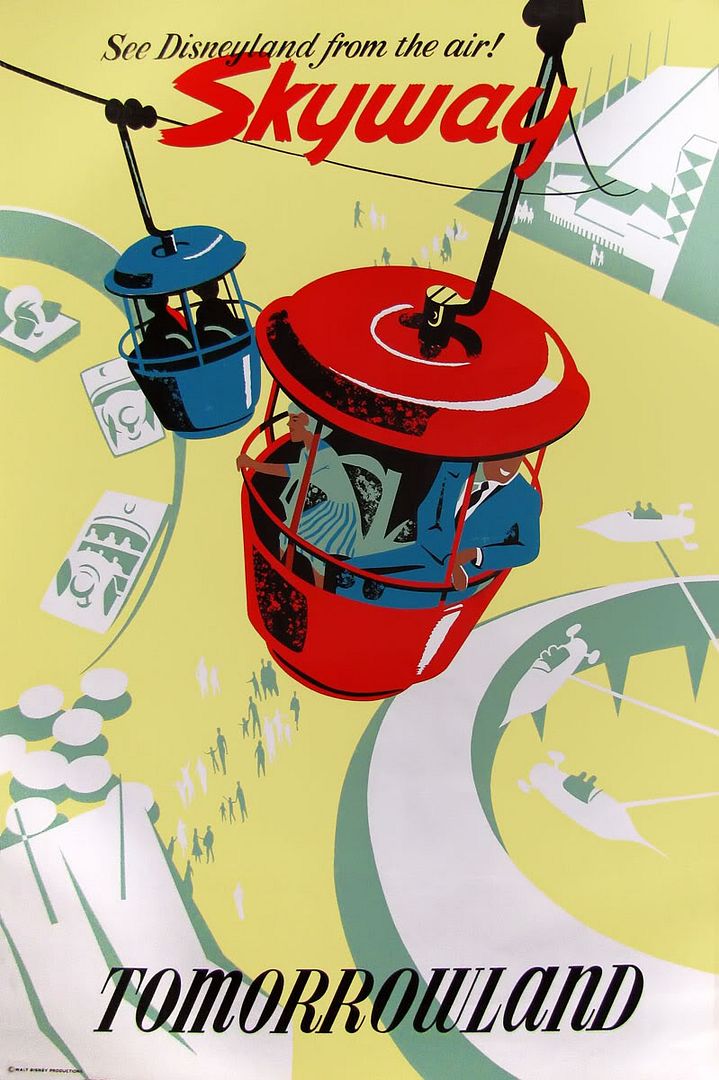 Howard Lowery's auction catalogs often referred to this beautiful Submarine Voyage poster as "the Cadillac of attraction posters", and it's hard to argue the point. Such a wonderful design, and great bold colors. Mermaids are frolicking around the ruins of Atlantis, and there is a sunken wreck, probably full of pieces of eight (or even pieces of nine!), while each porthole of the submarine has a little face gazing out. The underside of the sub reflects the warm light of an open volcanic vent. The very first (and extremely rare) version of this poster mentions the sponsorship by General Dynamics, I have only seen one of them and still kick myself for not buying it (it was in rough condition).