A year or two ago I acquired a small group of slides featuring a whole lot of Shriners in Los Angeles. They're pretty fun!
On June 20th, 1950, the 135,000 Nobles came to downtown Los Angeles for several days of parades and general celebration (the full name for the Shriners, pre-2010, was the Ancient Arabic Order of the Nobles of the Mystic Shrine. Now they go by "Shriners International").
This first photo shows view of one of the three parades that took place; we're looking Northeast on S. Olive Street. Love that Alka-Seltzer sign! To the right is Pershing Square, right in the heart of L.A. As you can see, an enormous "Arabian Bazaar" was held there - wouldn't you love to see what wares were for sale?
The June 21, 1950 issues of the Chicago Tribune reported:
"The downtown parade which culminated in the coliseum was the high point so far in the 76th imperial session of the Ancient Arabic Order of the Nobles of the Mystic Shrine. Some 135,000 Shriners are here from all parts of the United States. Deputations also are present from Canada, Mexico, and Hawaii"
.
The Trib continues: "
...Prominently in the line of march were 280 richly-attired horsemen, six camels, and unique mechanized equipment ranging from a 1901 automobile from Louisville, Ky., to a cable car from San Francisco"
.
Hey, I think this is that very cable car, towed by a tractor!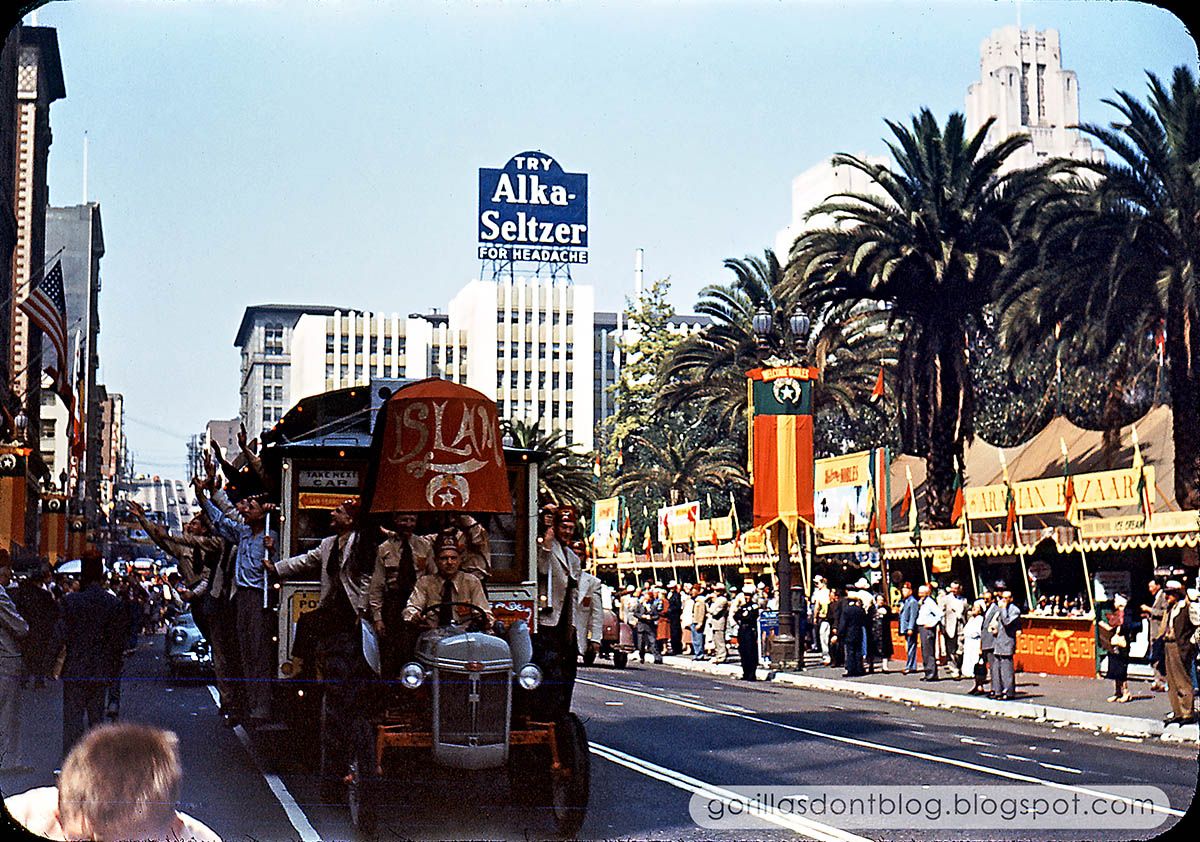 Here's an unlovely screen grab from Google Maps' "Street View". It needs more fezzes.
Here's a second view, with crowds of nicely-dressed, curious people. Love the fedoras! Or are they Panama hats? At least one booth is serving fresh orange juice, which is one of my favorite things. Notice the banners on the light posts... "Welcome, Nobles". Looks like the city really rolled out the red carpet for the Shriners! At the time, Harold Lloyd was the the "Imperial Potentate", which is pretty cool.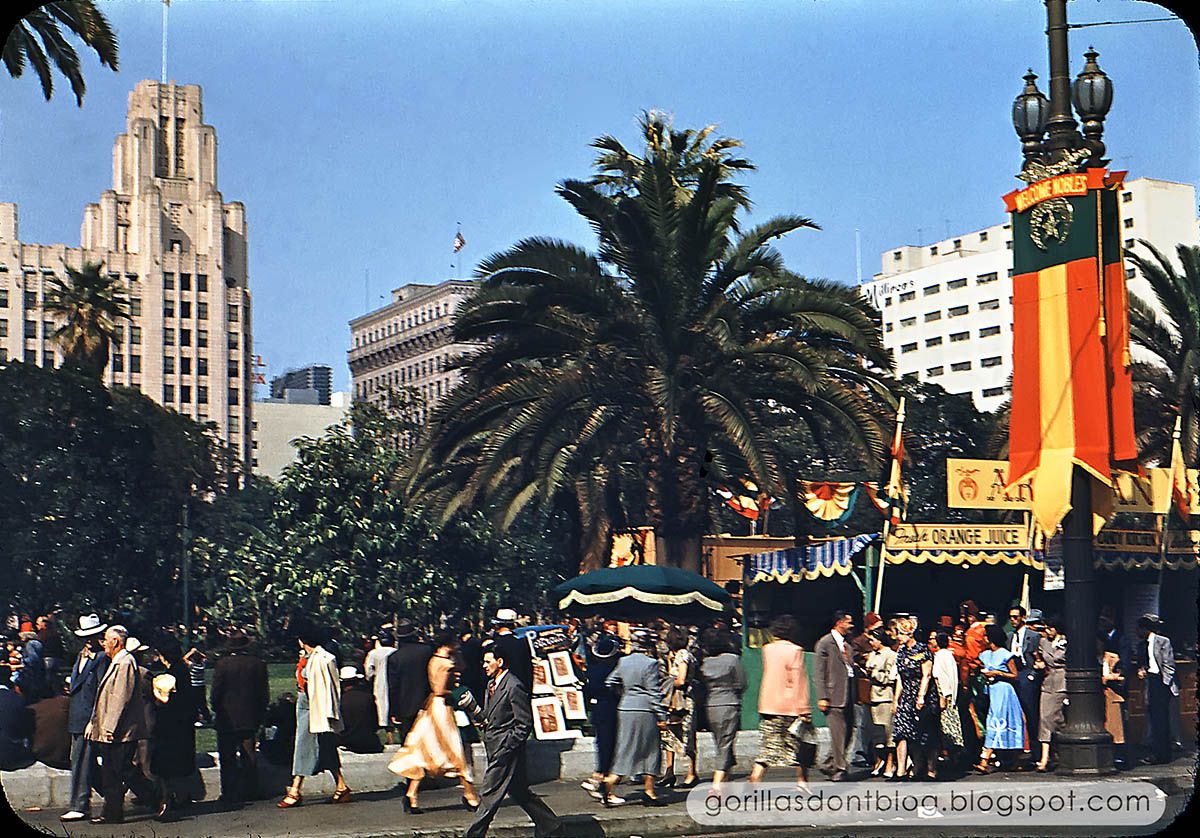 On a related note, I wanted to include this scan from a two-page spread from
Charles Pheonix's
book, "Southern Californialand". It's a
great
book if you love amazing color images from the 1940's, 50's, and 60's. He really does have incredible stuff. Go see one of his live performances if you can! Anyway, this image is from the same Shriner's Bazaar, a fantastic view taken from the historic Biltmore Hotel.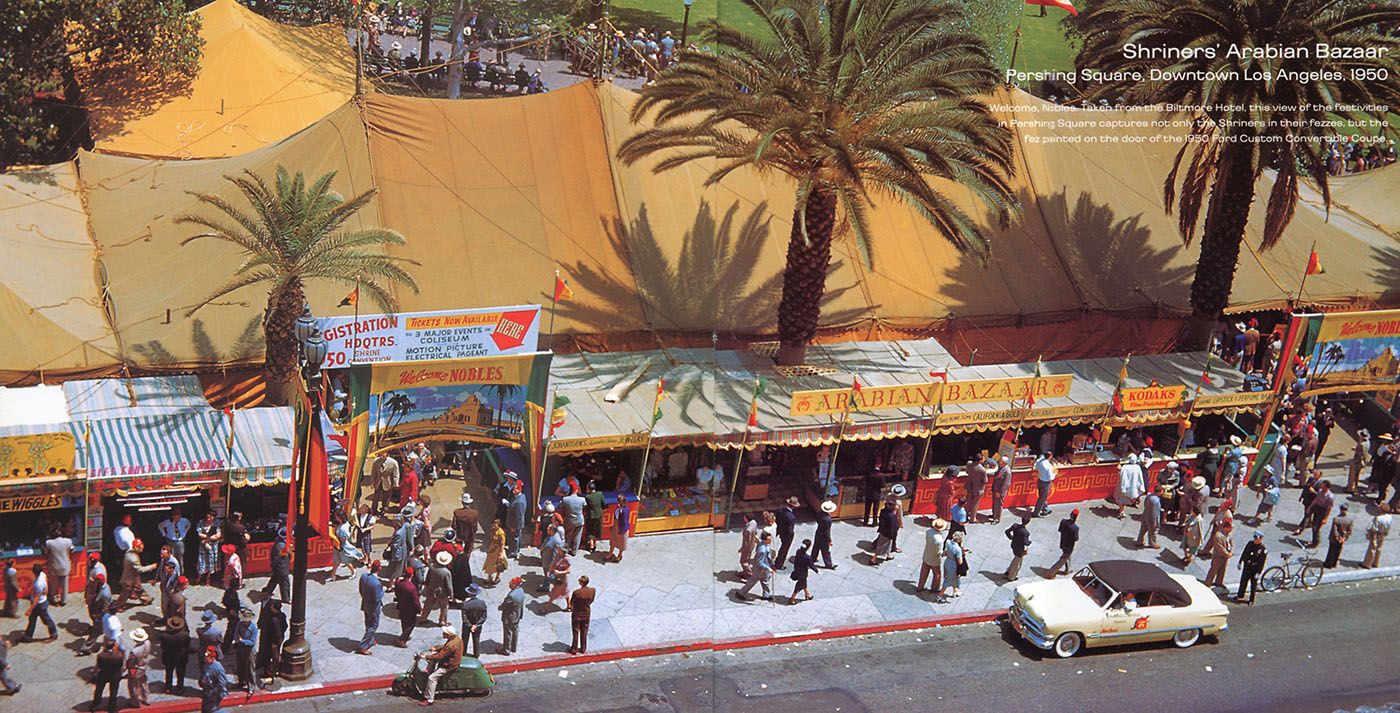 I have a few more slides of this crazy event, if you are interested!