Today I am sharing one of my favorite oddball Knott's Berry Farm souvenirs!
Paul von Klieben was an early art director for the Berry Farm, and one of his first projects was a painting of Christ called "The Transfiguration", which could be found in the Little Chapel By The Lake (which was built just for this purpose). I will quote Chris Merritt's excellent book, "
Knott's Preserved
", because his description of the simple-yet-dramatic presentation is better than anything I could write!
"Entering the unadorned adobe church, guests would be seated in wooden pews and the room's dim lighting would diminish until only two golden doors were illuminated. As the recorded narration was played, the doors slowly opened to reveal von Klieben's painting... The focused lighting on The Transfiguration would gradually transition from incandescent to fluorescent and, magically, Christ's eyes would appear to open".
Zowie! Understandably, guests wanted a souvenir of this moving experience, and somebody came up with a clever concept. I realized that I have two slightly different versions of this item, one from when Knott's was known as "Knott's Berry Place" (probably pre-1947), and another from when it was the Berry Farm. The lighter, whiter copy is actually the older version. As you can see, both examples resemble a closed pair of heavy wooden doors, like you might find at one of the California missions.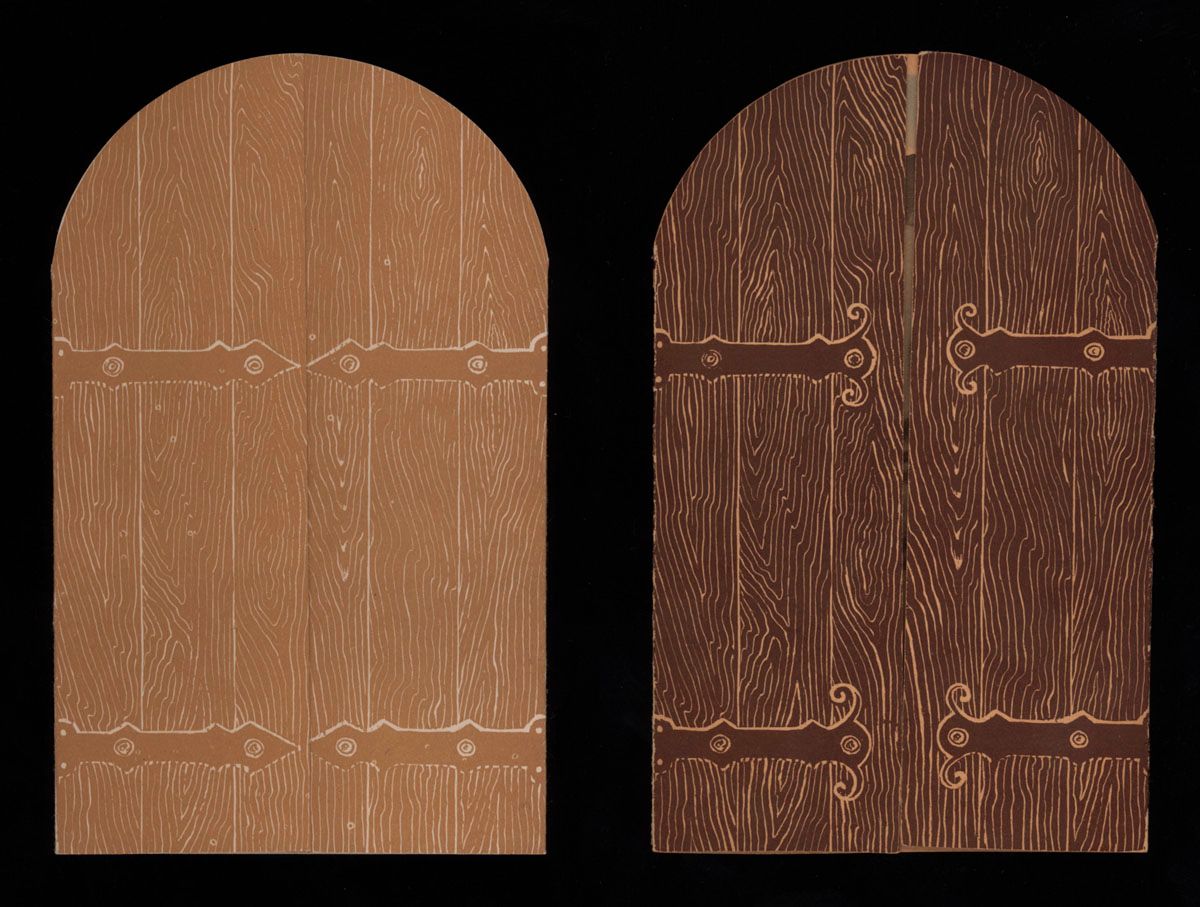 Here's a view of the backs of both versions. Again, the older one is on the left.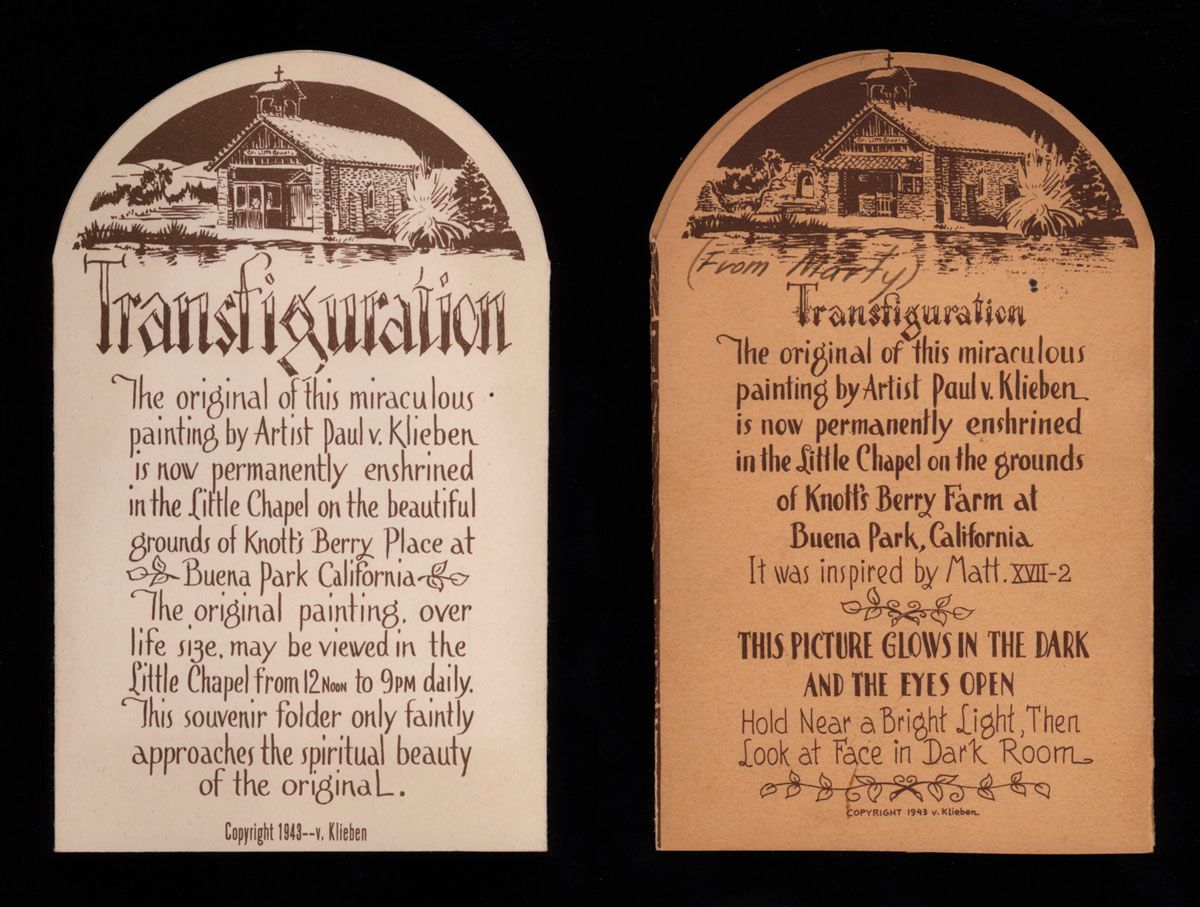 Each version opened like a medieval triptych, with a detail of of Christ's portrait in the middle. If you compare the two, you can see that they are a bit different. The eyes are closed here, but there was an additional layer of glow-in-the-dark paint that was applied, and when you held it to a light and then viewed it in a darkened room, His eyes would be gazing at you. I hope you've been good!
The written description of Christ's physical appearance and demeanor is interesting. Yes, very very interesting. Maybe even weird.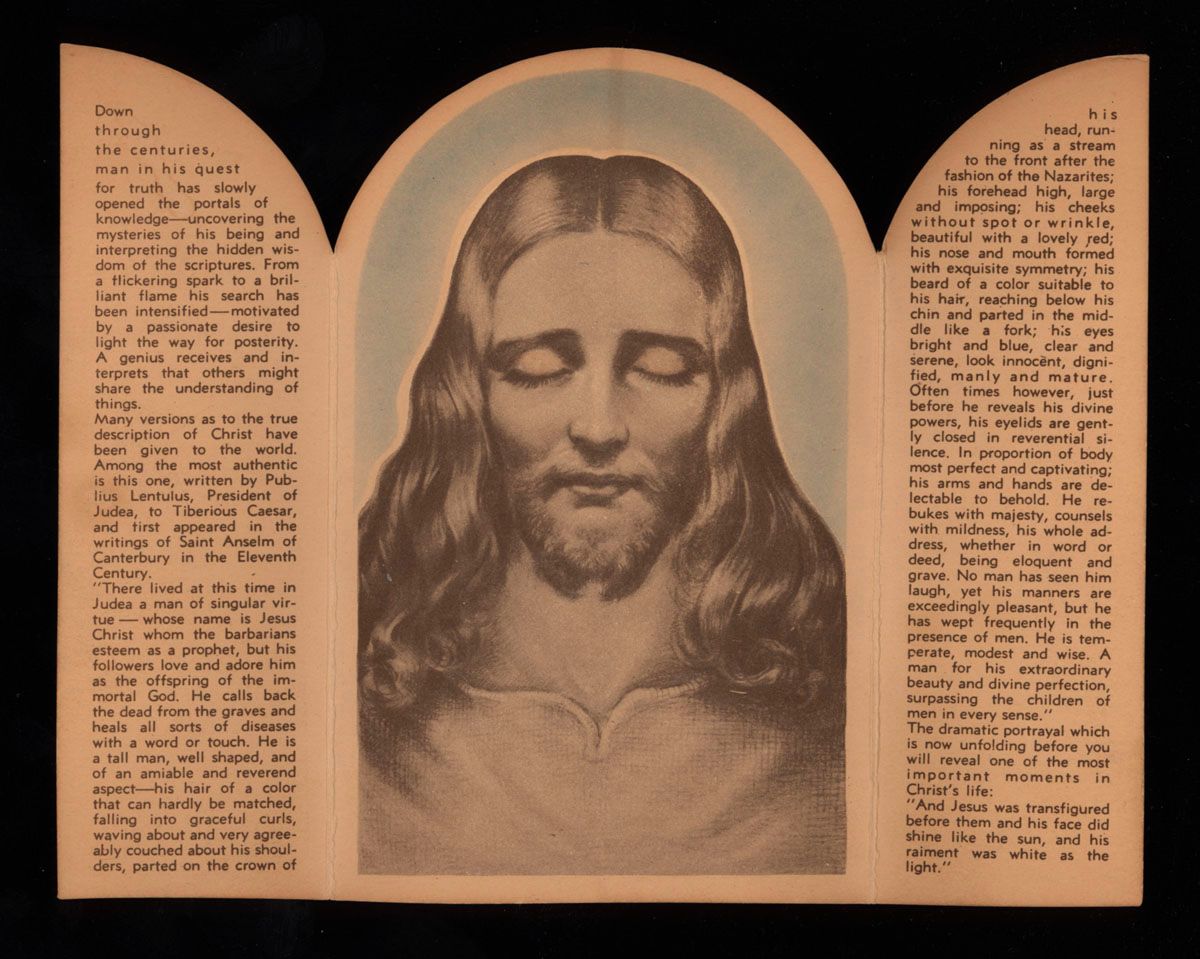 I have the mailing envelope for the Knott's Berry Place version. Be sure to use a 3-cent stamp! I wonder what other Chapel souvenirs were available?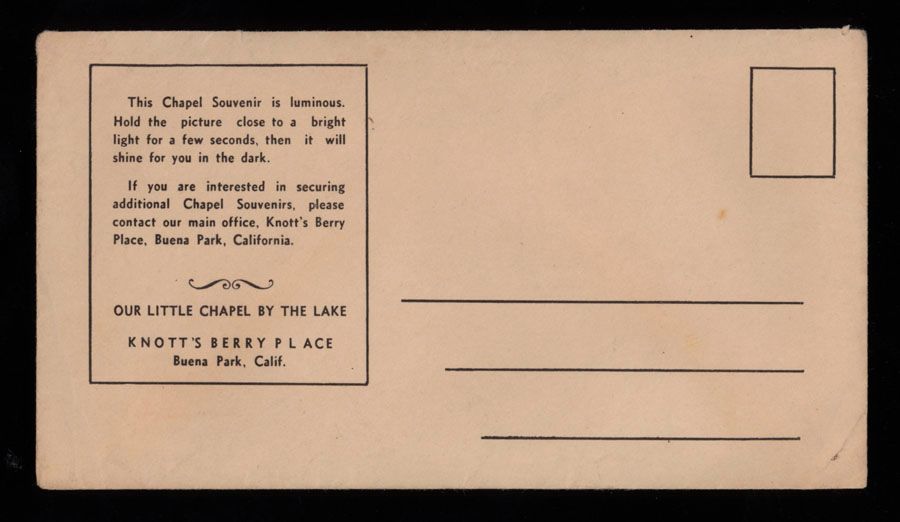 And finally, thanks to a 25 second exposure, here is the glowing portrait with the eyes open! Cue the heavenly music. Part of what I love about this souvenir is the honest sincerity in which it is presented. There is no crass commercialism or irony to be found. Sadly, the little chapel has been torn down; hopefully von Kleiben's painting survives somewhere.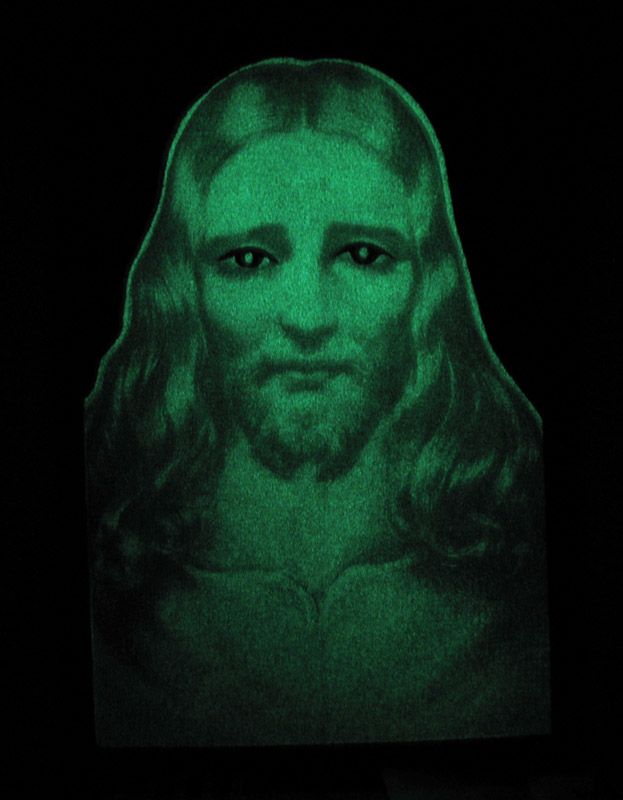 Once again, I would like to recommend "
Knott's Preserved
" for anyone interested in Knott's or theme park history in general!