Today I am happy to present a special holiday-themed edition of Ken Martinez's vintage postcards - Santa's Village style! Here we go (take it away, Ken):
Santa's Village - Part One
Once upon a time there were three Santa's Villages. The first one opened in Skyforest, California on Memorial Day in 1955 (six weeks before Disneyland). The second one opened in Scotts Valley, California in 1957, and the third and last park opened in Dundee, Illinois in 1959. All three parks have since closed and are long gone.
One of the interesting things about collecting postcards of Santa's Village is trying to figure out which of the three parks the postcard represents. This is an issue when the card does not give the location or it has been mislabeled. Sometimes it's obvious, sometimes it's not. The Dundee location is usually easy to figure out because of the terrain and foliage. The only park I visited was Scotts Valley because it was 10 minutes away from home.
This card is labeled Santa Cruz (Scotts Valley) but I'm not thoroughly convinced it is. There is no Snowball Ride out front to the right. This is why I think it is Skyforest.
This one is easy to identify because the Bumble Bee Monorail was unique to the Santa's Village in Skyforest.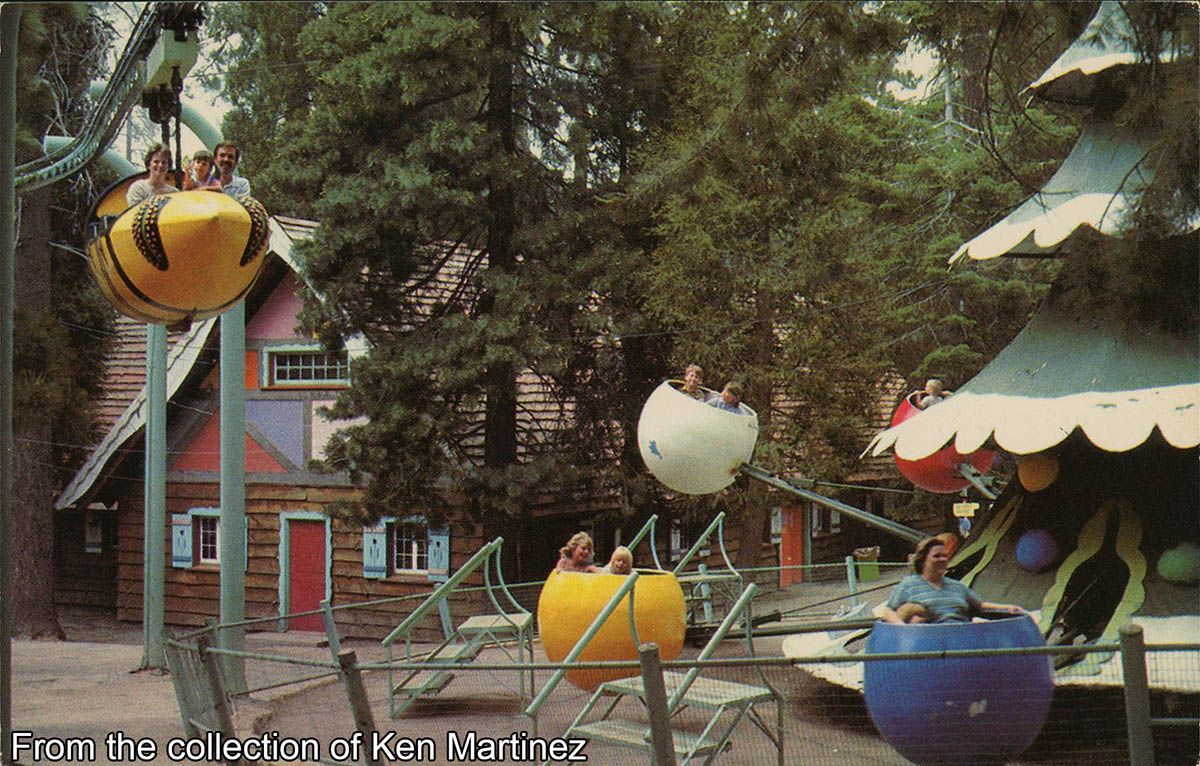 This one is a tossup. I think both Scotts Valley and Skyforest had a Magic Train Ride. Does anyone know which location this is? Love the golden pine needles covering the ground.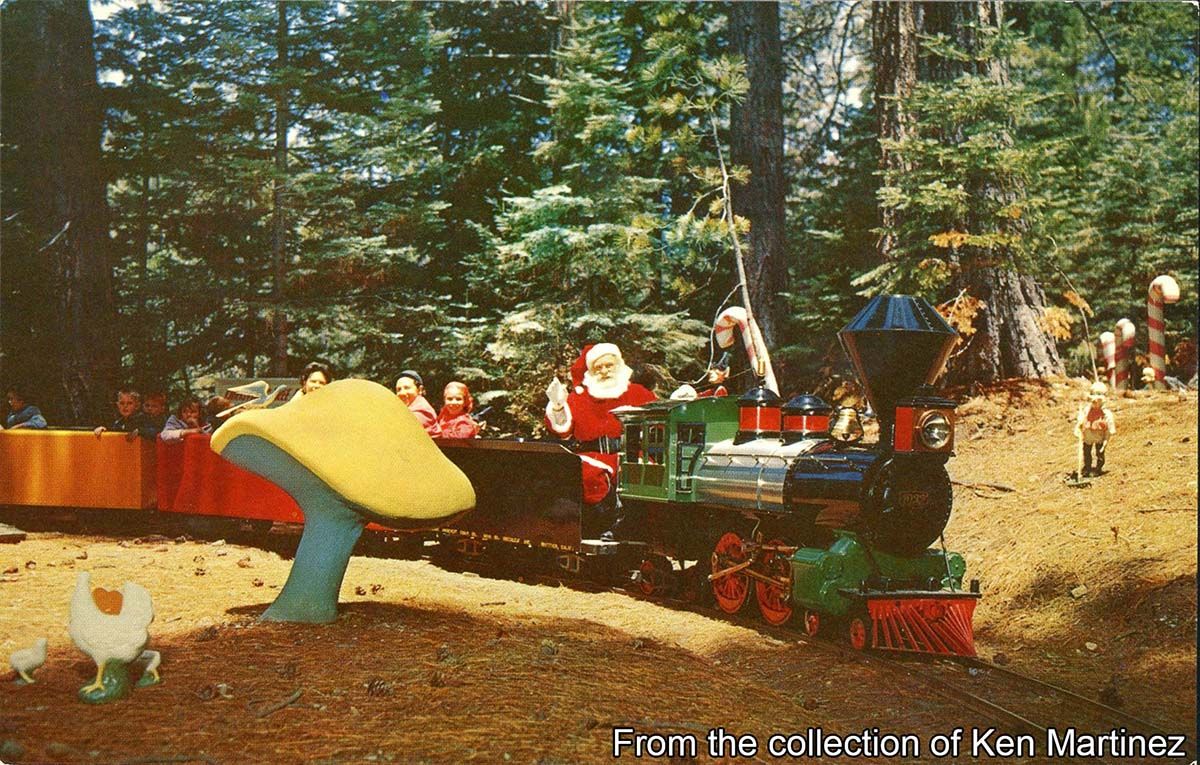 This looks exactly like the Mill Wheel Funhouse/Puppet Theater that was located in the Scotts Valley Santa's Village.
This Santa's Sleigh Ride was located in Scotts Valley and traveled in a clockwise direction. The Sleigh Ride in Skyforest came out of the tunnel from a different angle.
Here's a GDB image showing the Sleigh Ride in Skyforest
: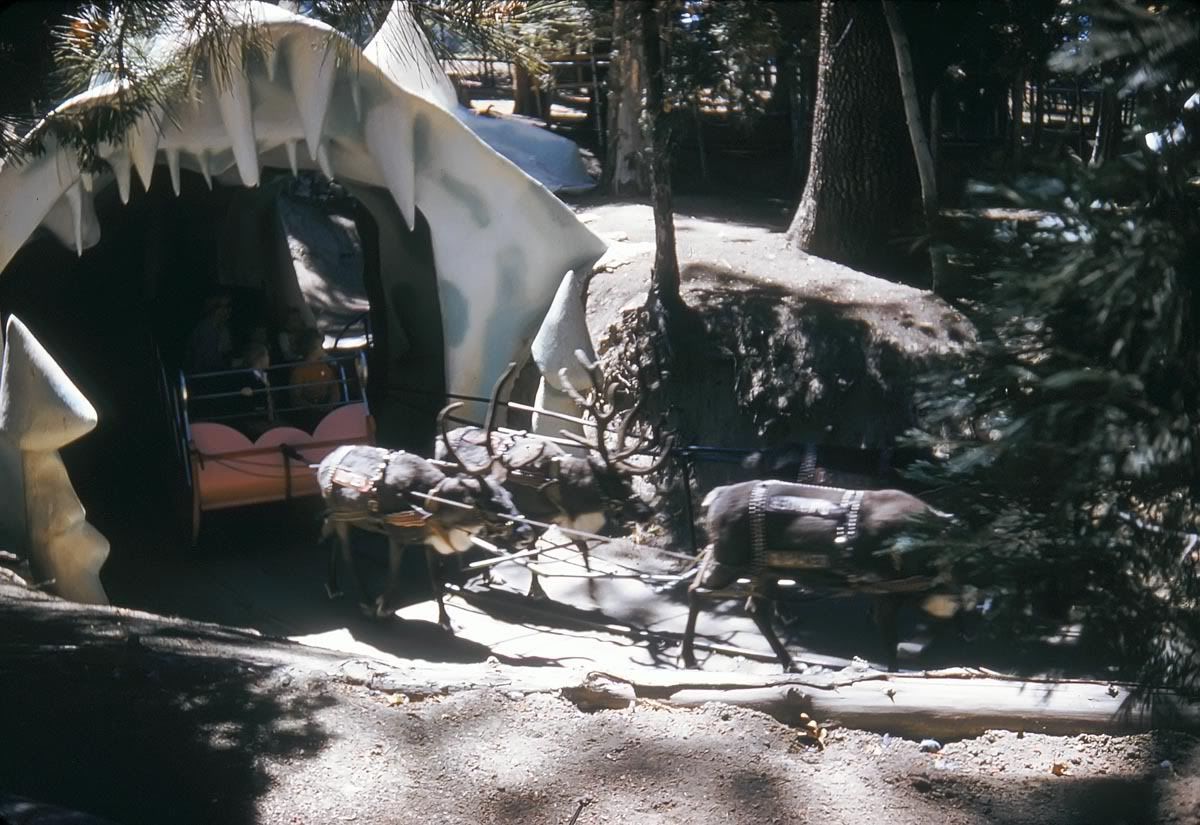 This is the first part of two posts related to Santa's Village this month. Stay tuned for part two.
Information source material:
www.santasvillage.net History of Santa's Village
Major Pepperidge again; I still find it somewhat unbelievable that my grandparents never took us to the Skyforest Santa's Village - but that's the sad truth. I'm happy we have Ken's postcards to look at!
Thanks as always to Ken Martinez.