I was lazy today, so I just took the first four scans from my '64 New York World's Fair folder and posted them in order.
This fella is pretty happy to have just arrived (via train)... and I don't blame him. Just think of all the wonders he will see! Plus he can eat a waffle with whipped cream and strawberries. Oh man. Anyway, I can't remember what that tower just over his shoulder is called. It looks like it is made up of stacked folding chairs. To the right of that you can see the RCA building. Just past the moon berry is the dome from the "World's Fair Pavilion" (which would become the Churchill - as in "Winston" - pavilion in 1965); The tower of the Coca Cola pavilion is just visible, and beyond that, General Electric's "Progressland"!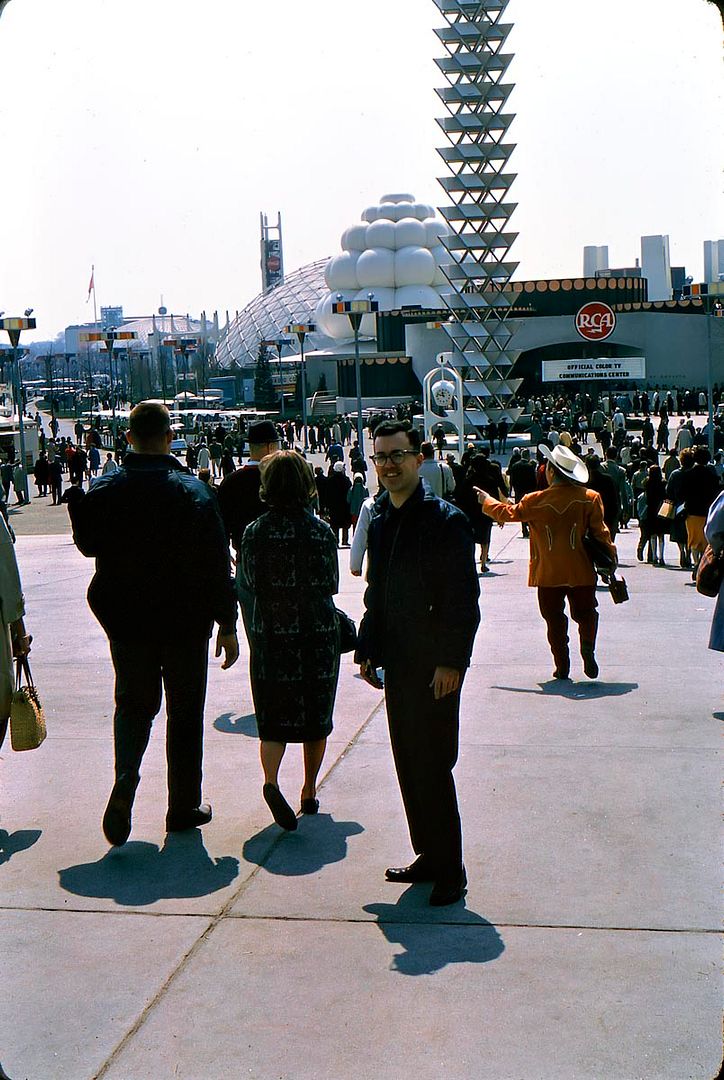 Aw yeeeeaaaahhhh! Looking across Grand Central Parkway, we see an awesome view of the Ford pavilion. The vast rotunda is surrounded by 64 100-foot pylons, resembling some strange alien skeleton. In the curving hamster habitrail, several of the converted late-model Fords glide smoothly toward what I believe is the end of the "Magic Skyway" ride. Most of you are already aware that the ride system became the basis for Disneyland's "Peoplemover".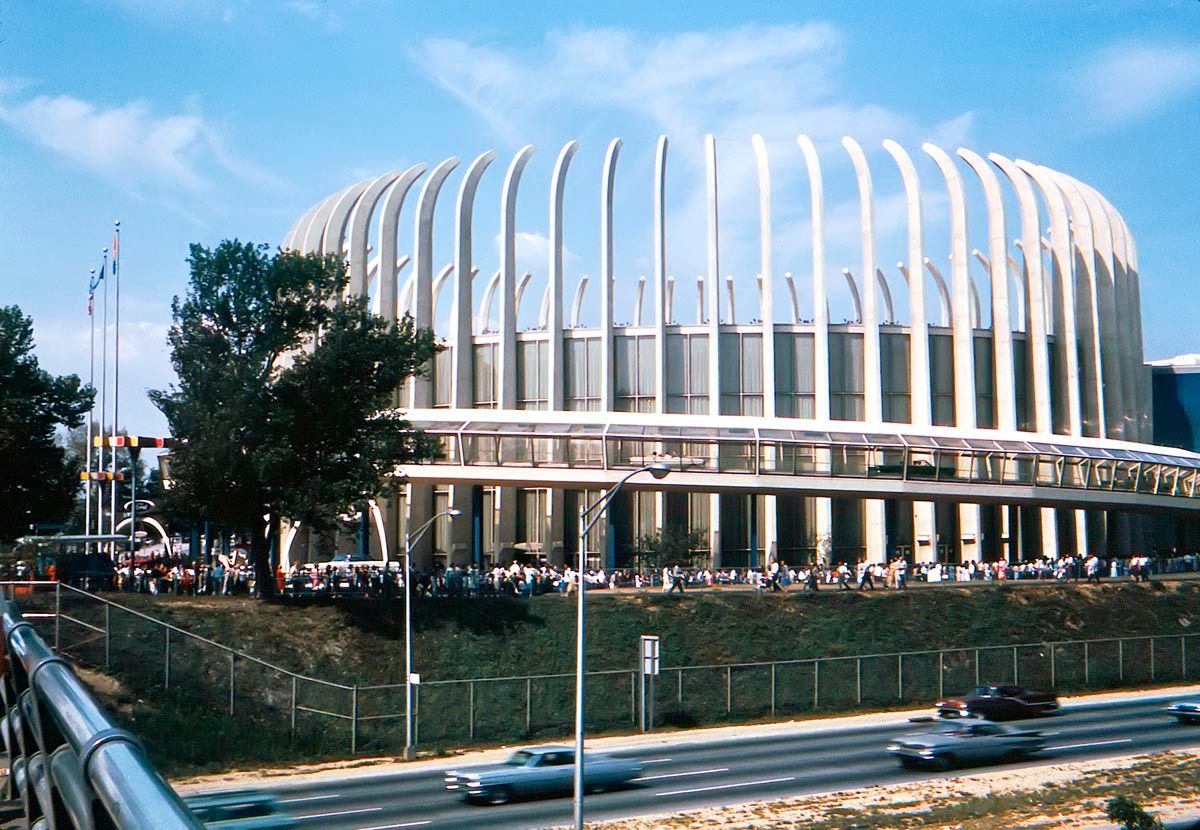 Right near the Ford pavilion, you'll find the Lowenbrau Gardens. According to the invaluable
nwyf64.com
,
The brewers of Lowenbrau, a Bavarian beer, have reconstructed an open-air Bavarian-style restaurant set in a village square. The square is surrounded by five buildings, including a bell tower and gate. Three of the buildings are service areas for the restaurant. Every now and again, Lowenbrau's brewery wagon, drawn by four massive horses, can be seen in the street outside, or traveling about the fairgrounds.
So now you know.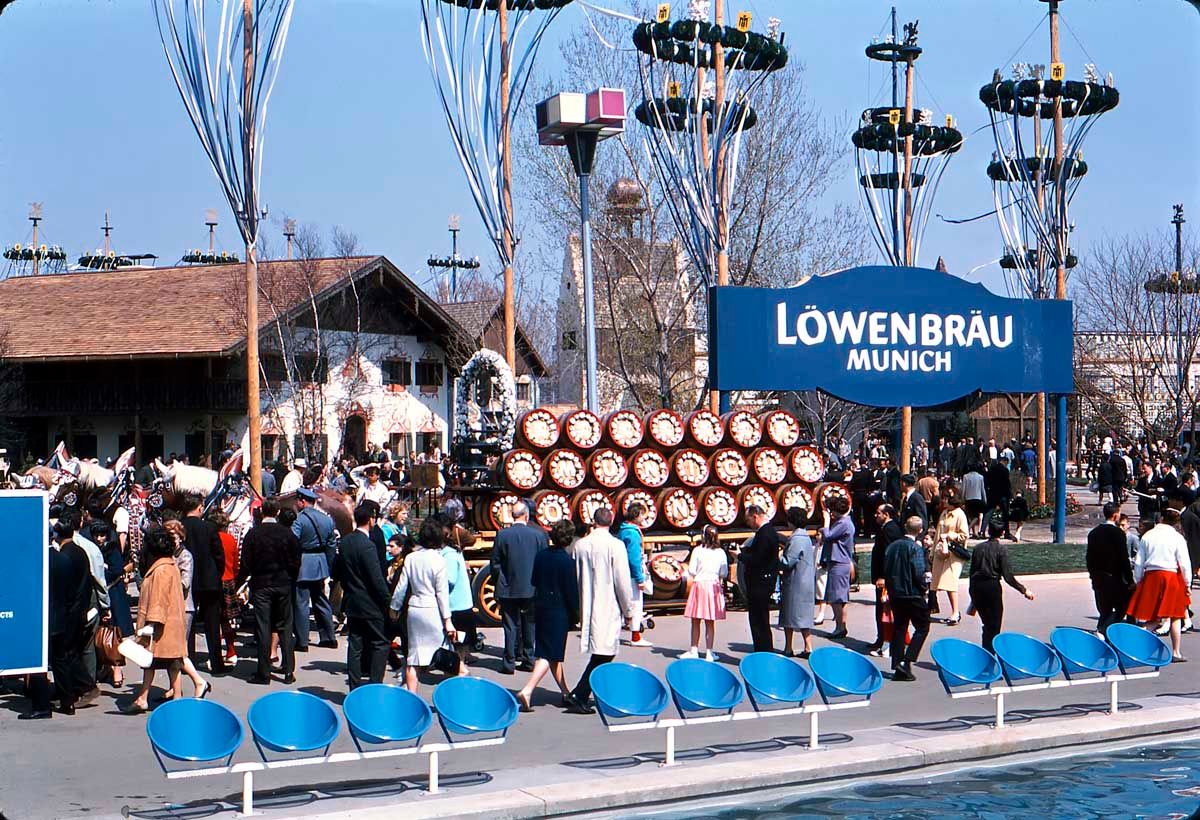 If the Lowenbrau horses and the Budweiser Clydesdales got into a rumble, who would win? Yes, of course they would be using pool cues as weapons.