Many people are familiar with "Magic Mountain" (now owned by Six Flags) in Valencia, California. But there used to be another Magic Mountain near Golden, Colorado. It never really took off, but it is a fascinating footnote in theme park history.

Entrepreneur and developer C.V. Wood was instrumental (according to him!) in helping Walt Disney build Disneyland. After the success of that Anaheim park, he decided to capitalize on the phenomenon and build his own theme parks in various places around the country, many of them loosely modeled on the Disneyland concept. Freedomland in New York, and Pleasure Island in Massachusetts are two of his other short-lived attempts!

Here's a great photo from November 1958, showing the entrance to the park, which is open to the public even in its far-from-finished condition. Much like Disneyland, you walked beneath train tracks to enter the park (that's part of the depot in the upper right).


Everybody loves clowns! It's a known fact. The only people who don't are certifiably insane and should be considered to be dangerous. Here's a delightful fellow (cigarette hanging from his painted lips), apparently about to perform a balancing act, or juggling. Or something. Check out that kid to the right with the fedora! I'll call him "Mister Spiffy".


Well, sorry, that's all the color photos I have. But I decided to include a few related items, including this prospectus that would hopefully persuade investors to part with some of their cash in order to finance the construction of Magic Mountain. A lot of it is awfully dry. If some of you are REALLY interested in the investment details, I'll scan those pages too. Plus you can send me five bucks.


Ben F. McCleave (junior) was thoughtful enough to leave one of his business cards tucked inside the prospectus. I like the little map on the back. Just dial DUmont 8-2674!



The prospectus did provide a few tantalizing details of what was in store for visitors of Magic Mountain.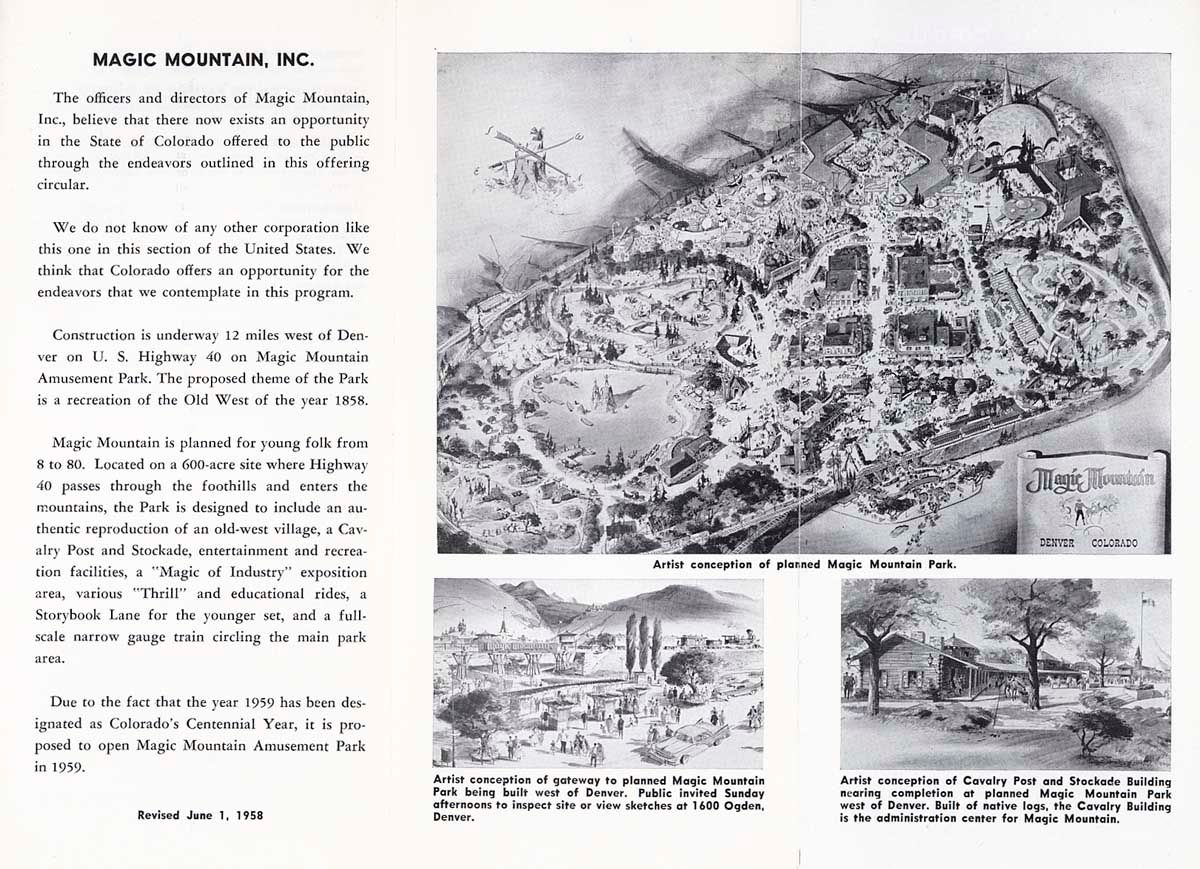 Here's a slightly better look at the map. It kind of reminds me of Herb Ryman's famous rendering of Disneyland. I'd love a big, clear, color rendering of this! But for now this will have to do. Disneyland had a train encircling the park, and so many parks copied that idea afterwards.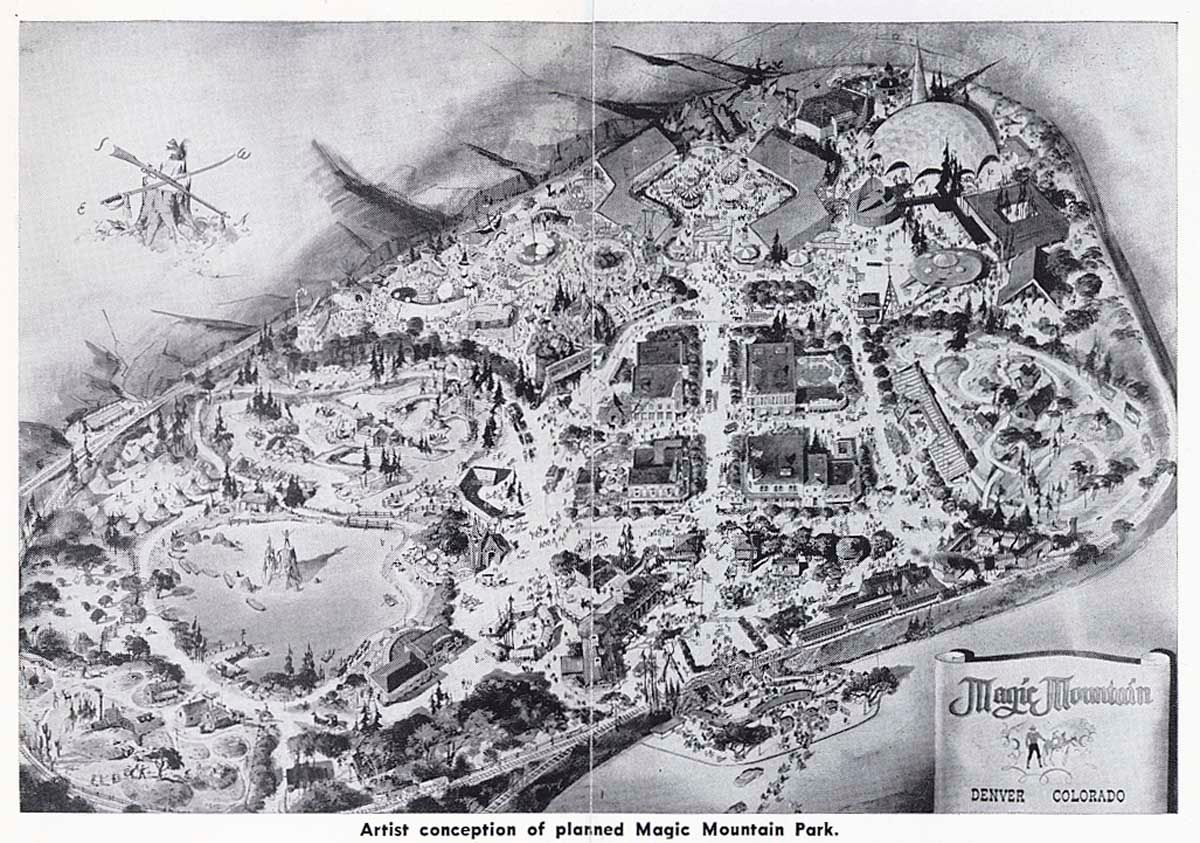 It's interesting to see that they did have a plan for the park to operate in the winter. As always I am intrigued by the "Tomorrowland" rip-offs. This artwork bears a strong resemblance to Freedomland's "Satellite City".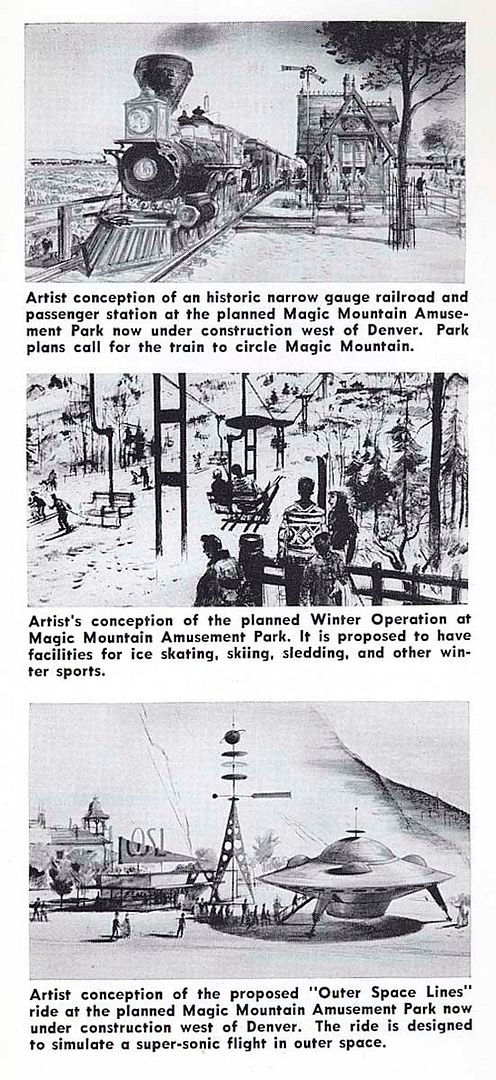 Magic Mountain limped along for a few years, many of it's concepts never realized, until it finally closed. The site lay abandoned for years, until it reopened in 1971 as Heritage Square, "...a theme shopping village of artisan shops and attractions". According to Wikipedia, "Over time Heritage Square has grown and changed, and today continues to feature family attractions."

To read more about Magic Mountain/Heritage Square, check out this informative website!