For years, I was an avid (or rabid) Disneyland postcard collector. Trust me, it was ridiculous what I wound up paying for some rarer cards. But that's another story! Today's post was inspired by another blog, the Disneyland Postcards Blog. I decided to share three other postcards that have nice aerial photos of the park. All of these photos were taken on the same day, during a single flyover, which is sort of interesting. The cards all credit photographer James Blank (any relation to Jerri?) and were printed by a company called "California Scene".

Since we can see that Mickey's Toontown is under construction, it seems pretty safe to guestimate the date of these photos at around 1992. If anyone sees a clue that can narrow things down more accurately, please chime in! "It's a Small World" is covered in scaffolding, I wonder if this is when it was repainted in the pastel palette that I don't miss? You can also see the roundhouse for the Monorails and Trains in the upper right, and there is still a Peoplemover in Tomorrowland.



This one is kind of odd... of all the aerial views that one could take, and then publish, why this one? Half the fun of an aerial photo is using your imagination to "walk through" the park, the same way I did when looking at the giant maps when I was a kid. I guess the card's title doesn't lie when it says "Anaheim" rather than "Disneyland".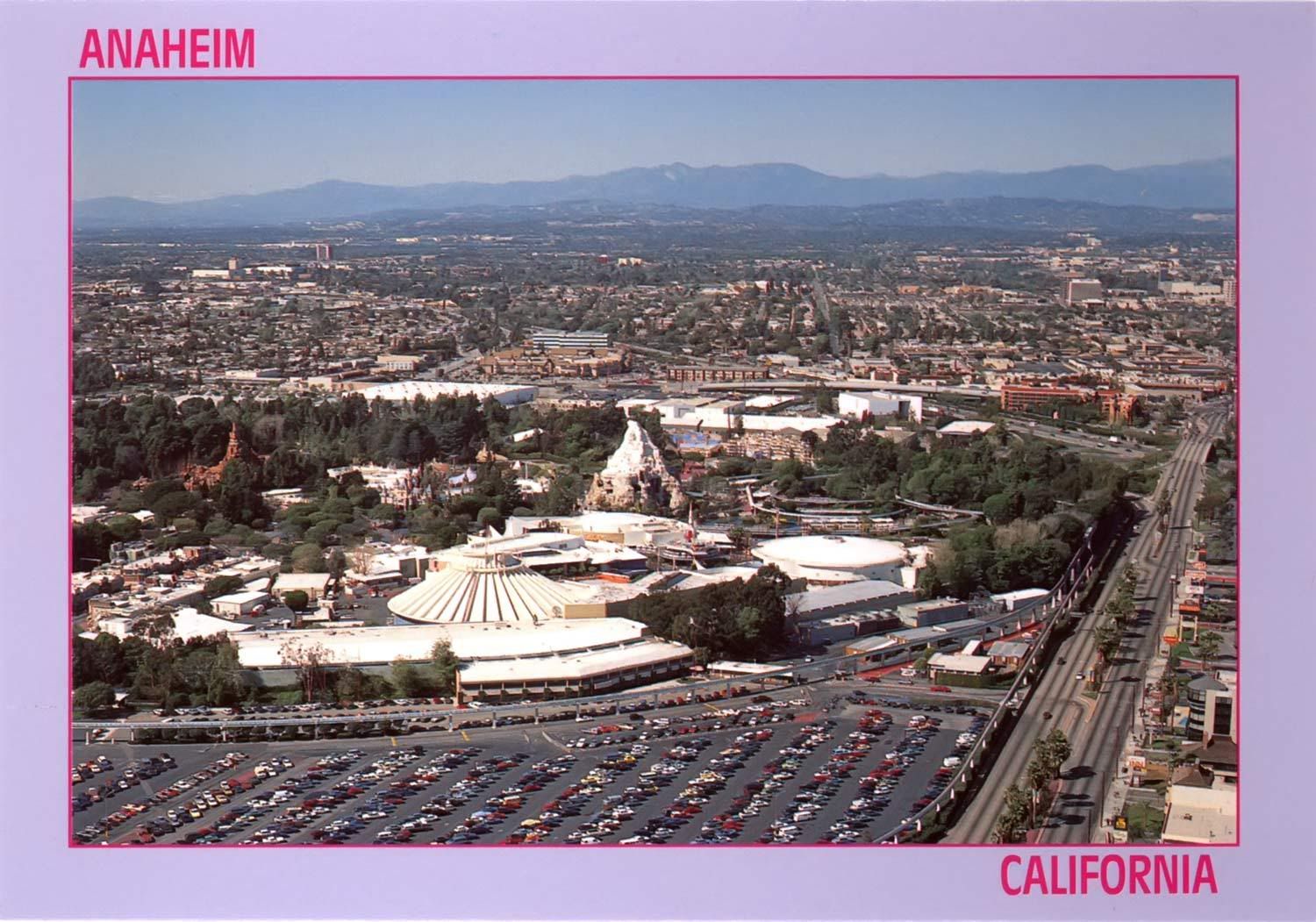 Due to my bionic vision (not to mention my kung fu grip and lifelike hair), I could spot some of the same cars in the parking lot that are in the previous photo. This shot gives you a nice view of the "backstage" area between Main Street and Tomorrowland. Does anybody know anything about a backstage road called "Shumaker (sp?) Road"? Can it be seen in this photo?



I hope you've enjoyed these bird's-eye views, I will see what other neat postcards might be of interest to you.