This neat photo is from the collection of Jim Kurz. That's him in the picture! You can also see him in Matterhorn 1959's amazing collection of photos from Esther, namely this one. I was lucky enough to be able to "talk" to Mr. Kurz via email, and he was nice enough to pass along some fun info! He wrote:

"I first started printing at Knotts Berry Farm Print Shop when I was 13 years old. In 1955 two gentlemen came to me and ask if I would open a print shop for them, in this place to be built called Disneyland. I was only 20 yrs. at that time and it sounded good to me!

These brothers... had secured a 5 year lease for baby strollers and wheel chairs for rentals for guests. Also a print shop and a concession for souvenirs (where Steve [Martin] sold guide books) plus rental lockers located next to City Hall and fire station.

Soooo, I was asked to manage the place and set up the print shop! As soon as the lease was up, it was terminated, (Disneyland to take over). However, the presses I used for the posters and Disneyland News WERE LIKE HEN'S TEETH TO FIND AS THEY WERE VERY OLD!! A one-line press manufactured for a short time in the early 1900's".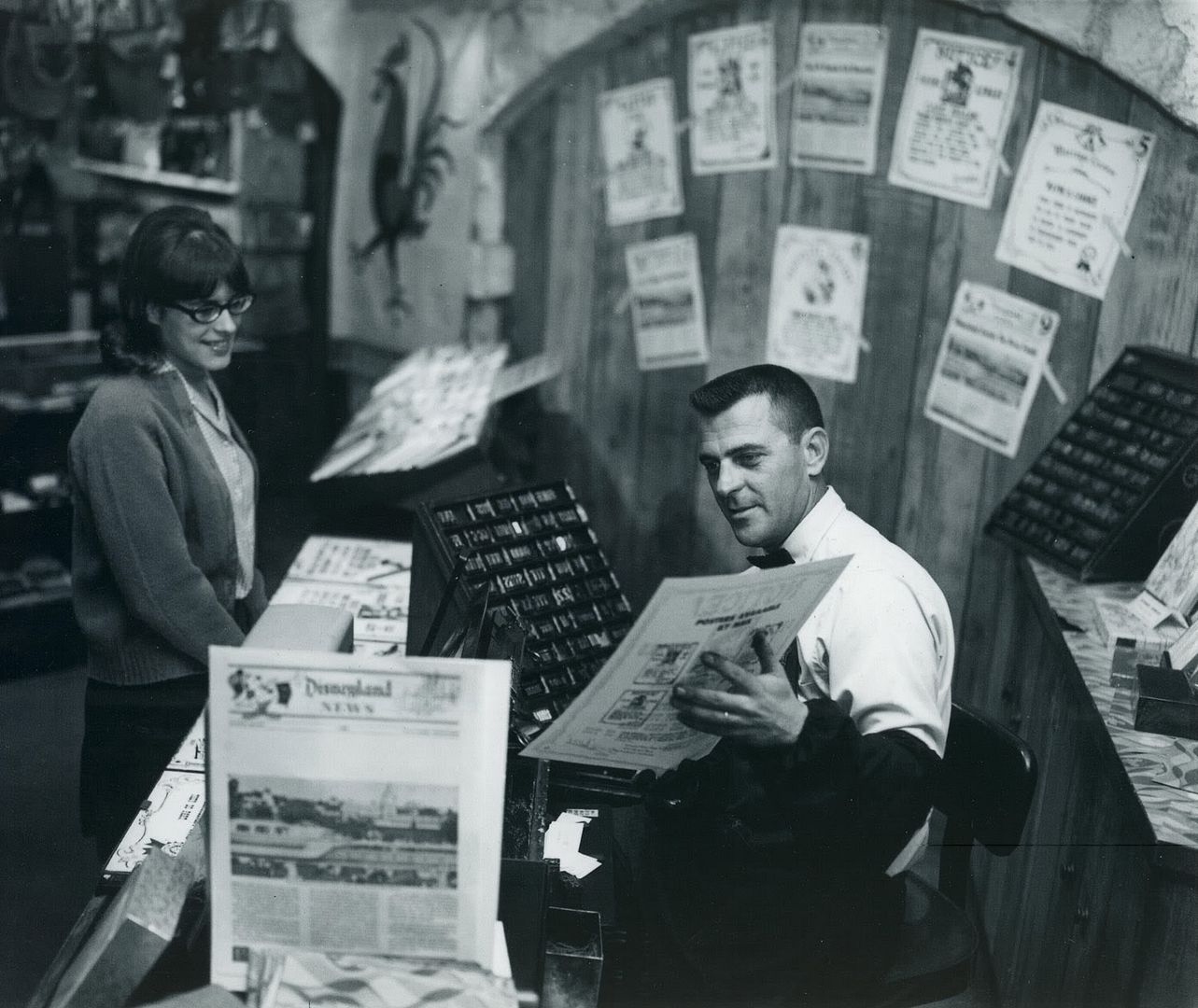 Out of a job, I sold new cars for 6 mos. and received a call from the owners of Main Street Magic Store and was ask to open a print shop again. This is where I got lucky and met Steve (Martin) and John McUen , plus alot of nice people!! When they were not working for the magic store, they could work with me!

Stayed on Main St. for 4 years (again) got a call from Disneyland to open print shop in Frontierland. There I lasted 9 more years. In 1973, moved on outside the Disneyland stratosphere

Yes I did meet Walt more than several times as he would bring his own guest to the park and have their names printed on the Disneyland News Paper.

My best years were the first few years. Everything was so new to everyone. ( I started 2 weeks before the gates opened. It was like they wouldn't finish on time, but they did! Great times, we had!!)

My worst day was the day the "hippies came to liberate Minnie Mouse!" To see the riot squad on both sides of Main St. in the most beautiful place on earth, was very hard on the eyes! Don't know why I didn't have my camera with me then!?

Really, the best thing about those Disney years were all the great friends I met".

Thanks VERY MUCH to Jim Kurz for taking the time to share some of his wonderful memories, and thanks also to one of my readers who so generously put me in touch with him. Hope you all enjoyed it as much as I did!