Today I am happy to feature more photos from GDB friend Huck Caton (who shared those amazing Disneyland wardrobe photos from a few years ago - those things wound up all over the internet). Huck has been digging through boxes, and he has uncovered a bunch of his own personal photos, both of the park as well as some "backstage" photos from when he worked there. Awesome!
We'll start things out with a bang with this rare photo of the Motor Boat Cruise when it was briefly given a "Gummi Bears" overlay in 1991. Part of the "Disney Afternoon" slate of cartoons, the Gummi Bears always seemed like an odd thing for Disney to acquire (in my opinion); I admit that I never watched a single episode. I was more of a "Duck Tales" guy!
While I had been aware of this overlay, with plywood "flats" of the Gummis and their homes, I did not realize that it was only there for 8 months (from March 1991 to November 1991). No wonder pictures of it are hard to find!
I was also surprised that this was before the dreaded Paul Pressler era, when budgets were slashed to the bone, rides were closed, plush dolls were sold in every location - all in the name of increased profits (it worked, too). Perhaps he isn't as entirely to blame for the precipitous drop in quality as I had always assumed?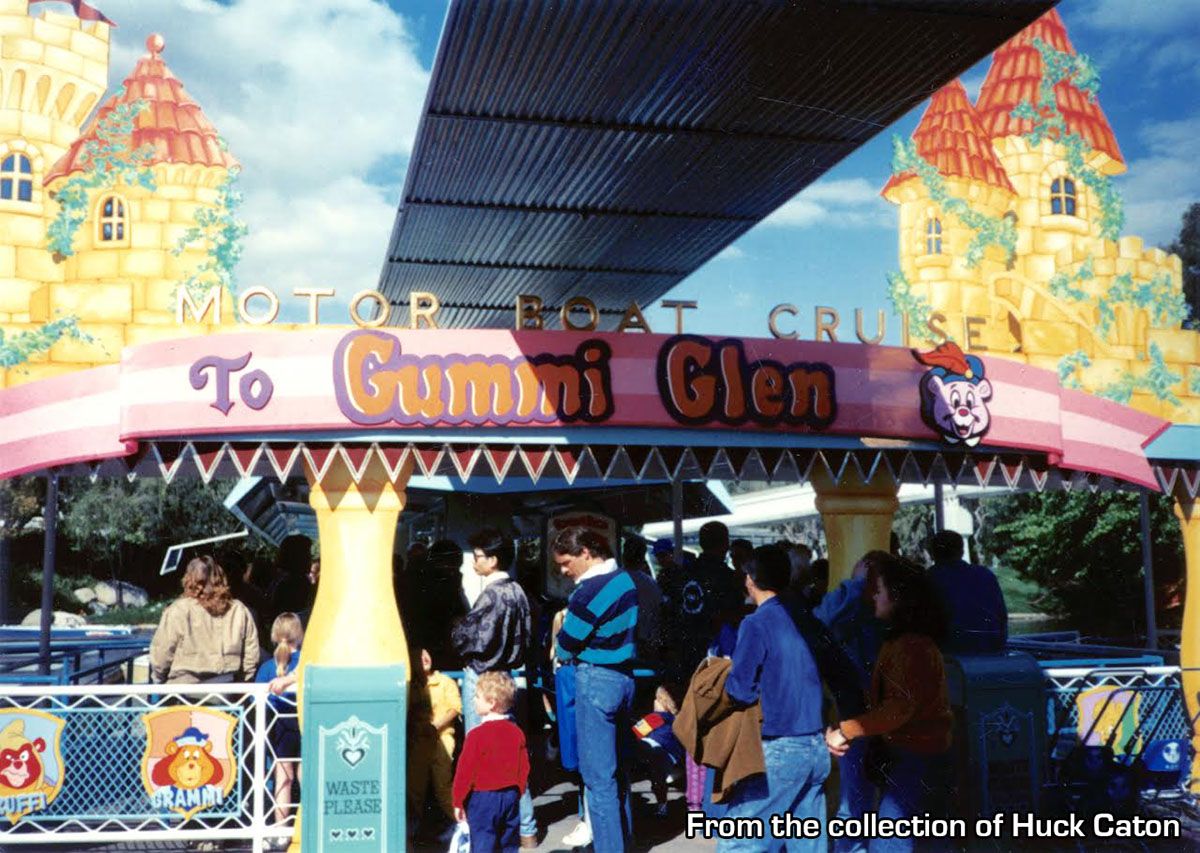 Next is this image of the Autopia entrance sign; poor Tomorrowland has gone through some rough patches, and this sign, while not terrible, has a strange 1950's vibe that just didn't fit with the rest of the land. I wonder if the popular "Blast to the Past" promotion (1988 and 1989) had anything to do with this retro style?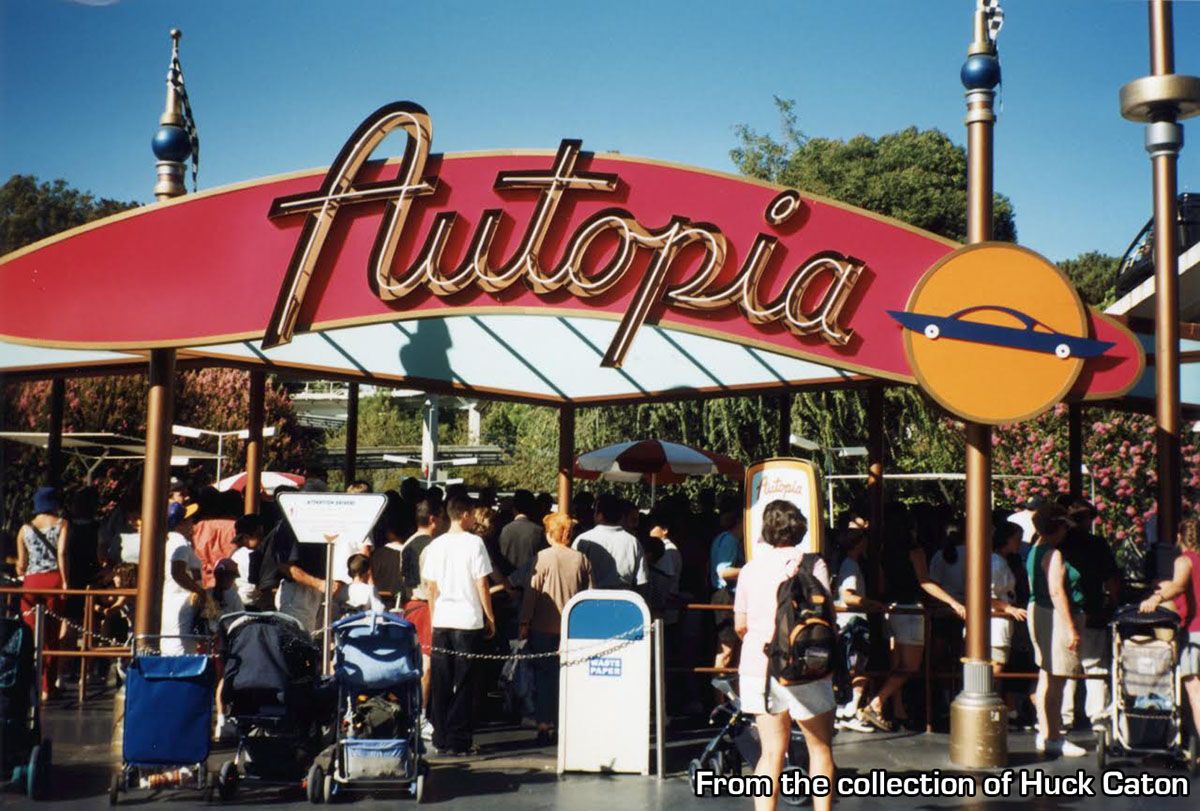 I've never seen this sign before, which is cool; Huck thinks it looks awful, but I have to admit that I like it! Look at how those arrows are part of the cloverleaf design. And the colors remind me of the costumes that some cast members wore. Presumably this is dated earlier than the previous photo; notice the small bit of the Autopia marquee that is visible, with its very 1970's colors.
Here's the costume I was talking about - a parking lot attendant, circa 1973.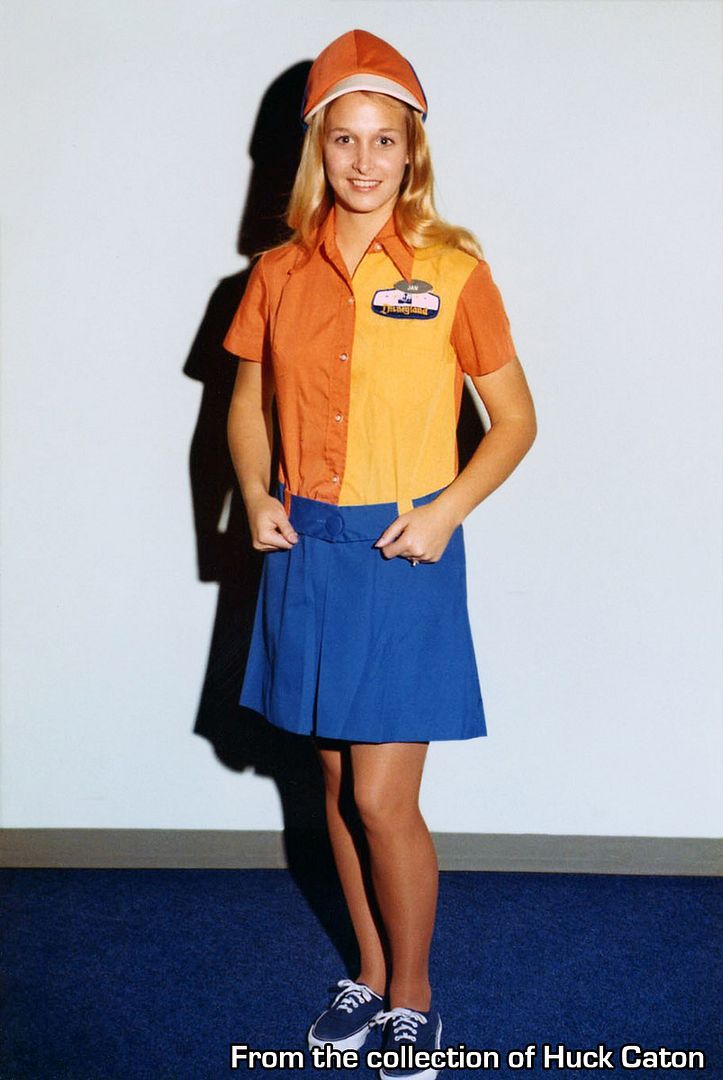 Many thanks
to Huck for sharing his photos! There's lots more to come, so stay tuned.